A muggy monsoon morning did not stop Ernesto Zaragoza and Jose Hernandez from their trip to a neighborhood park on Tucson's east side.
Three times a week Zaragoza leaves his home on his motorized wheelchair while Hernandez walks by his side to the park in the Stella Mann Neighborhood south of East Golf Links and east of South Wilmot roads.
Zaragoza is an Army veteran and a retired maintenance laborer from Tucson Unified School District. The 76-year-old had his right leg amputated below the knee, a result of diabetes, and has severe arthritis in his left foot.
Hernandez, 74, is a senior companion for Zaragoza under Senior Corps, a federal community service program that provides assistance and friendship to older adults who have difficulty with daily living tasks.
Hernandez visits with Zaragoza three times a week, conversing and accompanying him to the park, which Zaragoza says he enjoys because he gets to spend time outdoors.
The program pairs older adults to work one-on-one with the elderly so they can live independently in their homes, officials say. This can include driving clients to appointments or grocery shopping. There is no cost to the client.
However, the program does not provide services that professional health-care workers do, such as bathing, dressing and administering medications. Program workers also do not cook meals or do housecleaning.
Through the Department of Veterans Affairs, Zaragoza receives a health-care worker who helps get him out of bed and showered in the mornings, dressed and in his wheelchair to start his day.
Zaragoza's sister pitches in and cares for him by cooking his meals, doing household chores, taking him to appointments and handling his finances.
Carmen Zaragoza said she appreciates Hernandez coming to her brother's home to spend time with him. "This is good for my brother because he leaves the house for about an hour. He enjoys the outdoors," said Carmen Zaragoza, a retired TUSD elementary school teacher, who also receives help from two sisters, and receives a respite when the VA health-care worker spends a Saturday with her brother.
Hernandez, a veteran of the Army and Navy, said being a senior companion helps him to help others. He has three clients and all are veterans who are homebound and receive services through the VA. Hernandez, post commander of the American Legion Yoeme Post 125, said he requests that his clients be veterans.
"I like that I can help make somebody's life a little easier by breaking their daily monotony. I don't want my clients to be lonely," said Hernandez, a former city refuse worker.
He said he finds pleasure in listening to clients' stories about their lives, their military service careers, and spending time playing checkers or poker with them.
Seeing the need for senior companions led Hernandez, a member of the Pascua Yaqui Tribe, to recruit fellow members and also a Tohono O'odham member into the community service program. Most of the members work throughout their tribal lands, but Hernandez said he likes serving veterans wherever he is needed.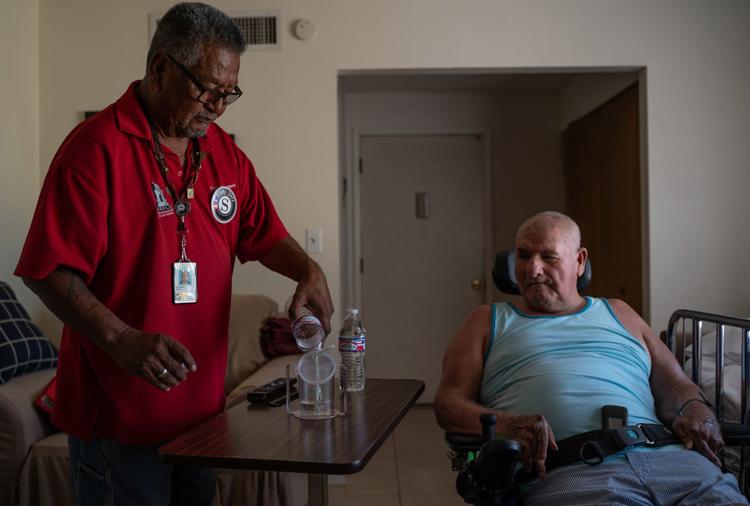 "This program also helps me. It gets me out of bed every morning to do work that makes someone happy. I also don't want to just get old and stiff. You know the saying, 'move it or lose it,'" said Hernandez, letting out a hardy laugh.
"I am a borderline diabetic. This program helps me physically stay active. I also have to do paperwork on each client, and attend training meetings and get involved in community service projects," he said.
"Jose is really exceptional," said Suzette Gonzalez, Pima Council on Aging's senior companion coordinator. "He has served as a senior companion for over 10 years," explaining that the program was under contract with Our Family Services since 2001, and PCOA received the contract last year.
In 1972, legislation was introduced to create the senior companion program and, two years later, 18 model projects were funded across the nation, officials say. Today, there are more than 360,000 Senior Corps volunteers nationwide who help homebound seniors and disabled adults.
In the Tucson area, the Pima Council on Aging sponsors the program, and senior companions provide up to 46,000 service hours annually.
The council, a nonprofit agency that advocates for older adults and their families, was awarded a $220,744 grant to operate the program with 37 volunteers, said Gonzalez. The grant is for one year. The program offers a stipend to the volunteers. (See box at left)
"We recruit volunteers and provide continuous training so they are prepared to serve a diverse population and learn to be advocates for their clients," Gonzalez said.
The council partners with six entities to provide senior companions to elderly or disabled persons in need. The entities are the Tohono O'odham Nation, Pascua Yaqui Tribe, St. Luke's Home, Southern Arizona VA Health Care System, Jewish Family & Children's Services of Southern Arizona, Lutheran Social Services of the Southwest and PCOA'S Family Caregiver Services. Those eligible for a senior companion must be receiving services through the community partners to qualify, said Gonzalez.