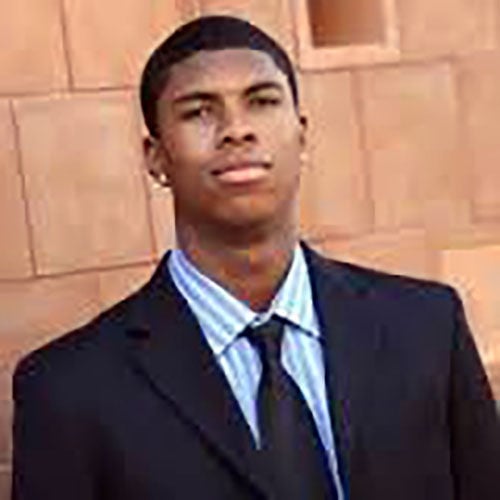 BELGRADE, Serbia — Serbia says six of its citizens have been arrested in Greece in the investigation into the beating death of a 22-year-old University of Arizona graduate on the island of Zakynthos (ZAH'-keen-thos).
Serbia's foreign ministry said Saturday that the detained Serbs were to appear before a judge.
The family of Bakari (buh-KAR'-ee) Henderson of Austin, Texas, identified him as the victim. His family said Henderson was in Greece working on a photo shoot to launch a clothing line. Bakari graduated from the University of Arizona in May with a business degree from The Eller College of Management.
"Bakari loved spending time with family and friends, traveling and meeting new people," a family statement said, according to the Austin American-Statesman. "He was a big thinker and enjoyed coming up with new business ventures."
Greek police say the victim was beaten to death early Friday at a bar in Lagana. Officials haven't released a possible motive for the attack.
Greek police said Friday that a 34-year-old Greek and a 32-year-old British man of Serbian origin were arrested.
The Eller College of Management at the UA on a full academic scholarship and graduated in May with a bachelor's degree in business finance and entrepreneurship.
Greece police said in a statement that he was beaten to death early Friday by a group of people at a bar in Lagana, an area of the island of Zakinthos known for frequently rowdy behavior by young foreign tourists.
Police said a 34-year-old Greek and a 32-year-old British man of Serbian origin were arrested and were to appear before a prosecutor on murder charges. They said an investigation to identify other people involved is ongoing.
It was not immediately clear why the fight broke out.
University of Arizona President Robert C. Robbins issued a statement to the UA community, saying:
"All of us at the University of Arizona are shocked and saddened by the loss of our recent graduate, Bakari Henderson.
"Our hearts and prayers are with his friends and family. I can only imagine the deep sense of loss they must be feeling at his untimely death. It is always a tragedy when a young life ends before it has really yet to begin.
"Our staff in the Dean of Students office are reaching out to the faculty and staff across campus. We also are working with his student organizations and the affiliations he had on campus to offer support to those who knew Bakari.
"I know I speak for the university community as I express deepest condolences to Bakari's family and friends."
Copyright 2017 The Associated Press. All rights reserved. This material may not be published, broadcast, rewritten or redistributed.
Get local news delivered to your inbox!
Subscribe to our Daily Headlines newsletter.