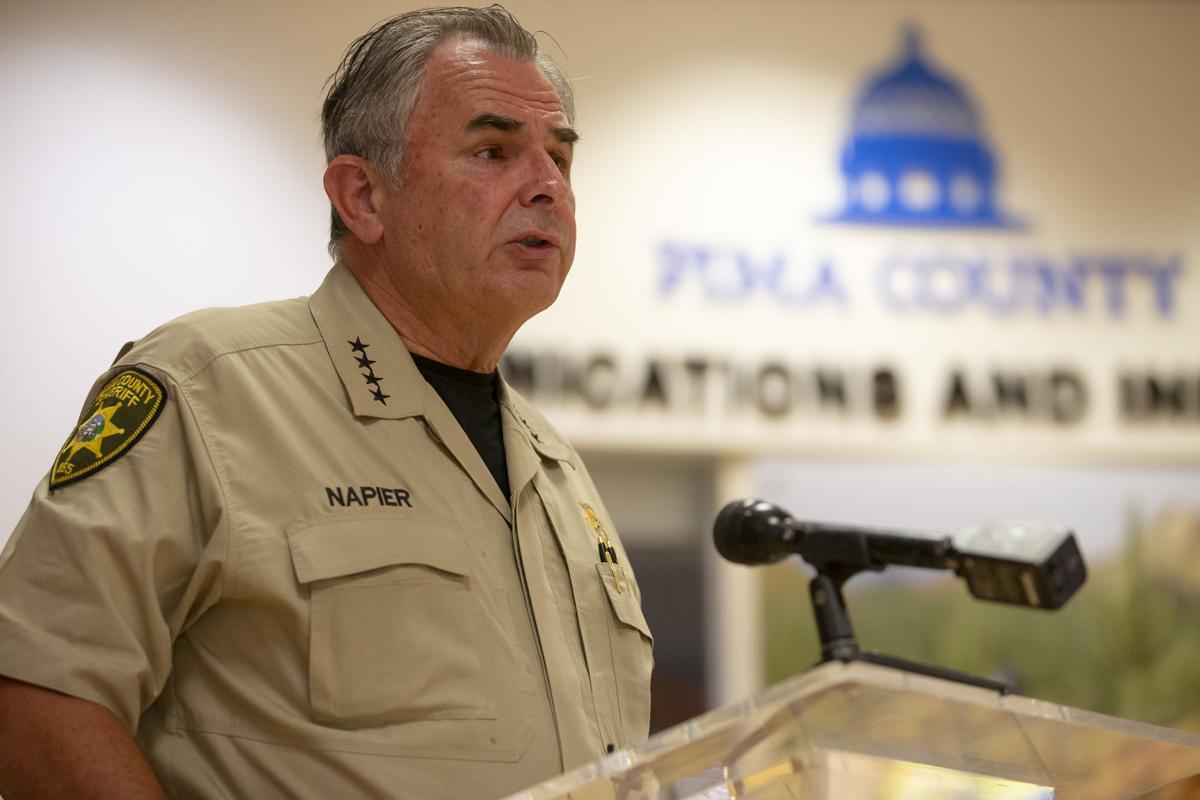 A state investigation into the misuse of federal funds at the Pima County Sheriff's Department found no evidence of criminal wrongdoing by any current personnel of the department, Sheriff Mark Napier said Friday.
Napier requested the probe in 2017 following a federal prosecution of then-Chief Deputy Chris Radtke, who was indicted on several felony counts of conspiracy to launder money and theft concerning programs receiving federal funds that were awarded to the sheriff's auxiliary volunteers program.
The federal investigation, which took place before Napier became sheriff, revealed that several members of the department were involved in practices to divert RICO money intended for crime-fighting and prevention to buy personal items, fund ceremonies and purchase items for a cafe operated by a relative of Radtke. No one else was charged in the federal case.
Napier said he received the Attorney General's report July 7 and it "does not find criminal culpability on the part of existing members of the Sheriff's Department. Supposition to the contrary is irresponsible and not supported by this investigation or the prior federal investigation."
While the Attorney General's Office declined to file state charges against Radtke or anyone else, Napier said the state office documented an "elaborate scheme" by Radtke and former Chief of Staff Brad Gagnepain to hide the illegal use of RICO money.
Gagnepain committed suicide in 2016.
"Gagnepain and Radtke effectively controlled an unchecked slush fund of public money and used that money to advance their own interests at PCSD," the AG's report says.
The AG's report said any possible state prosecution of Radtke would have been based on the same evidence used in the federal prosecution and would likely not result in a different outcome. The state investigation "unearthed no new facts meriting a second prosecution," the report says, while clarifying that a state prosecution was legally permissible.
In 2017, Radtke accepted a plea agreement for three misdemeanor counts of theft of federal funds and was sentenced to one year of probation, 100 hours of community service and ordered to pay $3,000 in fines.
Napier, who was elected to office in 2016, said that after the sentencing a number of employees in the department and community members expressed concern over what they saw as a lenient sentence, leading him to request the state investigation, according to a news release from the department.
During his court case, Radtke said the diversion of RICO money for other unapproved uses had been occurring at the Sheriff's Department for nearly 20 years.
The FBI's investigation into the department's use of funds began after a November 2015 story by the Arizona Daily Star about cafes inside department headquarters and the Pima County jail being run by Radtke's niece without a contract and rent-free.
Public-records requests revealed the department spent nearly $30,000 on the two spaces, which officials initially said was paid for by RICO money but later said came out of the department's general fund.
The AG's report stated that most of the federal money to the auxiliary volunteers was diverted to a fund that was primarily used to pay for an annual December ball that cost about $50,000, which paid for the hall rental, dinners of top sirloin, gift bags, tuxedo rentals and dress purchases at Dillard's.
Napier said the report does place some of the responsibility for the misuse of funds on former sheriffs Clarence Dupnik and Chris Nanos, who Napier defeated in the 2016 election. Nanos and Napier are both running for the office this year.
"Ultimately, the agency head is responsible for thoroughly reviewing and recommending approval of RICO expenditures with respect to both legality and appropriateness," Napier said.
"This dark chapter in the history of the Sheriff's Department is now closed," he said.
Get local news delivered to your inbox!
Subscribe to our Daily Headlines newsletter.