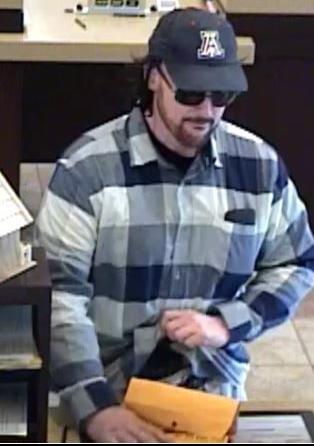 The Pima County Sheriff's Department is investigating after a man robbed a bank in north Tucson Monday afternoon. 
On Monday around 2 p.m., deputies responded to the National Bank of Arizona located at 5360 North La Cholla Blvd., according to a Sheriff's Department press release. 
A man handed a teller a note saying he was robbing the bank, displayed a black handgun and demanded money which he put into an envelope, the release said.
He was then picked up by a mid-2000s model white Chrysler or Dodge Mini Van with a dent on the front of the driver's side.
The Sheriff's Department is actively searching for the man they say was connected to the incident. He is described as a man in his 30's with a beard and mustache, between 5'6 and 5'9. He was last seen wearing a blue and white checkered shirt, khaki pants, a U of A baseball cap and dark sunglasses. 
No further information has been released. Anyone with additional information should call 88-CRIME, an anonymous tipster line.