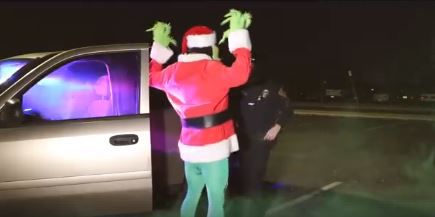 The Tucson police went above and beyond this holiday season to remind shoppers of possible "Grinches" who may be on the prowl.  
Last week, the police department released a video captioned "Don't let a Grinch ruin your holiday this year," warning shoppers of car theft during the holiday season. 
The video shows a Grinch character slinking around a smoky, dark parking lot, trying to break into different cars. Once the Grinch finds an unlocked car, he starts riffling through the holiday packages on the front seat (which, the joke is on the Grinch because it appears all the packages are empty.) 
Thankfully the police come and arrested the Grinch before he got away with all the Christmas goodies, but police had a few reminders for folks while holiday shopping: 
Keep car doors locked, bags, packages and valuables out of plain site 
Park in a well-lit, well-populated area 
When you can, shop with friends or family members
If you see something, say something
The video has gained popularity on Facebook. By Thursday morning, it had been viewed more than 70,000 times and shared more than 1,000 times.
The department also made a blooper real, which is pretty hilarious too.