If you drive over Red Mountain Pass near Silverton, Colorado, north of Durango this weekend, you'll see lots of snow, like every winter. But you'll also see rocks and trees poking through the snow that you don't normally see this time of year.
Those rocks and trees symbolize Rocky Mountain snowpack stuck at record-tying low levels for midwinter. These levels spell potential trouble for the spring-summer runoff that supplies much of Tucson and Phoenix's drinking water, both for now and for the future.
The Upper Colorado River Basin snowpack in places like Red Mountain Pass, elevation 11,500 feet, feeds the river's tributaries that drain into the main Colorado River, which supplies the Central Arizona Project serving Tucson, Phoenix and Pinal County cities and farmers.
Normally by now, Red Mountain Pass has had 12 winter snowstorms, said Jeff Derry, director of the nonprofit Center for Snow and Avalanche Studies in Silverton. This winter, it's had four. Farther north, 2 feet of snow are piled in the mountain passes near Glenwood Springs in western Colorado, compared with 6 to 8 feet a year ago.
Overall, the Upper Basin's snowpack recently has ranged from 63 to 65 percent of normal, says the federal Colorado River Basin Forecast Center. That ties with 1990 for the lowest snowpack on record for this time of year, the forecast center says.
The center predicts that April-July runoff into Lake Powell will be 47 percent of normal. That doesn't make a CAP shortage likely next year. As of now, the federal government says the chance of such a shortage is only 17 percent for 2019.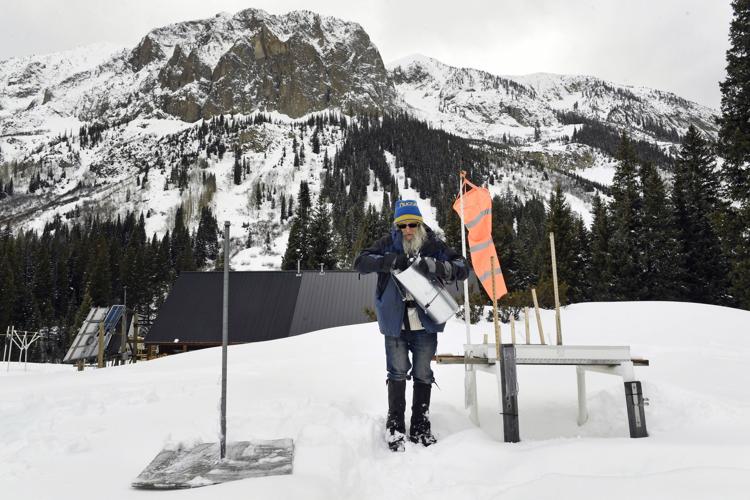 But the risk rises to 49 percent in 2020, 58 percent in 2021 and 63 percent in 2022, say current U.S. Bureau of Reclamation forecasts based on computer models.
And Tom Buschatzke, director of the Arizona Department of Water Resources, is concerned that under the worst case scenario, Lake Mead could dip a half-foot below 1,075 feet by the end of 2018 and drop an additional 4.5 feet by 2020. A shortage is supposed to be declared if the lake drops below 1,075 feet, although he says additional water conservation could probably prevent that for 2019.
Arizona and the rest of the river basin have been through such worries before and came through unscathed. In winter and spring 2015, snowpack levels and runoff forecasts were grim through April. Authorities in Arizona were gearing up for the first-ever cutback in CAP deliveries in the following year.
Instead, Colorado was pounded by record rainfall the next month, which has since been dubbed "Miracle May," and no 2016 shortage occurred.
Today's long-range forecasts for the Colorado Basin don't see miracles ahead. They predict a dry spring in areas of the Upper Basin south of Interstate 70, which covers the majority of Colorado and a good part of Utah.
There's no way to predict a Miracle May because it didn't happen in 2015 "until it was right on top of you," said Eric Kuhn, retired general manager of the Colorado River District that manages water in western Colorado.
Changing weather patterns
The immediate cause of this low snowpack is a combination of two extremely strong weather systems hanging over the region since November that have refused to move.
First, an Arctic-spawned low-pressure system — which Arizona water officials have dubbed "the Blob" — is centered over Canada's Hudson Bay. It has held temperatures well below normal for much of the winter across the eastern and midwestern U.S.
Below that is a high-pressure system hanging over the eastern Pacific and the Southwest that has driven the jet stream northward and left much of the West warm and dry, including not only the Colorado River Basin but the Sierra Nevada Mountains in California.
"We unfortunately are dominated by this high-pressure ridge over the West, and it works in tandem with the really strong low pressure ridge to the east," said Greg Smith, a hydrologist for the Colorado River Basin Forecast Center. "When these features are very strong, they can be persistent. These features have been persistent over much of the winter."
Another potential, and probably likely factor, is climate change.
Studies have shown significant snowpack declines across most of the western U.S. since the 1950s, the Environmental Protection Agency has said. Human factors, including climate change, ozone depletion and land use, accounted for 20 percent of the loss in annual Western mountain snowpack since the 1980s, said an April 2017 study from Lawrence Livermore National Laboratory in Livermore, California.
Peak runoff in streams and rivers of the West is strongly influenced by melting of accumulated mountain snowpack.
Based on the current state of the snowpack, the researchers predict a further loss of up to 60 percent within the next 30 years.
"The projected losses have serious implications for the hydropower, municipal and agricultural sectors in the region," said John Fyfe, a research scientist for Environment and Climate Change Canada, and lead author of the study, published in the journal Nature Communications.
Brad Udall, a prominent Colorado State University water researcher, acknowledged there's no way to be certain without additional study that this year's poor snowpack is directly related to climate change caused by greenhouse-gas emissions.
But many of the weather patterns that are linked with this year's poor snowpack "look like our future," based on what other researchers have predicted will happen because of climate change, Udall said.
First, this year saw a late start to winter weather across the entire river basin and in California, he said.
Second, record-warm Colorado weather from October through December meant that a lot of snowpack evaporated and became water vapor instead of becoming stream runoff. Finally, this winter's pattern of extremely dry weather south of Interstate 70 and the less dry weather north of I-70, is also what climate models have predicted, Udall said.
Over the past 18 years ending in 2017, only four years saw even average runoff down the Colorado, Udall said.
"That's less than half of the big flow years on average that we used to get," he said.