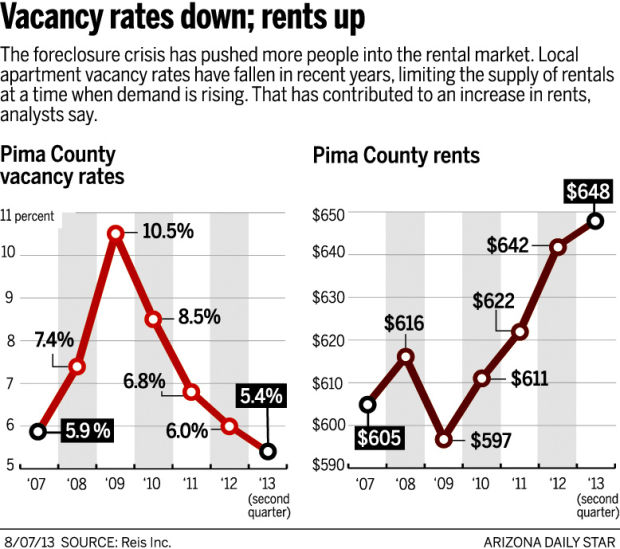 When David Herr's janitorial company went under as the economy collapsed, the Tucson father spent his last $3,000 on a rusty RV. At least he'd have a home if things got bad, he figured.
They did. He and his family - wife Maria and sons Randy, now 14, and Azriel, 4 - lived in the RV for a year and a half as he searched for an alternative. What he found was either too expensive or unlivable. One place he saw in midtown should have been condemned, he says.
"It had giant holes in the walls, looked like half the plumbing was ripped out, and they wanted $450 or $500 a month," says Herr, who is 35. "If we wouldn't have had that RV, we would've been homeless."
His family now lives in a south-side duplex for $400 a month - the low rent a favor from a friend who is the landlord. The neighborhood is graffiti-ridden but quiet.
Herr is grateful to have the place.
He makes less than minimum wage delivering pizzas for $4.80 an hour plus tips, and his wife gets minimum wage as a cook at Wienerschnitzel. Together they make about $27,000, including what Herr receives from serving in the Army Reserves. He's on track to earn his bachelor's degree from the University of Phoenix online school - funded by the military - by February.
But he keeps the 1977 RV parked by his house as a backup plan.
"Worst-case scenario, if everything blows up again, at least we got a roof over our heads," he says.
Entrenched poverty
Tucson's troubled housing market has been a factor in the area's entrenched poverty for decades, planners and housing advocates say.
The recession made affordable housing even tougher to find as owners lost their houses and demand for apartments soared. But while other areas slammed by the economy recover, Tucson is still hurting.
Our children suffer the most. One in three kids inside the city limits lives in poverty - and 64 percent of Arizona children from low-income families live in homes that cost more than 30 percent of the family's monthly income.
Growing up poor dims kids' chances of success as adults - and having so much poverty makes it less likely Tucson can build a healthier economy. The chaos that comes with unstable housing - spotty school attendance and limited access to nutritious food and health care - makes it more likely kids will grow up to be unemployed, unhealthy and in trouble with the law - in short, the responsibility of taxpayers.
Unaffordable housing
Affordable, decent housing can be an avenue to escaping poverty - and the lack of it can be an insurmountable barrier.
Yet, Tucson does not have enough affordable units to meet demand from a population with proportionally low wages.
"Rents are pretty cheap in Tucson, but not as cheap as the incomes," says David Taylor, retired planner with the Pima Association of Governments.
In recent years, thousands of Tucsonans have lost their homes to foreclosure. Before defaulting on mortgage payments, many exhausted their savings and borrowed from friends and family in a futile effort to save their homes.
"They've taken the money out of their savings, taken out of their 401(k)s and now they're tapped out," says Evelia Martinez, project manager with Don't Borrow Trouble Pima County, a project of the Southwest Fair Housing Council. The program counsels struggling homeowners and negotiates with lenders to keep borrowers in their homes.
Even as the housing crisis ebbs, an average of 530 households in Pima County start the foreclosure process each month, and 60 percent of them will eventually lose their homes, data from the Pima County Recorder's Office show.
More would-be homebuyers are renting. That increases demand and pushes rents higher - further limiting housing options for low-income residents. A combination of absentee landlords and transient renters with little interest in home improvements contributes to unstable communities and deteriorating homes, housing advocates say.
Public assistance faces cuts
Housing assistance funds are on the chopping block as federal budget cuts from the sequestration take effect this year.
"With our funds dwindling every year and the need seemingly growing every year, there is a gap that we're not able to close," says Anna Sanchez, administrator of the city's Housing and Community Development Department.
The waiting list for Tucson's public-housing program - 1,500 city-owned and -managed units with rents based on income - has been closed since October 2012, but the city began accepting limited applications for the list this month.
Section 8, a voucher-based housing program for those earning less than 50 percent of the area's median income, is overwhelmed by demand, too. The program provides 5,400 vouchers for the city of Tucson and Pima County. The 10,500-person waiting list has been closed since opening for just three days in December 2011.
Fueled by the foreclosure crisis and slow economic recovery, the waiting list is longer than ever, says Sally Stang, deputy director of the city's Housing and Community Development Department. Previously, the longest waiting list was 5,000 people, in 2008.
The unmet need is "tremendous," Stang said. "People call every day, and we have to say, unfortunately, the waiting list is closed."
To comply with a mandated $2 million budget cut to Section 8 in Pima County, the program will have to cut about 300 of its 5,400 vouchers this year, which administrators hope to achieve through attrition instead of kicking out families.
That means at least 300 people will have to leave the program - perhaps because they get a higher-paying job and no longer qualify - before those on the waiting list even have a chance at a voucher, Stang says.
The U.S. Department of Housing and Urban Development has also cut the program's funds by 30 percent.
Federally subsidized rentals are going away, too. Nearly one-quarter of 35,000 apartment units in Arizona will have reached the end of their restricted-rent contracts by next year, a 2012 Arizona Housing Alliance report says.
"For every new affordable apartment created, two are lost due to deterioration, abandonment or conversion to more expensive housing," the report says.
Bobby Kelly, an elderly resident of the transitional housing at the nonprofit Primavera Foundation, had been on the Section 8 waiting list since it last opened in December 2011.
"I know I'm gonna get it," he said in May, as he cooked lunch in the communal kitchen. "You just have to be patient."
Primavera helped Kelly find another option: Just last month he secured permanent housing through the city of South Tucson's public housing program.
Roots of housing problems
Tucson's poverty and housing problems took root long before the recent recession and housing bust.
The post-World War II population boom throughout the Sun Belt led to rapid - often haphazard - growth to house new Tucsonans.
Developers have increasingly opted to build subdivisions on the fringes of town, where land is cheap, Taylor says.
"The way we build is unaffordable," he says. "It's nothing unique to Tucson. We just do it a little more than other folks."
Meanwhile, poorly constructed midtown homes and apartments are falling into disrepair. Many older homes have failing plumbing, electrical and heating systems, and roofs, says Richard Elias, who represents District 5, including the Sunnyside and Santa Rita Park neighborhoods, on the Pima County Board of Supervisors. Some adobe homes have wood-to-dirt floors, and termites are undermining the foundations.
"We've got thousands and thousands of homes that need systems replaced," Elias says. "That's not home repair - that's rehabilitation."
The cost of maintaining decaying infrastructure - especially in the outlying suburbs - is a drain on the entire area, Taylor says. The normal flow of revenues "gets overwhelmed by the sheer mass of the needed improvements to keep the place livable," he says. "Urban sprawl has been Arizona's middle name for the last 60 years. ... The bill has come due, and we don't know how we're going to pay."
Between 50,000 and 80,000 units - up to 18 percent of the city's housing stock - are more than 50 years old, says the 2008 "Housing Arizona" report by the Drachman Institute. As far-flung suburbs become coveted destinations for the wealthy, the city's most vulnerable residents are left in deteriorating, aging homes.
As a result, Habitat for Humanity in Tucson has shifted its focus from home construction to fixing up homes that are a hazard. Rehabilitation makes up about 80 percent of Habitat's work, compared with 20 percent just three years ago, says Michael McDonald, executive director of the nonprofit Habitat for Humanity in Tucson.
"We don't want to become Detroit and have a hollowed-out core ... where everyone has fled to the better neighborhoods and it's a self-fulfilling prophecy," McDonald says. "We need to re-pioneer the core of Tucson, which means we need to reinvest."
Transportation costs
Construction on the urban fringe adds an extra burden of transportation and vehicle-maintenance costs to already cash-strapped families, says Marilyn Robinson, associate director of the Drachman Institute at the University of Arizona.
Too often, efforts to create affordable housing ignore those added costs, which can outweigh any savings on housing expenditures, Robinson says.
Many here spend more than the recommended 30 percent of income on housing - much more if transportation costs are included.
Drachman planners are encouraging development of affordable housing along permanent public-transportation routes, like the 3.9 miles of the Sun Link streetcar line. That would allow for short commutes and easy access to the activities of daily life, like gas stations and grocery stores, Robinson says.
Rental Market
Tucson's apartment market has seen new interest in the wake of the mortgage-lending crisis.
Many would-be homeowners opt instead to rent. That means rents are rising, and landlords can be more selective about tenants.
Apartment vacancies in Tucson fell from 10.5 percent in 2009 to 5.4 percent in the second quarter of 2013. During the same period, rents grew from $597 to $648.
Arizona has just 80,000 affordable rental homes and nearly 190,0000 "extremely low-income" households that earn less than 30 percent of area median income, the Arizona Housing Alliance says.
For Dan Leanna of Tucson, his troubled past made it tough to find a decent place to rent. A few years ago, Leanna, who had lost custody of his two children, fell into depression and struggled with addiction to methamphetamines. An arrest for drug possession gave him the choice between rehabilitation and jail.
Even after completing rehab, getting a job as a waiter and starting a family again, Leanna's past haunted him: He struggled to find a decent landlord who didn't turn him away because of his arrest record.
"A lot of people couldn't see beyond that, that I was trying to improve my life. They wouldn't call back or would just say no," says Leanna, 46. "The people who need a chance, they're turned down and sent to the people (landlords) who take advantage of them."
Last year, he was living with his fiancee and their baby in a cramped, one-bedroom where they didn't feel comfortable or safe, and rent was steep - for his income - at $575 a month. Through the Primavera Foundation, they found a two-bedroom apartment for $460. The family was just approved for Primavera's down-payment assistance and hopes to buy a home in northwest Tucson.
"Having your family in a secure place is just one thing off your mind," says Leanna, who just started a job as a bartender at a chain restaurant. "You can focus on bettering your life."
Get local news delivered to your inbox!
Subscribe to our Daily Headlines newsletter.