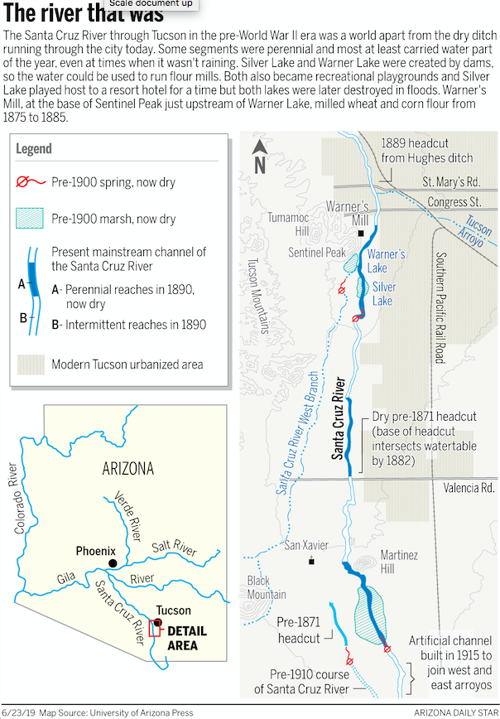 Monday afternoon, a short stretch of the Santa Cruz River will live again, when Tucson Water releases reclaimed water into the channel at 29th Street.
Dubbed the Santa Cruz River Heritage Project, the release of effluent is the city's first effort to restore a fraction of the river's flow since groundwater pumping dried it up in the 1940s.
Here are some questions and answers about the release of water into the river with Tucson Water officials.
Q: How much effluent will be released annually?
A: About 3,150 acre-feet, or a bit more than 1 billion gallons. It amounts to a little more than 10 percent of Tucson's total reclaimed water supply, much of which is now sprayed onto parks and golf courses.
Q: Can we afford to use this much water to re-create a river?
A: City officials say yes, since Tucson Water uses only about 12,000 of its annual 28,000 acre-foot supply of treated sewage effluent for parks and golf courses. The rest is recharged into artificial basins around the valley, or allowed to discharge into the river far downstream from Pima County's northwest-side sewage plants.
Q: How often will reclaimed water be discharged into the Santa Cruz?
A: At first, every day. Once Pima County flood-control officials are ready to carry out plans to clear the riverbed of sediment and vegetation, the effluent-release project will stop. It will resume once the flood-control work is finished in a few months.
On a hot summer day when peak demand for reclaimed water is high, there may not be enough effluent immediately available to discharge that day, or for more than part of that day. And, during monsoons or during big snowmelt periods, effluent won't be discharged into the river.
Q: How far downstream will the water go?
A: It's designed not to flow north of Mission Lane, just south of Cushing Street. But utility officials say they don't know if it will actually get that far. Once Pima County finishes its channel-clearing work, the river bottom that's left behind will be very fresh. Coarse-grained material left at the surface will be highly conducive for recharging into the aquifer – one of the project's goals.
Q: Is this being done mainly to recreate a dead river? Or is it mainly so the city will have better access to the effluent than it does now when it's dumped into the Santa Cruz far downstream, in or near Marana? Or is it mainly to encourage more development?
A: Storing water where it's more accessible is equally important to creating new riparian habitat, Tucson Water Director Timothy Thomure said.
"This is very consistent with the history and culture of the Santa Cruz. Having a flowing Santa Cruz at the base of Tucson's birthplace is very historically and culturally important," he said. "Whatever economic activity is attracted is important, but is not a driver. Any economic benefit is an additional benefit."
Q: What will this cost Tucson Water ratepayers?
A: About $700,000 in construction costs, Most of that went to build a 10-by-20-square-foot structure a few blocks north of the discharge point. There, the flow will be measured and the reclaimed water will be dechlorinated to meet EPA requirements for discharging into the river.
The utility also had to build a short pipeline extension of the city's existing reclaimed waterline in the area to take the effluent the last few hundred feet from the current endpoint to the spot where it will be discharged into the river.
Q: What about annual operational costs?
A: It will cost about $20 an acre-foot, or about $62,000 total, to pump the reclaimed water about 80 feet uphill from the county's Aqua Nueva sewage treatment plant near Roger Road. Monitoring the water quality and the river, and maintaining the system, will cost thousands to tens of thousands of dollars more.
Q: What happens when the Colorado River runs short and some of Tucson's supply is cut off? Will there be enough water for the Santa Cruz even then?
A: Utility officials see this as a permanent project and say that any cutback of Colorado River supplies won't affect it in the foreseeable future. Even if there are zero Colorado River deliveries for a time, the city right now has 51 years worth of available water – 40 years worth of groundwater and 11 years worth of Colorado River water stored underground, Thomure said.
Get local news delivered to your inbox!
Subscribe to our Daily Headlines newsletter.