Mary R. Anderson was pulling a small luggage cart the day a pickup struck her nearly three years ago. Now she pushes a walker with lettering on the front that says "Stop For Pedestrians."
After walking south along the sidewalk that hot day in September 2016, Anderson had stopped at the corner of North Wilmot Road and East El Dorado Place, she told me recently. Several cars pulled up to the corner and quickly accelerated into turns onto Wilmot without pausing to let her cross.
Then a pickup truck pulled up and stopped, Anderson recalled. It had tinted windows. Anderson, then 65, thought the driver had stopped for her and walked into the street.
The 2003 Chevrolet promptly pulled out and knocked her over. Then the rear tires ran over her legs before the truck pulled away.
What ensued was months of agonizing treatment for the huge gashes on her legs, so big in one case you could fit your hand in it. After a long bout of infection, one wound still hasn't completely healed.
"My wound care nurse thought it would be healed by July 2017," she said. "It turned from an acute wound to a chronic wound."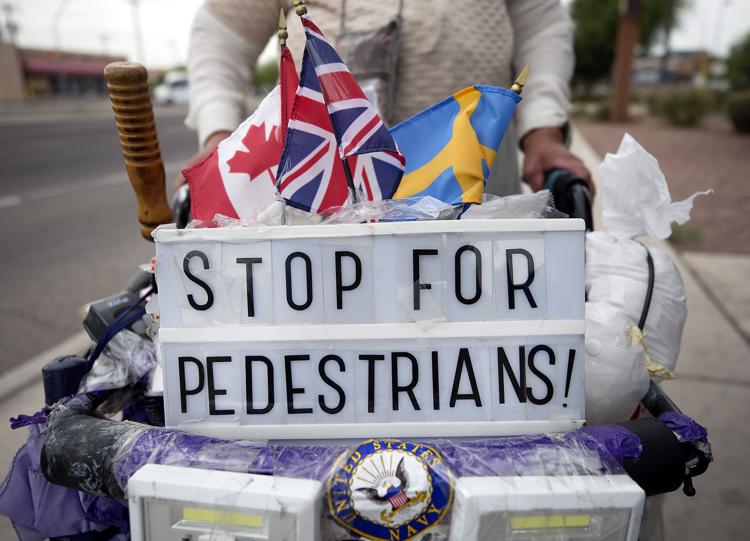 These are the details we often ignore when we hear of Tucson's frequent cases of vehicles striking pedestrians — the aftermath. We may hear of the incidents that kill pedestrians, inevitably leaving family members stunned and struggling to go on with their lives. We rarely hear about the non-fatal crashes, even though, if the victim survives, the injuries may be life-altering.
For the driver, too, the fallout may be severe, but it often isn't as long as they aren't drunk or reckless, or they don't leave the scene. Those drivers get charged with felonies; others who kill pedestrians accidentally are usually charged with misdemeanors at the worst. But if there aren't witnesses, or the fault isn't clear-cut, nothing at all may happen to the driver, legally speaking.
That's what happened in Anderson's case. The driver continued up Wilmot, apparently unaware he had struck her, until drivers who had seen Anderson fall chased him down and told him what had happened. The driver headed back to the scene where passersby were busy saving Anderson's life.
Chuck Zaepfel was one of the first people on the scene, and it was awful, he told me.
"Her legs had been crushed," he said. "She was bleeding profusely. She was in a great deal of pain."
Zaepfel, who directs the nearby Tucson office of Junior Achievement of Arizona, pulled off his tie and used it as a tourniquet. Another woman ran to her car and brought out a baby blanket to tie off the other leg. In retrospect, that may have saved Anderson's life. Even seeing the bleeding, Zaepfel didn't realize how much blood had flowed into a drain below her.
"During this time the guy who hit her came back," Zaepfel said.
"He was in a big construction pickup. He came across and was in tears and horror that he had done this."
Other witnesses were at the scene, and I spoke with two who saw parts of the incident, Stephanie Chavez and Ryan Seltzer. Their impression was that the driver had paused long enough for Anderson to think he was waiting for her, but that he never actually saw her and quickly drove off onto Wilmot.
Whatever witnesses told police, it was not enough evidence to show legal fault, in the authorities' eyes. There's a reason I'm not naming him: The police never even cited him. For unrelated reasons, the driver died about eight months later.
I have noticed what appears to be a reticence on the part of local authorities to accuse drivers of crimes or even civil infractions when they strike pedestrians or cyclists. I'm not the only one who's perceived that.
"If you wanted to kill somebody with a car, you could do it and probably get away with it," said Kylie Walzak, program manager at Living Streets Alliance, a Tucson nonprofit that advocates for vibrant streets and alternatives to automobiles. "To me it devalues human life."
It's true that it is much simpler to charge drivers who hit pedestrians with felonies if they are drunk, or if they're going 100 mph, or if they flee, Sgt. Mark Dana of the Tucson Police Department told me. But oftentimes a citation, a misdemeanor criminal charge, is the appropriate outcome, he said. Other times, he added, the driver simply isn't at fault.
"If the person is not DUI but they commit one of those (traffic) violations, then they get charged into City Court for a misdemeanor. If the person driving the motor vehicle is not DUI and is not doing anything wrong, and the person steps out where the pedestrian shouldn't be, then there will be no criminal charges or citations."
In two recent deaths of pedestrians in crosswalks, the drivers were cited with a civil infraction and charged with a misdemeanor. On March 26 at about 10 p.m. a driver struck Daniel Benavidez, 49, when he was crossing East Pima Street at North Rook Avenue in a marked crosswalk. Jesse Arenstein, 42, was cited for failing to yield at a crosswalk and charged with causing death by a moving violation. These are fairly typical in such cases, Arenstein's attorney, Bradley Thrush, told me.
On April 18, a driver struck Gladys Blackmarr, 86, as she crossed East Speedway at North Wilmot Road. Ronald Barton, 64, is accused of the same civil infraction and misdemeanor. Tucson police had cited Barton for speeding just a few weeks prior, but that was dismissed after he completed defensive-driving school in the week before the fatal collision, City Court records say. I stopped by Barton's home Friday, but could not reach him for comment.
Whether a crime is charged can make a big difference in the aftermath of a collision, lawyer Kevin Moore told me. He's a personal-injury attorney who helped represent Anderson after her crash.
There's no such thing as restitution, for example, unless a criminal conviction occurs. The police decision on whether to cite, charge, or do nothing to the driver can make a difference in the insurance settlement, too.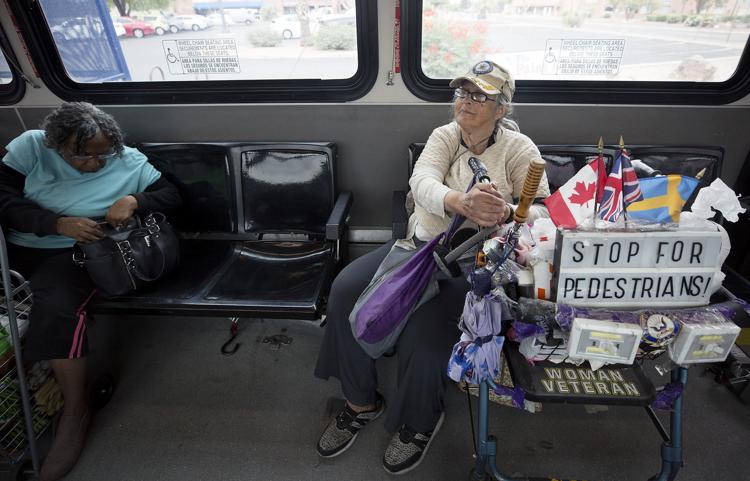 In Anderson's case, the driver's insurance was inadequate to cover the bills, he said. And, in a detail most people wouldn't think of, pedestrians sometimes don't have insurance that covers them when they're hit by a car unless they have auto insurance for themselves.
"People who are hit as pedestrians are left with whatever the driver had for insurance," Moore said.
It took Anderson, a Navy veteran, a couple of years to shed the anger she felt over the collision and subsequent medical bills that various professionals wanted her to pay. A Medicare recipient, Anderson simply handed the bills over to her attorney to negotiate the bills down, she said.
"I shouldn't have to pay when I was the victim," she said.
On her walker, Anderson, now 68, flies small flags of the United Kingdom, Canada and Sweden: "They have a better health-care system," she said.
Though Anderson doesn't drive and uses the walker, she has resumed a busy schedule of taking Sun Tran buses to church, to senior centers, to libraries, to restaurants. I met her at the Einstein Bros. bagel shop on North Oracle Road earlier this month on a morning when she'd left home about 5:15 a.m. to start her rounds.
"I wouldn't want to go very far without a walker," she said. " I can walk, but what if I fall and open up the wound?"
It's a constant preoccupation, especially when rain is in the forecast. She doesn't want the wound to get wet, because moisture once aggravated the bacterial infection.
Another big worry now is crossing the street. Sometimes, Anderson said, she rides a bus all the way to the end of its route and back just to avoid crossing a busy road.
Once you've been struck on Tucson's deadly streets, you realize there's almost no precaution too extreme.