Earp Boulevard honors Arizona's most famous lawman.
Wyatt Earp was born to Nicholas and Virginia Earp in 1848 in Monmouth, Illinois. Soon after, the family moved to Iowa and then in 1864 to San Bernardino, California. From 1866 to 1868, Earp explored the West while hauling freight from Wilmington, California, to Prescott, making stops in Las Vegas and Salt Lake City.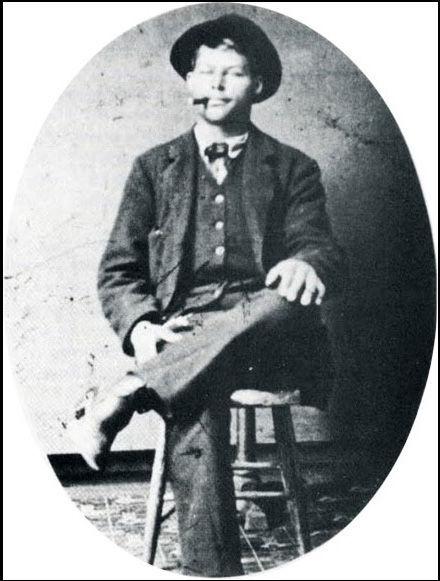 In 1869 he rejoined his family, by then living in Lamar, Missouri. In 1870, he married Urilla Sutherland and the next month he got his first law-enforcement job as constable of Lamar. His wife died that year of typhoid fever.
In 1876, he moved to Dodge City, Kansas, and eventually became city marshal. There, he met Bat Masterson and Doc Holliday. It's likely he also met Mattie Blaylock, a former prostitute, here and would remain with her until 1882.
Earp and Blaylock arrived in the mining town of Tombstone in December 1879 and were joined by Earp's brothers Warren, James, Morgan and Virgil. Virgil was named town marshal. Wyatt, who normally worked at the gambling tables of the Oriental Saloon, at times served as his deputy.
On Oct. 26, 1881, a growing feud between the Earp brothers and the Clantons and McLaurys, who had ties to an outlaw gang known as the Cowboys, exploded into what became known as the Gunfight at the O.K. Corral. The short gunfight posed Wyatt, Virgil and Morgan Earp, along with friend Doc Holliday, against Tom and Frank McLaury and Billy and Ike Clanton. After the smoke had cleared, the McLaury brothers and Billy Clanton were dead.
In the aftermath of the shootout, on March 18, 1882, Morgan Earp was murdered in Tombstone. Two days later, Wyatt, his brother Warren, Doc, and a few other men escorted the injured Virgil and his wife, Allie, to the Tucson train station, where they were to depart for California. While at the station, Wyatt and his posse became aware that Frank Stilwell, who was believed to be one of Morgan's killers, was lurking around.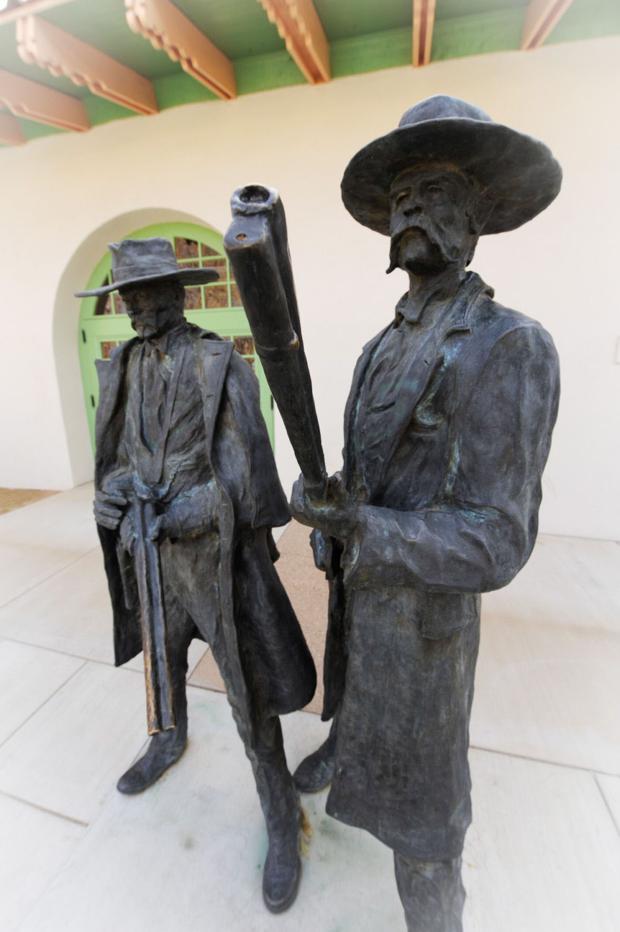 Wyatt Earp and Doc Holliday statue at the train station downtown. Commemorates the revenge killing of Frank Stilwell there. Photo by Paul F. LaFrance
Wyatt spotted Stilwell, and the group chased him along the tracks. This was soon followed by shotgun and pistol blasts and ended with Stilwell's death. George Hand, a Tucson saloonkeeper and diarist, wrote in his diary after seeing the body the next day that Stilwell was: "the worst shot-up man that I ever saw."
(A sculpture of Wyatt Earp and Doc Holliday near the historic train depot downtown commemorates the shootout.)
After the Stilwell killing, Wyatt, now a fugitive for the murder, left Arizona and eventually ended up in San Francisco. There, he became involved romantically with a former acquaintance from Tombstone, actress Josephine Marcus, who at one time in Tombstone had been the girlfriend of pro-Clanton Cochise County Sheriff Johnny Behan (namesake of Behan Street). Beginning in 1883, they became inseparable and traveled on mining and gambling trips to Idaho, Colorado, Arizona, California and Alaska.
In the very early 1900s, Earp ran a saloon in Tonopah, Nevada, and in 1906, the couple moved to Los Angeles, where he befriended celebrities such as Tom Mix and William S. Hart.
In 1927, Earp returned to Tucson, likely for the last time. He had lunch at the Old Pueblo Club on South Stone Avenue with former U.S. Marshal William Breakenridge, Manny Drachman and Manny's son, Roy Drachman.
Roy Drachman would later write: "I don't remember telling anyone about having lunch with Wyatt Earp until many years later, when he began to be looked upon as some kind of hero. That was not his image around Arizona, where many people knew and remembered him. I never heard anything from those folks about any of the good or great deeds that he is supposed to have done. He was a tough survivor when some of his close friends and relatives weren't so lucky in avoiding a violent death."
He lived in Los Angeles until his death in 1929.
The south-side Los Ranchitos subdivision, along with Earp Boulevard, was recorded with Pima County in 1941.
Sources:
Jeff Guinn, "The Last Gunfight," Simon and Schuster, 2011
Bob Boze Bell, "The Illustrated Life & Times of Wyatt Earp," Tri Star-Boze Publications, 2000
Bob Boze Bell, "Classic Gun Fights, Vol. II: Blaze Away! The 25 Gunfights Behind the O.K. Corral" Bob Boze Bell Pub., 2005
Dan Thrapp, "Encyclopedia of Frontier Biography," University of Nebraska Press, 1988
Robert M. Utley, "The American West: A Multicultural Encyclopedia," Grolier Educational Corporation, 1995
George Hand and Neil Carmony, "Whiskey, Six-guns & Red-light Ladies: George Hand's Saloon Diary 1875-1878," High-Lonesome Books, 1994 (pg. 228)
Wyatt Earp timeline: www.pbs.org/wgbh/americanexperience/features/timeline/wyatt/
Roy P. Drachman, "From Cowtown to Desert Metropolis: Ninety Years of Arizona Memories," Whitewing Press, 1999
Pima County plat map MP07023