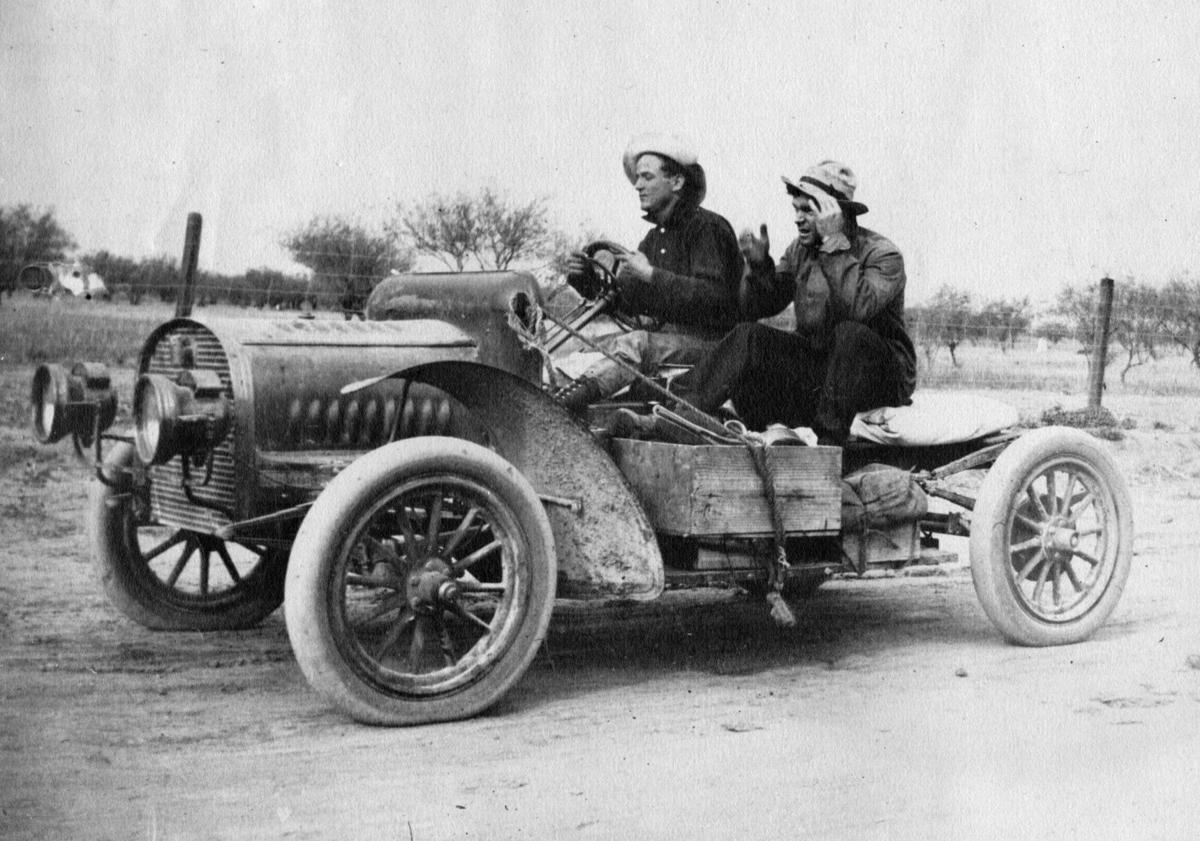 Warren A. Grossetta — who would grow up to be a political, business and civic leader in Tucson — was born here to Anthony and Bessie (Warren) Grossetta on Dec. 18, 1888.
His father was born in present-day Croatia and was a prominent businessman in Tucson, being co-owner of the Tucson Grocery Co. with one-time Mayor Gustav Hoff (namesake of Hoff Avenue). He later established the Tucson Opera House and Tucson Hardware Co., and was honored with Grossetta Avenue being named for him.
His mother's family had arrived in the Old Pueblo about 1880, with her mother, Frances J. Warren, being a long-time educator. Warren Elementary School, in the southwest part of Tucson, was named for her years later.
Grossetta was an only child and grew up in the family home on East Pennington Street. His early years were spent learning the violin, and he is known to have performed a violin solo in front of a crowd when he was as young as 11.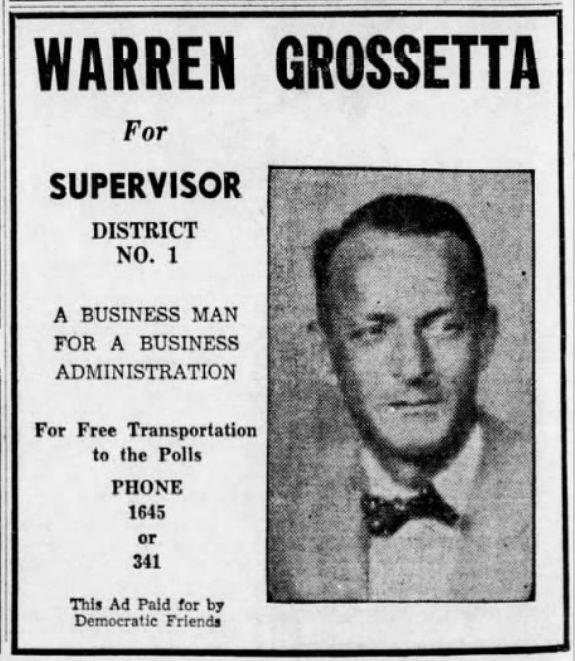 He completed eighth grade in 1902, graduated from the Preparatory Department of the University of Arizona in 1906 and finished his education at the UA, receiving a bachelor of science in mechanical engineering in 1910.
During his time at the university, he was engaged in other activities, as well. For example, in 1907 he was acting manager of the Tucson Opera House for a time, and two years later he was the business manager of the first circus set up on the UA campus.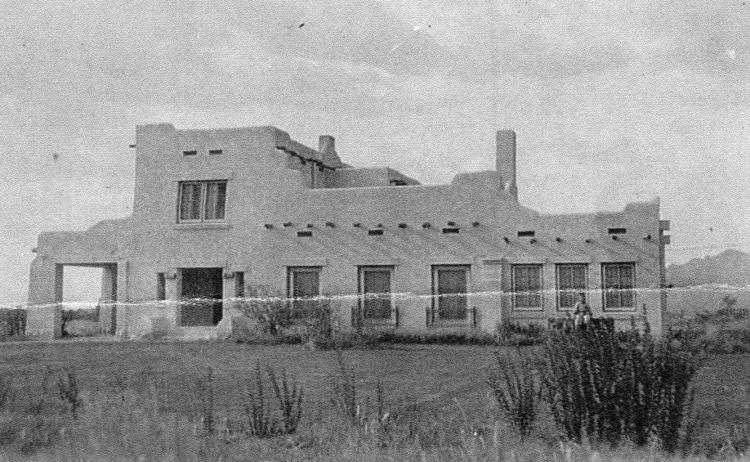 By late 1912, Grossetta was managing the family-owned Tucson Hardware Co., which he would later own himself. He had purchased a Flanders 20 automobile, one of many cars he would own, since driving was one of his passions.
On Nov. 16, 1912, Grossetta wed Winifred "Winnie" Dodge. The couple would go on to reside at 133 E. Pennington St. and to have two sons, Anthony in 1914 and Warren Jr. in 1920.
In October 1917, Grossetta was officially drafted for military service in World War I.
While much of his time was spent stateside, he was stationed overseas in Tours, France and Coblenze (Koblenz) Germany, working as a mechanic, until his discharge in June 1919 with the rank of captain. For many years after the war he was in the military reserves.
In 1920, Grossetta purchased land from Elizabeth and Phil Brannen, at Speedway and Pine Street, and constructed a beautiful Spanish-style home that was completed by February 1922. An Arizona Daily Star article described the home:
"The Grossetta hacienda is large and constructed along the lines of the old Spanish-Indian architecture. Long windows are adorned with iron grills in balcony effect, and the vigas that support the roof are of wood extending in true Indian fashion. Setting well back from the street, the new residence belongs typically to the desert and the mountains around Tucson."
At the time, Grossetta was serving as a city councilman and requested that several street names be changed, including changing Pine Street, the street next to his home, to Warren Avenue. While it's possible he named Warren Avenue for himself, his grandchildren Bruce Grossetta and Linda Grossetta Ren-fro believe he named the street for the family name, which included his grandmother, Frances, J. Warren, his mother, Bessie Warren Grossetta, himself and his son Warren Jr.
In 1928, Grossetta and his Tucson Hardware Co. joined a growing number of downtown businesses adding electrical signs to their buildings, but by the following year he had sold the business and retired.
Having more free time may have helped the long-time Rotarian get elected to the presidency of the Tucson Rotary Club, which normally met at the Santa Rita Hotel.
Under his direction, the club hosted some 400 to 500 Rotarians for a three-day state convention, held miniature-golf tournaments at the Tom Thumb Course on East Third Street to raise money for the Arizona Crippled Children Association and had some of Tucson's most influential people as guest speakers at meetings.
The years 1933-34 saw Grossetta working with a man named Dan Brewster on the construction of an approximately 17-foot motor boat, made of Honduran mahogany and powered by a Ford V-8 engine.
By March 1934, the two were testing the boat, which had a capacity for four people and room for the family's Irish setter, Big Darn, in Grossetta's 40-foot pool. Soon after it was on display at Monte Mansfield's Ford dealership at 19 E. Broadway.
Grossetta also served two terms on the Pima County Board of Supervisors, covering the years 1935 to 1938 during the Great Depression, tough times for many residents.
One of his most-important contributions in this position was the expansion of the Pima County Hospital to include the capacity for 90 additional patients, operating facilities and a children's ward.
From 1941 to 1943, Grossetta served as chairman of the Tucson Housing Authority, whose main project at the time was the low-income housing project on 10th Avenue at 21st Street called "La Reforma" or "The Reform."
The name was suggested by P.M. Elias, of the Tucson Housing Authority, and referred to a liberal political and social revolution in Mexico between 1854 and 1876 under the main leadership of Benito Juarez.
Warren Arthur Grossetta died suddenly on Christmas Day in 1943.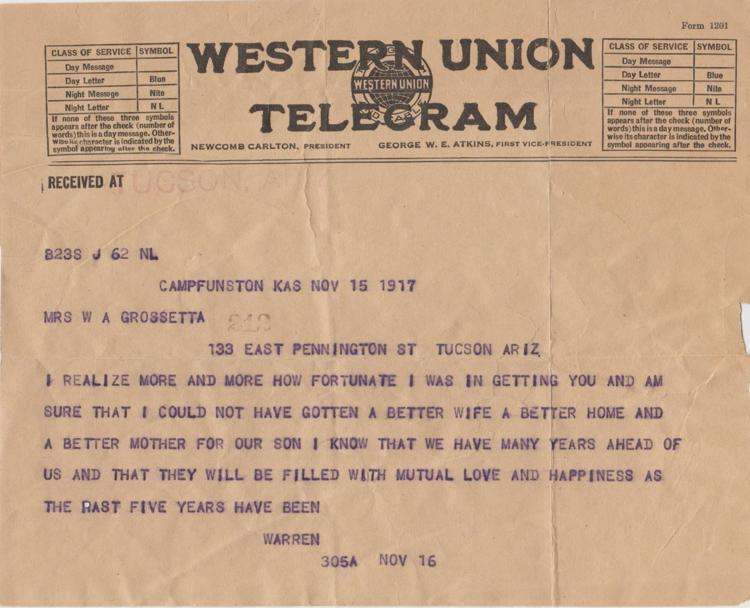 He wrote a letter to his two sons a few years before his death that said: "I leave an unfinished task for you, but God knows that I've tried not to. I've dreamed my dreams as all men do and only some came true. And my prayer today is that all the dreams may be realized by you. We'll meet some day in the Great Unknown — out in the realm of space — you'll know my clasp as I take your hand and gaze into your face. Then all our failures will be success."
David Leighton is a historian and author of the book "The History of the Hughes Missile Plant in Tucson, 1947-1960." If you have a street to suggest or a story to share, contact him at azjournalist21@gmail.com