At Cholla High School, students held photographs of the 17 victims of last month's school shooting in Florida. They read each name and short bios about each victim and locked arms in solidarity.
At Catalina High School, they placed 17 empty desks in a circle around the school's flagpole, one for each victim at Stoneman Douglas High School in Parkland, Fla.
At Canyon Del Oro High School they stood silently for 18 minutes — the one extra minute was for for Christina-Taylor Green — who would have been a sophomore there if she hadn't been killed in Tucson's mass shooting in 2011.
At Tucson Magnet High School, they sang, sat silently for 17 minutes, then marched in the streets.
At Catalina Foothills High School, they handed out thousands of red ribbons to remember the dead.
At University High, students flooded Republican U.S. Rep. Martha McSally's office with phone calls demanding action on gun control laws.
Across the city, the state and the country on Wednesday, students said they had #enough of gun violence and school shootings.
Buoyed by the swell of public pressure to enact gun control laws in the wake of the Stoneman Douglas and hoping against the political odds that their voices will affect change, students across the city left their classes as part of a nationwide demonstration one month after the Florida attack.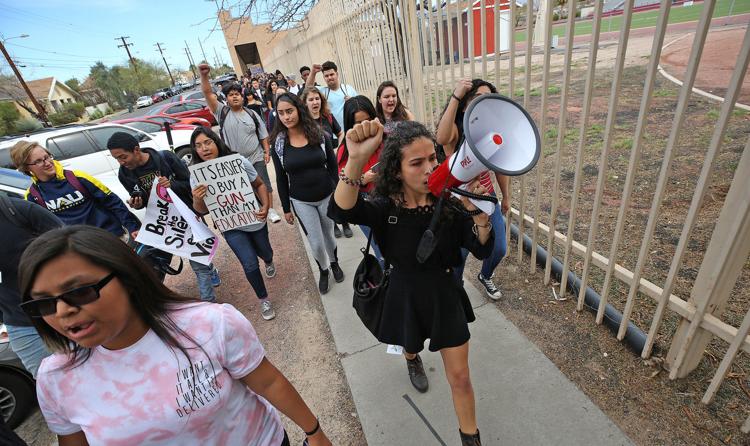 They called on lawmakers to enact gun control, to restrict access to military style assault rifles, to raise the age limit to buy guns, to do something to stem the flow of school shootings that have become a regular facet of life the United States for nearly two decades.
At Tucson High, hundreds of students left their classes at 10 a.m. and gathered on the front steps, holding signs that read "make schools safe again," "I want to feel safe at school," and "if not now, when?"
School leaders had discouraged students from leaving campus, promising disciplinary consequences for those who left, and offering instead to hold a variety of events for students to constructively use their voices on campus.
But as the crowd swelled to watch the school's choir sing in remembrance of the victims, a student shouted, "This is a national walkout, not a national sing-in."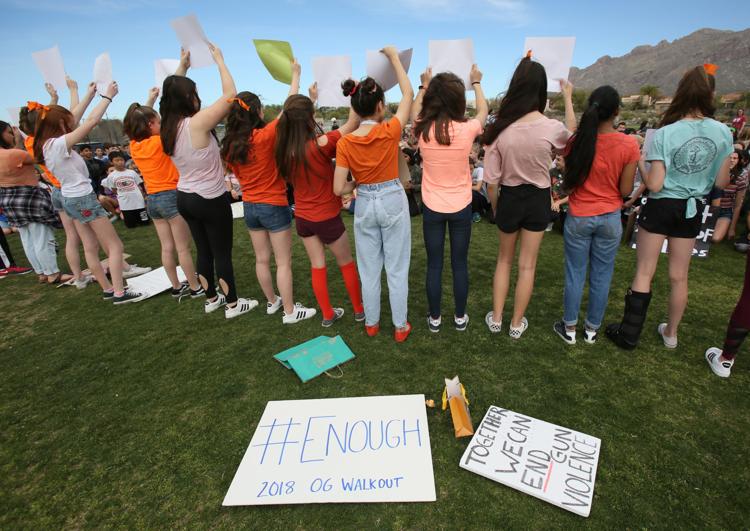 With that, hundreds of students walked off campus, taking their message to the streets as TUSD Superintendent Gabriel Trujillo looked on.
"You can only hope to minimize it," Trujillo said, noting school security was trailing the mob of students to ensure they were safe on the streets.
Pima County Schools Superintendent Dustin Williams high-fived students as they marched out.
"Drastic times call for drastic measures," Williams said, adding that the increased national conversation about arming teachers to protect students is "very deeply concerning."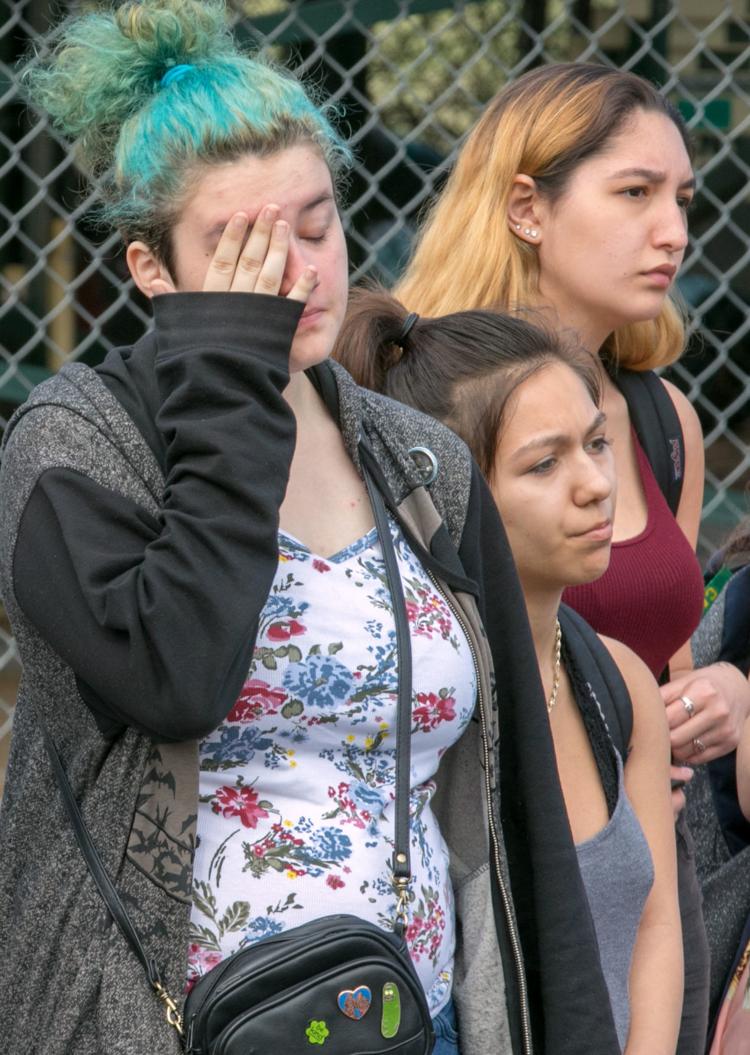 Parents joined in the march. Cars honked in support. One bystander screamed, "I'm so proud of you guys — you give me hope for the future."
Whether the Florida school shooting has turned the tide of public opinion enough to enact real change remains to be seen. But the shooting has given students a cause to rally around, and helped a new generation of student activists find their voices.
At a school assembly inside Tucson High, Trujillo told the students that after Columbine, his generation swore they'd never let a school shooting like that happen again. But they'd failed to live up to those promises.
"We were going to march, we were going to vote, we were going to do this and do that. We were going to do all the things in the world necessary to end gun violence in schools," he said. "It's over a generation later and nothing has changed. So my generation now needs to pass the baton on to you and learn from you."