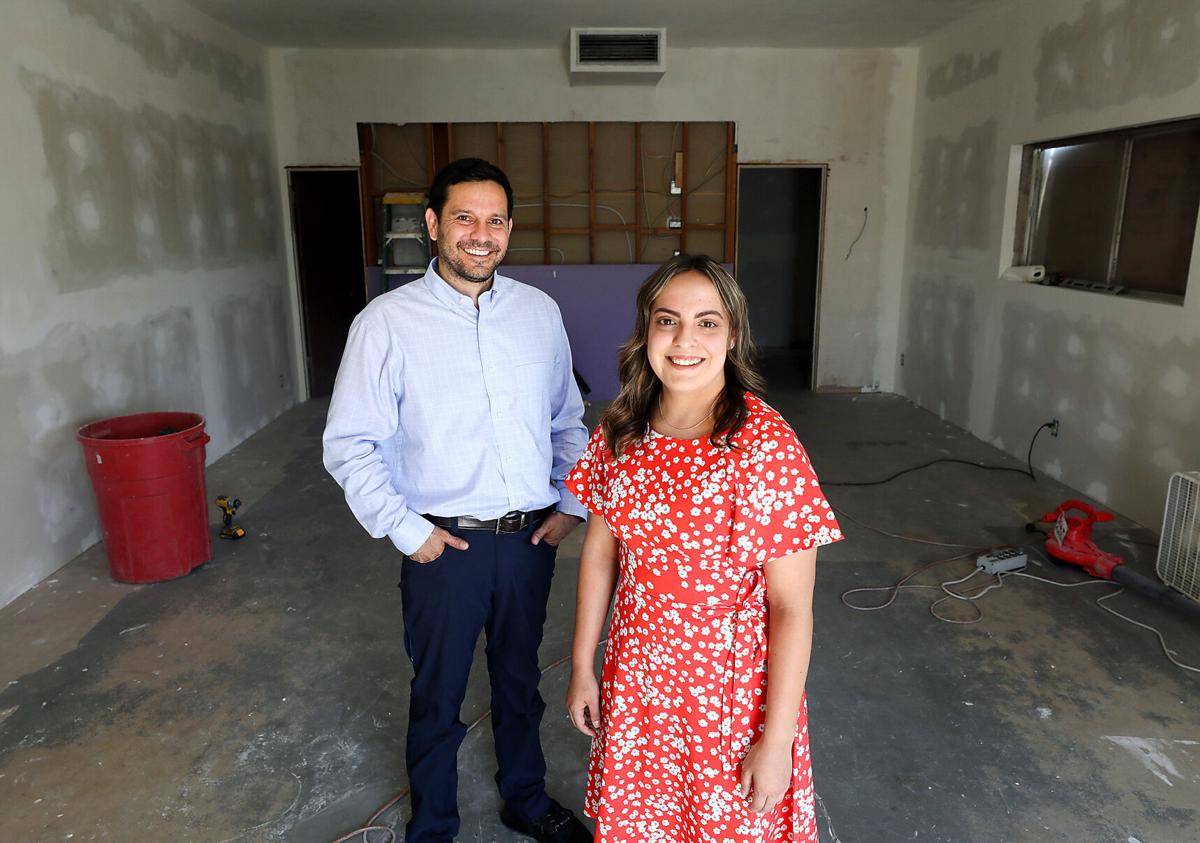 In the eight months since Steve Hanna has been selling his Old Pueblo Poblano Mexican Sauces, he has already secured shelf space at approximately 30 Tucson Mexican carnicerias.
"It's our biggest seller among the local products we carry," Ares said.
Part of the reason, says Oscar Segura, could be a case of mistaken identity. Some consumers might be confusing Old Pueblo Poblano's trio of hot sauces with the original Poblano Hot Sauce handcrafted by his family from 1924 until the company shuttered in June 2020.
But the confusion might be short-lived; Segura's cousin, Nathan Arevalo, has plans to relaunch the business later this year as Poblano de Segura Hot Sauce.
"We are so excited to bring the product back to the public for people who have been missing it," said Arevalo, whose business partner in the new venture is another cousin, Marisol Anaya, who recently earned a culinary degree.
Arevalo has the blessing of cousin Oscar, who ran the business with his mother and sister after his father, Oscar Ramon Segura, died in 2015.
In June 2020, a family dispute and a break-in at the hot sauce company's production facility led to its demise.
A family legacy
Segura and Arevalo's great-grandfather, Nicolas Segura, started Poblano Hot Sauce in 1924. His sons, Oscar and Gilbert Segura, had been working in the business since around 1970, but it wasn't until the senior Segura was on his deathbed did he pass along his recipe. He died in 1985.
Oscar Segura Sr. took his father's lead and handcrafted the hot sauce and bottled it by hand as his father had before him. Gilbert Segura worked alongside him for a few years before turning his attention to the distribution side of the business, said grandson Arevalo.
Arevalo was 16 when he started working in his grandfather's distribution business; he's now 35 and said the family's hot sauce business has been his only job.
"I just always have had a personal attachment to the Poblano product," said Arevalo. "That flavor and taste has always been a part of my life."
When the company fell apart last summer, Arevalo said he was determined to keep the family legacy going.
"Once I saw the business go the route it did, I was going to do anything I can to keep that family hot sauce going," he said. "A lot of that Segura name goes into that bottle."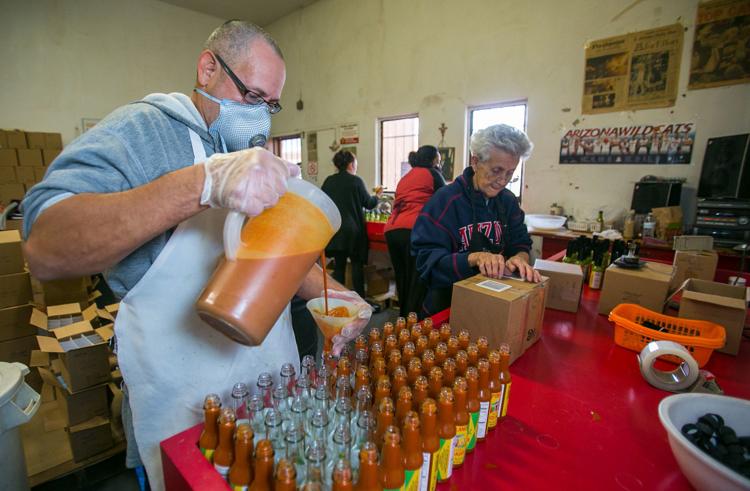 He received the blessing of Oscar Segura and set about lining up permits and renovating his grandfather's old distribution warehouse near Apollo Middle School on Tucson's south side as a production facility. Most of the work has been centered on updating the aging building, including improving electrical boxes and installing a slip-proof floor.
He said he hopes to have everything in order in the next few months so he can begin production using the original family recipe.
'Not the original'
Old Pueblo Poblano's Hanna admits that he tried to recreate the original Poblano Hot Sauce taste in his trio of sauces. He thinks he's close, but "we will never match up the same flavor," he admitted.
"It just won't, can't, because we don't know what it is," he said.
When he was spitballing ideas last year for his hot sauce venture with his family, his brother-in-law suggested they use the word "poblano" in the name. And since the company was based in Tucson, they added Old Pueblo and came up with the Old Pueblo Poblano name — which is admittedly similar but just different enough to distinguish the two companies.
Until you come to the labels. That's where things become a little fuzzier. The original Poblano Hot Sauce label featured a woman wearing a sombrero and the word "Poblano" in red prominent against a yellow, red and green backdrop.
Old Pueblo Poblano's label has a man in a sombrero dancing with a woman wearing a traditional China poblana-style dress and the word "Poblano" in red letters prominent against a yellow, red and green backdrop.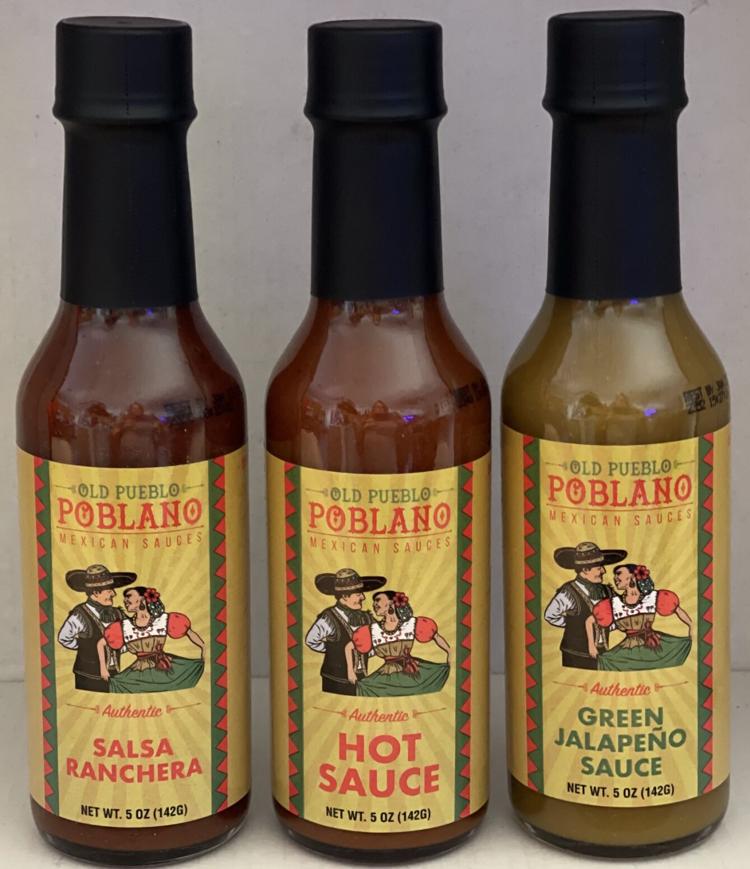 The dancers were created by a graphic artist, one of three designs he presented to Hanna and his family. The color scheme, Hanna said, was intentional: "I love the colors. I wanted that old look."
"I wanted that same kind of a look but, no, it's not the same," he said. "It's not the original."
Oscar Segura said it feels like a stab in the heart that Hanna chose to name his sauce Poblano.
"The word poblano meant a lot to my grandfather," Segura said. "For Steve to use that without even asking us, I don't think that's right. Of all the words, why use Poblano just to get people confused."
Continuing the legacy
Arevalo said it could take months before he is ready to begin producing three varieties of Poblano de Segura Hot Sauce — a red hot sauce, a green jalapeño and a salsa ranchero.
Yes, he said, they will mirror Old Pueblo Poblano's Authentic Hot, Green Jalapeño and Salsa Ranchero — three of the four original Poblano Hot Sauce varieties. But the original Poblano Hot Sauce was known for those three flavors, and Arevalo plans to continue that legacy.
And the new venture also will change the label color scheme to avoid confusion with Hanna's product. But the two companies will have one similarity on the label — the iconic Mexican woman dressed in a traditional China poblana dress.
"We don't want to add to the confusion. We want to be distinct and go our own way, but still call it Poblano and keep the family tradition," Arevalo said.
Hanna said to keep up with demand, he has had to outsource production of the sauce, made with his recipe. The 5-ounce bottles sell for $3.49 through the company's website tucsonpoblano.com; the retail price is a bit more.
Other stores where Old Pueblo Poblano is available include Gallery of Food at 2522 E. Fort Lowell Road, and Casino del Sol's gift shop, 5655 W. Valencia Road.
It also is served at Bisbee Breakfast Club restaurants, and Hanna said he is in talks with two major Arizona grocery store chains to carry the sauces statewide.