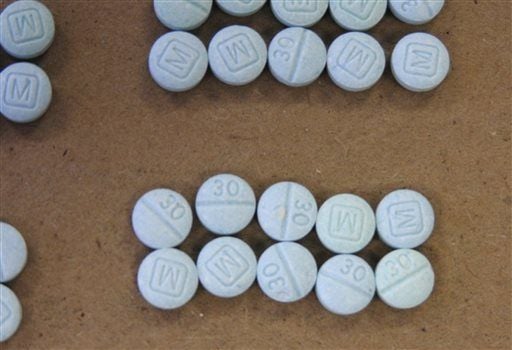 Fentanyl overdoses have now replaced car accidents as the leading cause of death for people 19 and younger in Pima County, as 2021 moves toward being a record year for all overdose deaths.
So far, 18 in that age group have died of fentanyl overdoses here this year, said Mark Person, program manager of Community Mental Health and Addiction for the county. Health authorities expect more than 30 deaths in the 19-and-younger group for 2021.
"It's so deceptive, this tiny little pill that's at all the parties," Person said. "If you are a parent, you really need to know about it, or if you have a loved one who struggles with addiction, you really need to know about it."
Fentanyl is cheap and common here, and some teens might be deceived into thinking the tiny pill is relatively harmless compared to injecting drugs like heroin, Person said.
"It doesn't look all that dangerous or intimidating," he said, "but it's up to 100 times more potent than heroin or morphine."
Social isolation and hardships brought on by the pandemic have compounded the crisis, Person said.
At the current rate, the projected end-of-year total for all age groups will exceed last year's record-breaking 207 fentanyl overdose deaths in Pima County. Among all accidental overdoses, people 29 and younger in the county are dying of accidental fentanyl overdoses more than any age group, data shows.
To illustrate the growing problem: There had been 145 fentanyl deaths by this time last year, Person said, while there have been 197 confirmed so far this year — as of Thursday — for a 36% increase.
The far more alarming jump comes when comparing last year to 2014, Person said, when there were five deaths from fentanyl, compared to 207 in 2020. That increase? 4,040%.
And while overdose deaths here are often due to fentanyl or fentanyl-laced substances, he said, methamphetamine, alcohol, cocaine, heroin and oxycodone are also causing overdose deaths. Overall deaths from overdoses on all drugs are expected to exceed 500 in 2021 in Pima County, based on the monthly average for January through May, up from 446 in 2020 and 337 in 2019.
An overdose death may involve more than one substance, and therefore, counts related to specific types of substances do not sum to the total number of deaths. Fentanyl continues to be the most common drug contributing to deaths, followed by methamphetamine.
In the past four years, the average age of those who die from drug abuse has dropped significantly, in part due to increases in teens and young adults dying from fentanyl.
'Trying to do the right thing'
Angela Murphy has been off crystal methamphetamine since 2014, but street drugs are still bringing pain into her life.
One of her closest friends died in July when he tried, again, to get sober.
"It's just so horrible," Murphy said. "He was trying to do the right thing and get sober."
Her friend's death did not come from an overdose, but from when he tried to detox from heroin and methamphetamine.
Murphy, 40, met Shane Berliew in a rehabilitation center called Miracle Center seven years ago.
He worked as a truck driver, she said, but his passion was playing the guitar and sharing music. When he was on the road, she said he would often get in touch about his favorite songs.
"He's been in and out of detox plenty of times since then," she said, referring to when they met. "He had the biggest heart. He loved people, and he was funny, with a dry sense of humor."
Shane was at her house over the weekend he died, a few days after quitting, and seemed to be doing OK. He was still feeling a bit sick to his stomach, and Murphy said she encouraged him to keep drinking fluids to stay hydrated.
He fell asleep that Saturday night, she said, and never woke up. He was 48.
'First stopping point'
Fentanyl has been around for a long time, Person said. Its common legal use was to treat acute and chronic pain, often by administering it through a patch, which released the drug slowly into the patient's system.
The problem took off a few years ago, he said, once the drug cartels figured out how to produce it and make it into a tiny pill.
"Our proximity to the border definitely makes our community fairly unique," he said. "We're probably the first stopping point for (fentanyl), which are available really quickly."
Other findings from the county data on overdose deaths include:
Females were less likely than males to die of an overdose, with males at 73% of the fatalities and females at 27%.
Overdose deaths here are occurring disproportionately in communities with the highest social vulnerabilities including people living in poverty, those experiencing housing problems and those having language barriers that make them isolated, among other factors.
Of the overdose deaths this year, 94% were found to be accidental, 3% were found to be suicides and 3% were undetermined.
Contact reporter Patty Machelor at 806-7754 or