Dave's Hot Chicken, the national chain that got its start in a Hollywood parking lot and now has more than 100 locations in the U.S., Canada, UAE and Qatar, is opening its first Tucson location on Friday, Feb. 17.
The restaurant, at 5615 E. Broadway, near Craycroft Road, is the first of three Tucson locations franchisee Lawrence Kouri plans to open.
"When I tried it at their first location in Hollywood I was blown away by the quality of it," said Kouri, who said he was impressed by the streamlined menu and that the company uses halal chicken.
Dave's Hot Chicken got its start in spring 2017 when friends Dave Kopushyan, Arman Oganeshyan, Tommy Rubenyan and Gary Rubenyan opened a street stand in an East Hollywood parking lot, selling spicy chicken to late-night customers. Instagram posts of the chicken and lines of customers created an immediate buzz that attracted the attention of Eater Los Angeles, the popular foodie blog whose review prompted even longer late-night lines.
By late 2017, the friends left the stand for a brick-and-mortar location in a nearby strip mall. Two years later, franchises opened up throughout Southern California, which led to national franchises in 2021; the first and only other Arizona location opened in Gilbert last year.
Dave's menu is fairly simple: chicken tenders served as sliders or on their own with fries and pickles. You also can get mac and cheese or kale slaw on the side. Chicken comes in seven degrees of hot, from "No Spice" to "Reaper."
The restaurant has attracted celebrity fans who've become stakeholders in the brand including the rapper Drake, Samuel L. Jackson, Maria Shriver, Michael Strahan and Boston Red Sox owner Tom Werner.
Despite the celebrity attention, Kouri said Dave's founders never forgot how they started.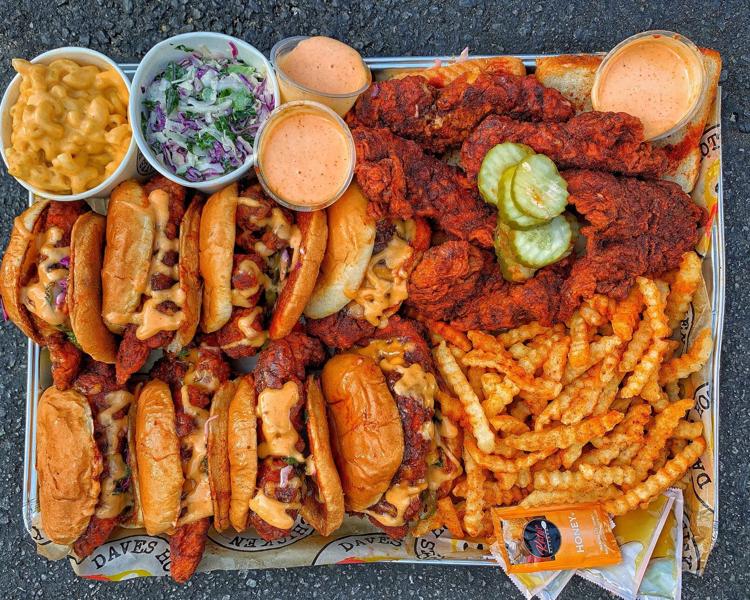 "We started with a single fryer in a parking lot," he said. "For us, it's all about community. We want people to love our food and we give back to the community and are very involved in the community. We're extremely humbled to be in Tucson and the community has really embraced us."
The other two future Dave's locations have yet to be determined.
While Tucson has a reputation for being behind on national trends, we were on track with the hot chicken craze. For the past several years, homegrown purveyors including Pops Hot Chicken and The Parish have attracted loyal followers.
Dave's Hot Chicken will open at 11 a.m. Friday and will stay open until midnight. Hours after Friday: 11 a.m. to midnight Fridays and Saturdays, and 11 a.m. to 11 p.m. Sundays through Thursdays. Get more information at daveshotchicken.com.