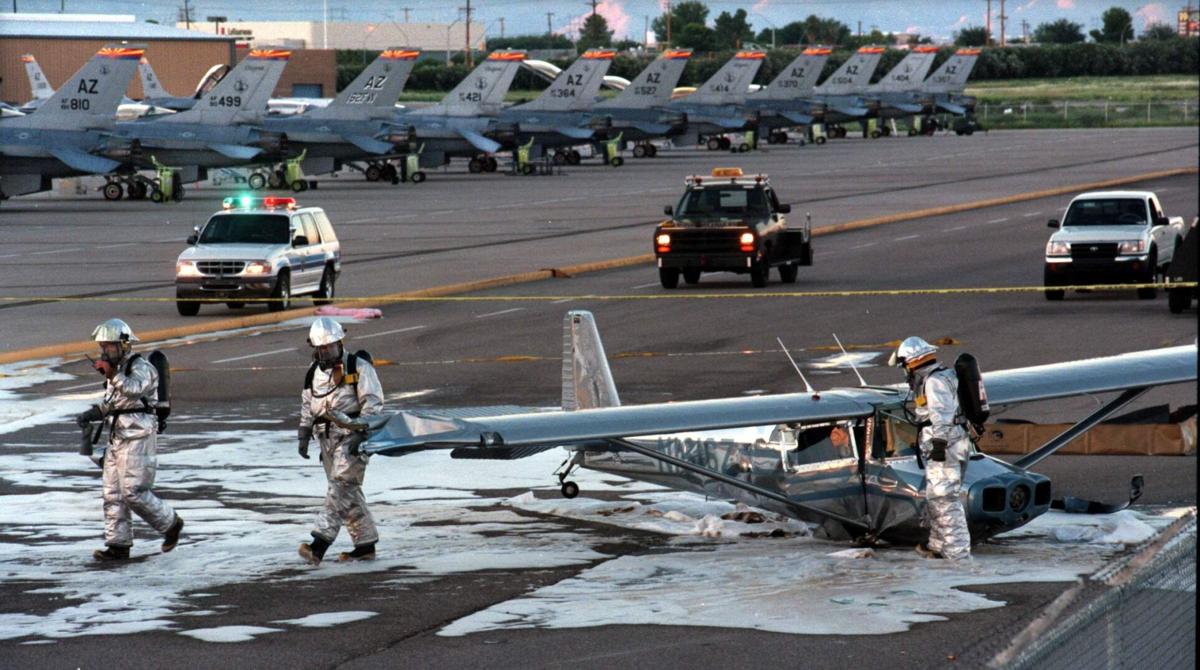 Low levels of three PFAS compounds were recently discovered in a Tucson Water well in a remote area — the far northeast side near Tanque Verde Wash, inside the city limits.
The chemical compounds were found in early August in routine sampling. The well, infrequently used before then, was taken out of service on Aug. 6. It was officially put on standby, to be used again when needed, for instances such as firefighting or responding to extremely high demand.
It's the first time a city well located in that area has had PFAS concentrations above what would be expected to be found naturally in the water.
Three other city wells lying a few miles west of it were found with low PFAS concentrations between January 2019 and March 2020. They have been in a similar operational status as the Tanque Verde wash-area well "for some time," Tucson Water said in a statement.
Authorities say they don't know where the PFAS in this location came from.
Because of where it was found, this latest PFAS discovery surprised the head of Pima County's environmental agency and raised strong concerns for Steve Kozachik, the city councilman who has been most vocal about PFAS contamination.
Levels far below guidelines
The well is in the 1400 block of North Houghton Road. That's about 1,300 feet north of Tanque Verde Wash, a major, east-west water course that drains the Rincon Mountains from the east.
The last time this well had been sampled before August was in February 2019. At that time, officials didn't detect any of 14 PFAS compounds they were looking for, Tucson Water said.
PFAS concentrations in the well were below or far below levels at which Tucson Water's guidelines for the various compounds normally call for shutting a well down unless there's a significant need to use it. The guidelines' levels range from 7 to 200,000 parts per trillion PFAS, depending on the compound.
But the utility's policy toward wells with even low PFAS is leading the city to take them out of service in most cases as well.
"The bottom line is that whenever we have the choice, we will not run a drinking water well that has any measurable PFAS in it. Why would we?" said James MacAdam, a Tucson Water spokesman.
For the majority of the last few years, the well was used between 2-8 hours per month, the utility said.
It was, however, operated for 726 hours between Sept. 25, 2020, and Nov. 3, 2020, at a time when the Central Arizona Project canal was shut down. At that time, the utility was also performing maintenance work on its pipelines that deliver CAP water from the Avra Valley to the Tucson basin, Tucson Water said.
Where did it come from?
The utility says it's assessing possible sources of contamination in this area and has also turned information on the well over to the Pima County and Arizona departments of environmental quality.
"However, we are not yet aware of any potential point sources in the area, like an airport, fire fighting training facility, or uses further up the watershed," the utility said in a statement.
The Arizona Department of Environmental Quality also hasn't identified a PFAS source in the wash area, after reviewing available data of potential PFAS sources there, the department said in a statement.
As part of its review, ADEQ examined a database that lists facilities of environmental concern for PFAS and other pollutants, including plating operations, recycling centers, landfills, airports, military bases, fire training areas and more, the state agency said. It also reviewed various other reports and analytical data.
"ADEQ is continuing to assess PFAS data in this area, together with data from Tucson Water's ongoing PFAS monitoring, to determine if future investigation activities are necessary," ADEQ said.
The Pima County Department of Environmental Quality doesn't normally investigate groundwater contamination, said its director, Ursula Nelson. Its main role in drinking pollution issues is to insure that local utilities don't serve their customers contaminated water.
But Nelson said she wonders, "How in the world is there PFAS contamination out there? It's nowhere near Davis-Monthan (Air Force Base) or the (Tucson International Airport)," the areas with the heaviest PFAS concentrations in groundwater inside Tucson, she said.
"With PFAS, we are dealing with such a broad range of compounds, and there are so many unknowns out there, the more we look, the more we may find," Nelson said.
This well is the farthest east of any city well found with PFAS since the utility started sampling for it in 2009. In that time, the utility has taken 23 wells at least temporarily out of service when found with PFAS concentrations elevated above natural background levels. Concentrations have ranged from very low to extremely high, such as those found north of Davis-Monthan Air Force Base.
The well lies far from areas where the most serious PFAS contamination has been discovered in the city and its environs, including near Davis-Monthan and the Morris Air National Guard base on the south side.
Location "really troubling"
Compounds found in this Houghton Road well are:
PFHxS, found to have 7.2 parts per trillion on Aug. 3 and 2.4 part per trillion in a follow-up sample on Aug. 13. Tucson Water says it takes wells out of service for the long term if they contain PFHxS and three other PFAS at 18 parts per trillion total.
The compound PFBS was found at 11.5 parts per trillion in the Aug. 3 sample and 8.5 parts per trillion on Aug. 13. The city's target for shutting a well down due to PFBS is 420 parts per trillion.
The compound PFHxA was found in the Aug. 3 sample at 4.5 parts per trillion. The city's shutdown level for PFHxA is 200,000 parts per trillion.
Kozachik called the location of the latest PFAS discovery "really troubling."
"Tucson Water is doing the responsible thing in shutting them down, but that's not a long-term solution," he said.
In a statement, the utility said, "Tucson Water takes the detection of PFAS anywhere in our water system seriously," noting that in 2019 it set what it calls "aggressive" targets for taking wells such as this one out of service.
"Identifying the source is desirable. However, since the levels are significantly lower than what we see near Davis-Monthan and northwest of the Air National Guard, finding the source may prove to be extremely difficult," the utility said.
Asked if the Houghton Road well contamination could have come from Davis-Monthan, the utility added, "It does not seem logical, but we are unable to rule out anything at this point."
Air Force officials began a full-scale investigation of contamination near the base in April 2021.
On Friday, Davis-Monthan public affairs chief Elias Small said of the latest PFAS discovery, "While the Air Force cannot speculate on the information you presented, I can tell you the Air Force has taken considerable steps to identify, respond to and prevent the potential impact of PFAS that may be associated with our mission activities on drinking water supplies, including the ongoing remedial investigation by Air Force Civil Engineer Center to study the nature and extent of PFAS at Davis-Monthan Air Force Base.
"The safety of our airmen, families and Tucsonans remains our priority, and we will continue working with our partners across the city and state on response efforts," Small said.
Air National Guard officials said last June that the Guard would award a contract for a similar investigation by the end of September 2021. Both investigations are scheduled to be complete by the end of 2024.