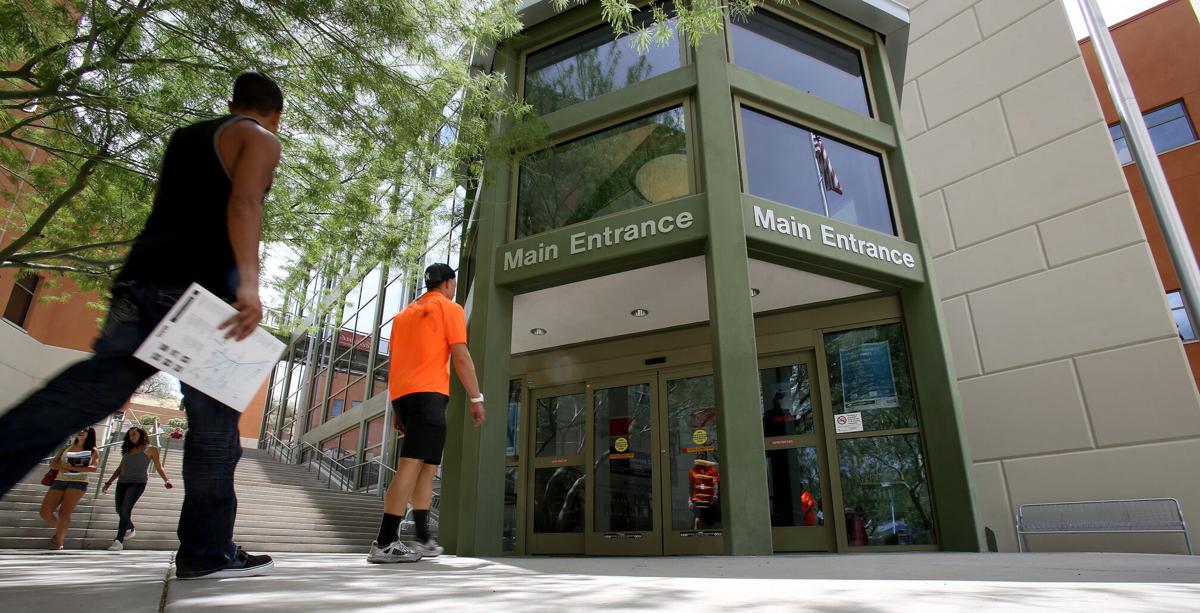 In an effort to remove some of the economic barriers keeping those would-be students — many of whom are low-income or non-traditional — from attending college during the pandemic, some community colleges in Arizona are offering students major incentives to sign up for classes.
Central Arizona College in Coolidge, for example, just unrolled a free tuition program for Pinal County residents this school year. Mesa Community College's new Mesa Promise Program offers two years of free tuition and fees for city residents. And Yavapai College is offering one free course to every student this fall. All of these local programs come as President Joe Biden and some members of Congress lobby to include free community college as part of a proposed spending plan.
At Pima Community College — where enrollment is down nearly 20% since fall 2019 and 25% over the last five years — it's not clear if free tuition is a financially viable option, especially as it begins to grapple with lost tuition revenue.
'Giving up another revenue source'
"I think we have to carefully look at this whole free class versus our budget piece," Chancellor Lee Lambert told the PCC Board of Governors at its virtual meeting last week. "Some colleges are doing this because they need to get their expenditure limit up, and so to do that, you've got to get more students. But the trade-off is you're collecting less tuition and fees. So, we're constantly straddling those two pieces."
One advantage rural community colleges such as Yavapai and Central Arizona have that PCC doesn't is state funding.
Several years ago in the fallout of the Great Recession, the Arizona Legislature eliminated state appropriations for Maricopa Community Colleges and PCC. That left PCC with two income streams: local property taxes and the money it collects from tuition and fees. The ratio has varied over the years, but right now roughly 80% of the college's revenue comes from taxes, and the remainder comes from tuition.
If PCC did decide to offer a free tuition program, Lambert said, "we would be essentially giving up another revenue source," but that the college is "looking into this to see how we might see what we can do."
David Bea, executive vice chancellor for finance and administration at the college, is in the process of weighing if a free tuition program is right for PCC's budget.
Despite dramatic pandemic-related enrollment declines that led to $8 million in losses last year, the college has so far been able to avoid major cuts and layoffs with the help of an estimated $40 million in federal relief aid and a relatively healthy pre-pandemic financial disposition.
But if enrollment doesn't pick up, that may not last.
"We have a base infrastructure that's misaligned with our enrollment right now. The good news is that we have a good financial foundation, but we have challenges. If our enrollment is down at this new level, we have a new reality at the college," Bea told the Arizona Daily Star. "It will play out during the course of this year in our budget conversations about looking at vacant positions, looking at what our staffing size is in relation to our enrollment."
When it comes to balancing the budget over the next few years, "we've got to be realistic and creative about how we're going to address this in the long term," Bea said, adding that his ultimate hope is to see the students who left during the pandemic return to the college.
But if free tuition isn't part of PCC's immediate solution for restoring enrollment — and potentially avoiding budget cuts — then what is?
Enrollment strategy
Late last month, PCC announced it was using federal money from the Higher Education Emergency Relief Fund III to wipe away unpaid student balances for approximately 4,500 students in hopes of boosting enrollment this semester.
At this week's board meeting, David Doré, president of campuses and executive vice chancellor for student experience and workforce development, said college administrators are tracking those students to see how many actually enrolled, but would "keep the board informed on the effectiveness of that initiative."
In the meantime, PCC's strategy for boosting enrollment includes a robust outreach and marketing campaign; retention and student support programs; and community partnerships.
This year, the college has hired more student success coaches and one full-time faculty member to provide support to students with the greatest need.
"We've piloted that and found it to be very effective," Doré said.
Additionally, PCC has continued lending laptops and tablets to students and operating its student food pantry. It's also offering a student wellness assistance program that includes free counseling services because "we're finding students are having a number of mental health, anxiety and stress issues they're dealing with."
Looking ahead, Doré said the college is in the process of launching a child care program at the Desert Vista campus next summer to make it easier for student-parents to attend classes.
The college is also taking stock of the strength of its academic programs. It's looking at expanding offerings for programs with high enrollment, such as hospitality, health sciences, auto mechanics and dual-enrollment courses. PCC also has several partnerships in the works, including one with the Pascua Yaqui Tribe to build an educational center on tribal lands and various others with local health care providers.
But board member Maria Garcia wanted to know how the college plans to identify which neighborhoods in Tucson have seen the sharpest enrollment declines.
"I could be wrong, but I believe that in certain parts of the city, there's people or students dropping out or not attending. I'd like to see the numbers with all the specific areas — not so much all the Hispanics, Latinos or Native Americans — but overall within sections of the city, " Garcia said. "I think it would help us to identify how we can try to reach them."
That's where another partnership — this time with the public school districts that have also had their share of pandemic-related enrollment problems — will come in.
"We're working proactively with each of the K-12 districts. Some have more vulnerable students than others," Doré said. Local education leaders will be able to air their concerns about particular districts or individual schools at a roundtable discussion with PCC this fall "to discuss collaborative strategies and initiatives to support our high school students transitioning to PCC."
Kathryn Palmer covers higher education for the Arizona Daily Star. Contact her at kpalmer@tucson.com