Drive up Interstate 10 and you're bound to notice them: Billboards for marijuana dispensaries, most of them with addresses somewhere in the greater Phoenix area.
In fact, the number of active and open dispensaries in Maricopa County — 86, as of this month — outnumbers the amount of operating dispensaries in the rest of the state, combined. And, when compared to Pima County, Maricopa sports a 5-to-1 advantage. Pima County has 16 operating dispensaries.
"Those numbers roughly correspond to the populations of the Phoenix metro area and the Tucson metro area," says Jon Udell, a cannabis attorney with Rose Law Group in Scottsdale and communications director for the Arizona branch of the National Organization for the Reform of Marijuana Laws, or NORML.
In fact, there are nearly 4½ people in Maricopa for every 1 Pima County resident, giving the state's most populous county just a slight edge on dispensaries per-capita.
And while population tells most of the story, it's the money tied to that population that's shaped the landscape of where dispensaries are, and aren't, in Arizona today.
Follow the money
In 2010, Arizona voters approved Proposition 203, or the Arizona Medical Marijuana Act. With its passage, the Arizona Department of Health Services was put in charge of setting rules, guidelines and regulations for the new industry.
Under the law, patients with certain medical conditions and a doctor's recommendation can obtain up to 2½ ounces of marijuana every two weeks.
In response, AZDHS developed a lottery system where applicants for a prospective dispensary license could submit applications, each costing a non-refundable fee of $25,000, in hopes of winning one of a limited number of licenses with the right to distribute marijuana.
That total number of dispensary licenses is tied in perpetuity to a formula set into law with the passage of Prop. 203. Essentially, the number of total marijuana dispensaries in Arizona is dependent on the total number of retail pharmacies.
"For every 10 medical pharmacies, the department of health was required to award one marijuana license," says Samuel Richard, executive director of the Arizona Dispensary Association.
Originally, AZDHS awarded 99 initial dispensary licenses in 2013 statewide, when the medical marijuana law took effect. After a census of pharmacies in 2016, the state issued an additional 31 licenses, bringing the total to 130.
Those initial licenses were supposed to be awarded to people and entities around the state, according to former AZDHS director Will Humble.
"Otherwise, we were just going to get a whole bunch of applications for downtown Phoenix," he said. "We got 12 applications for the ASU (area) and we'd get zero for up north of the Grand Canyon."
At first, the medical licenses were well distributed.
"They were kind of, sort of far-flung across the state," Udell said. "People tried to submit competitive applications in regions that weren't being serviced already."
However, those initial awarded medical licenses weren't tied to any one geographical area. And, if a license holder decided, after operating for three years in a rural area (or any area) that they'd like to either move their dispensary or transfer the license, there was nothing written into state rules to stop it.
"Many of them relocated to places that were more profitable," Udell said. "So that's been a pretty common feature of the industry."
And because Maricopa County has by far the most medical card holders and (with the passage of Prop. 207) more prospective recreational use customers, it made sense for license holders to relocate to an area that would have more potential for profit. Also, with the passage last year of Proposition 207, the state now allows anyone 21 and older to possess up to an ounce of marijuana or six plants for recreational use.
"That's, in my view, where the discrepancy between the two (Maricopa County and Pima County) kind of comes from," Udell said. "The cause of the discrepancy between the two of them is they're (license holders) just trying to go where people are located and demand is highest."
More on the way
While Arizona's medical marijuana industry is nearing a decade old, it's adult-use recreational program isn't out of its first year yet.
With its implementation earlier this year comes new programs aimed at better distributing dispensary licenses to under-served counties and areas.
The first of those programs, the "empty county back-fill" lottery, awarded 13 county-specific, adult-use only licenses in April to groups and individuals who had applied.
That lottery, aimed at counties with two or less dispensaries, had no real effect on Maricopa and Pima counties, as those licenses, while ultimately transferable, are tied to the county they are awarded in, said Udell.
"Gila County just got I want to say two new dispensaries," he said. "Those dispensaries will be required to stay in Gila County. They can relocate down the road, but they have to relocate to another spot in Gila County."
However, the state's next round of licenses, distributed under the "social equity ownership" program, should have some effect on where Pima County residents can purchase marijuana.
The program is geared towards providing licensed dispensary ownership to "people from communities disproportionately impacted by the enforcement of previous marijuana laws." These 26 licenses will be handed out in early 2022, according to Tom Salow, branch manager with AZDHS.
Unlike the rural county program, licenses handed out under the social equity ownership program won't be tied to a specific county or location.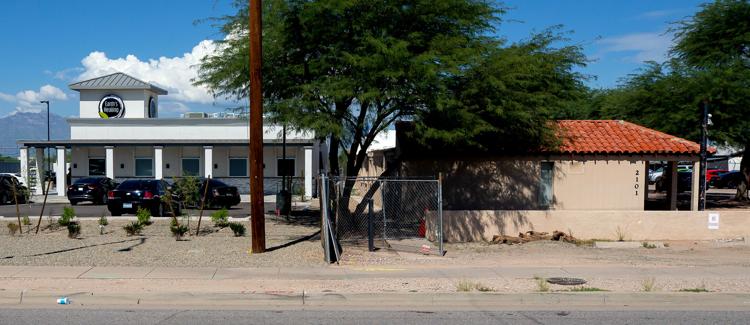 According to Richard, with Tucson's relatively friendly zoning laws, he foresees a few additional dispensaries sprouting up as a result of the program.
"I'm fairly certain that there will be at least a few more dispensaries moving into town," he said.
The future of
dispensaries
Once the state issues 26 social equity licenses next year, the total will be 169 active licenses, although as of publication, only about 125 are attached to active retail locations.
For comparison, Washington, a state with a similar population to Arizona of over 7 million, has more than 1,000 dispensaries – not just licenses, but retail dispensaries. Oklahoma, a state with roughly half Arizona's population, has more than 2,000.
Richard explained that relatively low number of dispensaries per-capita in Arizona compared to other states is due to two factors: voters not wanting the program to end up "like Oklahoma or California, with dispensaries on every corner," he said — and the related fact that the marijuana industry is still viewed as being part of the black market.
"Many cities and counties still treat marijuana much like pawn shops and gentlemen's clubs," he said.
Plus, 169 licenses is actually more active licenses than the 10-to-1 pharmacy-to-dispensary formula allows, Udell points out.
"It's totally absurd," he said. "Arguably it made some sense for the medical marijuana act because they were medical dispensaries, but would we tie the number of liquor stores or licensed alcohol distributors to determine pharmacy numbers?"
Both Richard and Udell were in agreement that, barring action by the Arizona Legislature, another voter initiative or continued population growth that necessitates more than 1,700 retail pharmacies in the state, that total of 169 active dispensary licenses isn't likely to change soon – if ever.
Edward Celaya is a breaking news and marijuana reporter. He has been on both beats since May 2021.