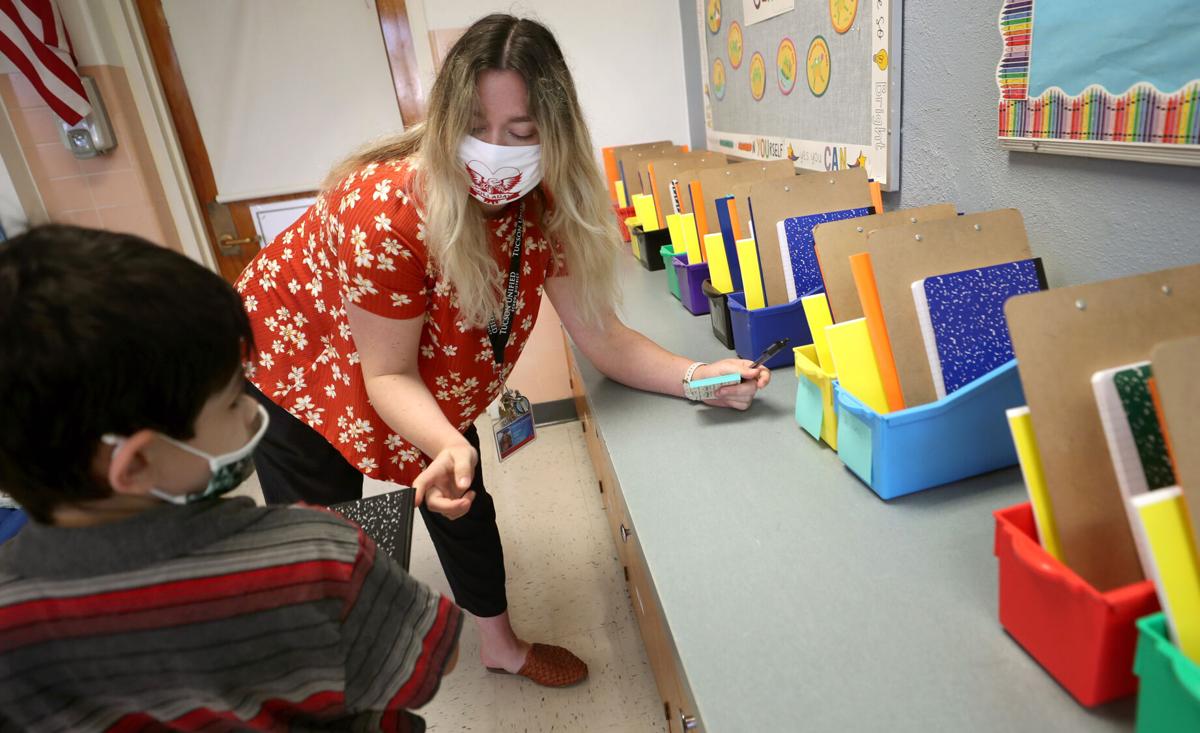 Family business brought me to a Tucson high school this week.
Everybody was masked. Every teacher, every student, every staff member.
But it would not be true except for the decision by the Tucson Unified School District board last week to mandate masks in its schools. TUSD's board made that decision despite a new law that bans mask and vaccine mandates at Arizona's public schools, which followed a similar executive order by Gov. Doug Ducey. The schools are arguing the law doesn't take effect until Sept. 29.
Last week, as this wave of scholastic civil disobedience spread to a half-dozen Arizona school districts, Ducey's spokesman, C.J. Karamargin, had the audacity to refer to these new mask mandates as "virtue signaling."
The term "virtue signaling," if you're not aware, refers to stating opinions or taking actions that are intended simply to display one's moral correctness on an issue. But what the schools are doing is not some sort of empty gesture — it has a real-world effect, along with vaccinations.
This should go without saying, given that the wisdom is more than a year old, but masks slow the spread of infections by stopping the microscopic spray of saliva from leaving our mouths when we talk, laugh, cough and sneeze. It's not failsafe, especially with the more transmissible delta variant, but it can be effective in limiting the spread, especially in crowded places like schools.
Ducey used to push mask-wearing, too. But lately he's playing footsie with the faction of his party that has gone anti-vax and anti-mask. Some Republicans simply want the freedom to make their own choices, and others have gone down YouTube rabbit holes doing their own "research" on the supposedly conspiratorial roots and awful effects of masks and vaccines.
So, when Karamargin referred to "virtue signaling," the phrase actually applies more accurately to his boss. Ducey has been signaling to GOP voters that he's an acceptable politician by opposing mask and vaccine mandates.
On masks, he's gone from firm, starting June 17 last year, to squishy. Unfortunately, this squishiness has caught on among school districts that haven't placed hard-headed concern for public health first and concern about lawsuits and politics second. Pima County, too, backed down Tuesday from taking a strong stand on masks in schools.
Catalina Foothills had a special meeting and considered the mask issue, but decided to "strongly recommend" wearing masks, rather than mandating it, as a lawsuit over school mask mandates plays out in Maricopa County.
"At the present time, mask mandates in Arizona's public schools are prohibited by a recently enacted AZ statute," director of community relations Julie Farbarik said in an email. "A lawsuit filed against the Phoenix Union High School District because that school district is mandating masks has a hearing scheduled for next Friday. Depending on the outcome of that hearing, we may revisit our mask policy."
In the Amphitheater School District, officials have gone further and recommended wearing masks but strongly defended the right of people not to wear them.
"We will not violate the law," Superintendent Todd Jaeger said in an email, indirectly throwing braver school districts under the bus. "In Amphitheater, we will respect the right under Arizona law of every parent and staff member to make choices about whether to wear a mask. We will not tolerate pressure or bullying about masks — from any point of view."
There really is nothing wrong with pressure, which is what the district is doing — mildly pressuring — when it recommends wearing masks. And the district is so concerned about bullying that it put up signs loudly saying "MASKS ARE OPTIONAL. Your choice will be respected."
This is the kind of care-free attitude that gets a place into trouble.
Some Arizona private schools recognize that. Brophy Prep, the Catholic school Ducey's children attended, is requiring masks, as are Salpointe Catholic and Tucson Hebrew Academy in Tucson.
In Alabama, a state with surging COVID-19 cases, one of the state's experts in pediatric infectious diseases declared himself "strident" in support of school mask mandates Tuesday, the Birmingham News reported.
"We need to mask," said Dr. David Kimberlin of the University of Alabama-Birmingham School of Medicine. "I'm sorry about that. I wish it weren't true. But we do. We are going to sit around and argue about all the deck chairs on the sinking boat until we all drown unless we pull together and say, 'Alright, I don't like it, but I'm going to put the mask on when I'm inside.'"
"In hindsight, I wish that it had not become law," Hutchinson said. "But it is the law, and the only chance we have is either to amend it or for the courts to say that it has an unconstitutional foundation."
He has called a special session for the state's legislature to consider changing the law.
And yet, here in Arizona, it is only a rebellious half-dozen school districts that have taken the responsibility themselves and ensured that this minimal measure, masks, is taken to prevent a surge and keep schools open.
It's a good thing they've done so — you won't see Ducey calling a special session to clean up after his virtue signaling.
Tim Steller is an opinion columnist. A 25-year veteran of reporting and editing, he digs into issues and stories that matter in the Tucson area, reports the results and tells you his conclusions. Contact him at tsteller@tucson.com or 520-807-7789. On Twitter: @senyorreporter