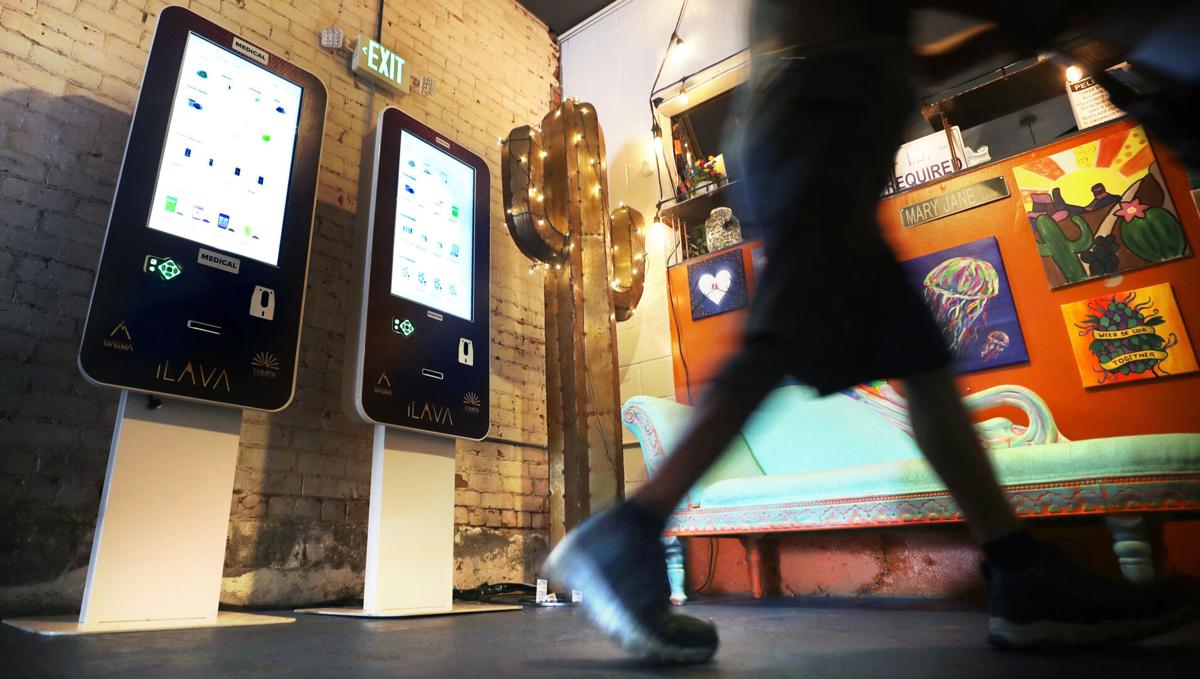 Fourth Avenue's first puff-and-paint venue has partnered with the downtown area's only marijuana dispensary to offer pick-up service through a first-of-its-kind kiosk system.
"What it allows you to do is be in an environment that is conducive to cannabis, as Arte Bella is, and at the same time be able to place orders with real-time inventory," said Moe Asnani, director of Downtown Dispensary, located at 221 E. Sixth St.
The kiosks, dubbed a "game-changer" by Arte Bella owner and operator Jen Christensen, are the newest addition to a space that just opened a bar and is taking over the restaurant space once occupied by Fullylove's, on top of being the city's only dedicated art space where customers can vape and smoke marijuana.
"I'm a big fan obviously," she said. "And I want everyone to know about it."
Christensen confirmed that customers can come back after picking up their orders and consume marijuana on the premises at Arte Bella, with the studio's large lounge available to anyone vaping and the outdoor patio accessible for anyone putting flame to marijuana flower.
"We are following all Prop. 207 laws and guidelines," she said. "Which is, you know, you can't sell it, you can't trade it. It's only sharing – that's it."
Christensen said using the kiosks are easy, simply tap on the screen to purchase a pack of edible marijuana gummies. Asnani said the dispensary's full menu of products would be available through the kiosks.
Once a purchase is made, the customer receives an estimated time for pick-up retrieval on the kiosk screen. Christensen estimated the walk to Downtown Dispensary to be about 10 minutes round trip.
Asnani said his budtenders will be ready with customers and patients orders, using state-issued identification cards and driver's licenses as confirmation. Payment is processed on-site as well, and the dispensary accepts cash, debit (with a $3.50 fee), and payment through Alt36, a cannabis-centric digital platform used to process payments.
While there were originally plans to have a delivery option available to medical patients, those plans are now on hold, according to Christensen and Asnani.
"We're definitely exploring doing that logistically with the software side and then also legally just having our attorneys check it out," Asnani said.
The two kiosks are made and designed by Elo and serve two different customer bases: adult use recreational customers and medical patients.
That's due to a difference in pricing and high-potency inventory between the two, Asnani said.
"There's some menu items that can't be sold to recreational customers, like high-potency edibles and things like that," Asnani said. "We really just have two different menus going on our website and in our stores, anyway."
Asnani said he could foresee expanded use of the kiosk system, as he already has more than a dozen on-site at both Downtown Dispensary and its sister location, D2 Dispensary, on East 22nd Street and South Kolb Road.
The technology, however, is expensive.
"Obviously from a security standpoint, if anything happens to those devices, you know, it'll be painful for us," he said with a laugh.
For her part, Christensen said she was happy to partner with another local business, especially one that's arguably more marijuana-friendly than her own.
"We're all pretty gung-ho about it and we're all supportive of each other," she said.
Edward Celaya is a breaking news and marijuana reporter. He has been on both beats since May 2021.