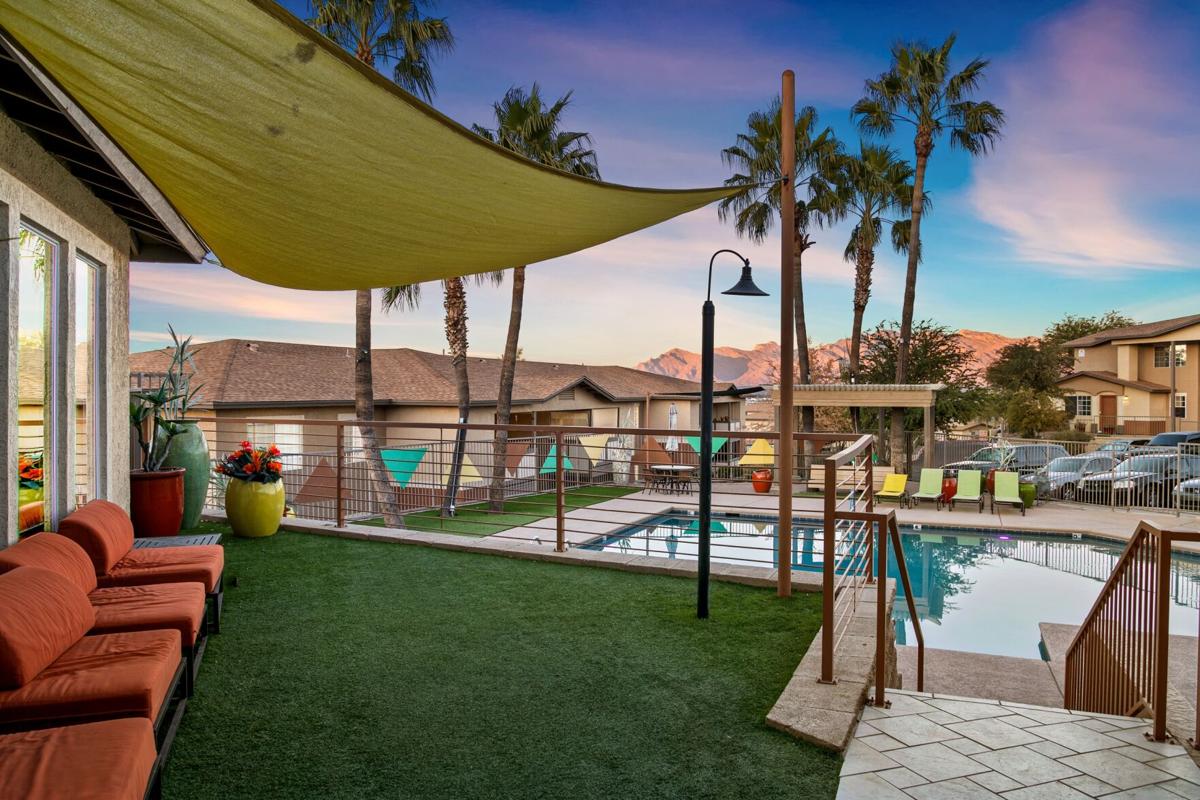 An apartment complex at the base of the Tucson Mountains that catered to students is flipping into a traditional rental community.
Tara Investment Group LLC bought the 205-unit The Ledges at West Campus for $33.75 million.
Built in 1997 at 2162 W. Speedway, near Greasewood Road, the complex was operated as a by-the-bed rental student housing.
The seller, Berger Investment Group, had started the conversion to conventional rentals and the new owners plans to finalize that.
"The Ledges at West Campus presented a unique investment opportunity in one of the strongest multifamily markets in the country," said Jeff Casper, who along with Asher Gunter, Matt Pesch, Tyler Anderson and Sean Cunningham, of CBRE represented the seller.
He said Tucson had the third-strongest multifamily rent growth of all U.S. metros in the second quarter of 2021 with a 14.6% year-over-year increase to an average of $990 a month and the highest occupancy rate on record.
As the number of towers adjacent to campus grows, outlying complexes are turning to traditional rentals because of this demand.
"The increased supply of highly amenitized product with walkable access to campus has shifted demand closer to campus and negatively impacted the shuttle-to-campus product that was built from the late 1990s to early 2000s," said Casper, first vice president with CBRE in Tucson. "While student demand for off-campus product was declining, many of these well-located communities with great amenities have been able to pivot and capture the significant demand for a conventional apartment community."
"Tucson has been one of our top targets for several years and we are excited to enter the market with The Ledges at West Campus," said Elizabeth Meier, principal of Tara Investment Group. "We look forward to finish repositioning the community as conventional apartments and explore other investment opportunities in the region."
Other recent commercial transactions include:
Kasa Trading LLC leased 7,621 square feet at Butterfield Technology Center, 4775 S. Butterfield Drive, for warehouse distribution. The landlord, Larsen Baker, was represented by its broker Isaac Figueroa.
HR Resolve Inc. leased 5,500 square feet at Country Club Plaza, 2761 N. Country Club Road. Andrew Sternberg, with NAI Horizon, handled this lease.
BNR Healthcare leased 1,920 square feet at Grant Plaza, 3532 E. Grant Road. Gordon Wagner and Dave Dutson, with NAI Horizon, handled the lease.
Rob Shulman LLC, doing business as Blade Runner Knives, leased 1,140 square feet at Prince Fairview Shopping Center, 923 W. Prince Road. The landlord, Larsen Baker, was represented by its brokers Isaac Figueroa and Elaina Elliott. The tenant was represented by John Oberg, of Allen & Young Business Brokerage.
Information for Tucson Real Estate is compiled from records at the Pima County Recorder's Office and from brokers. Send information to Gabriela Rico, grico@tucson.com