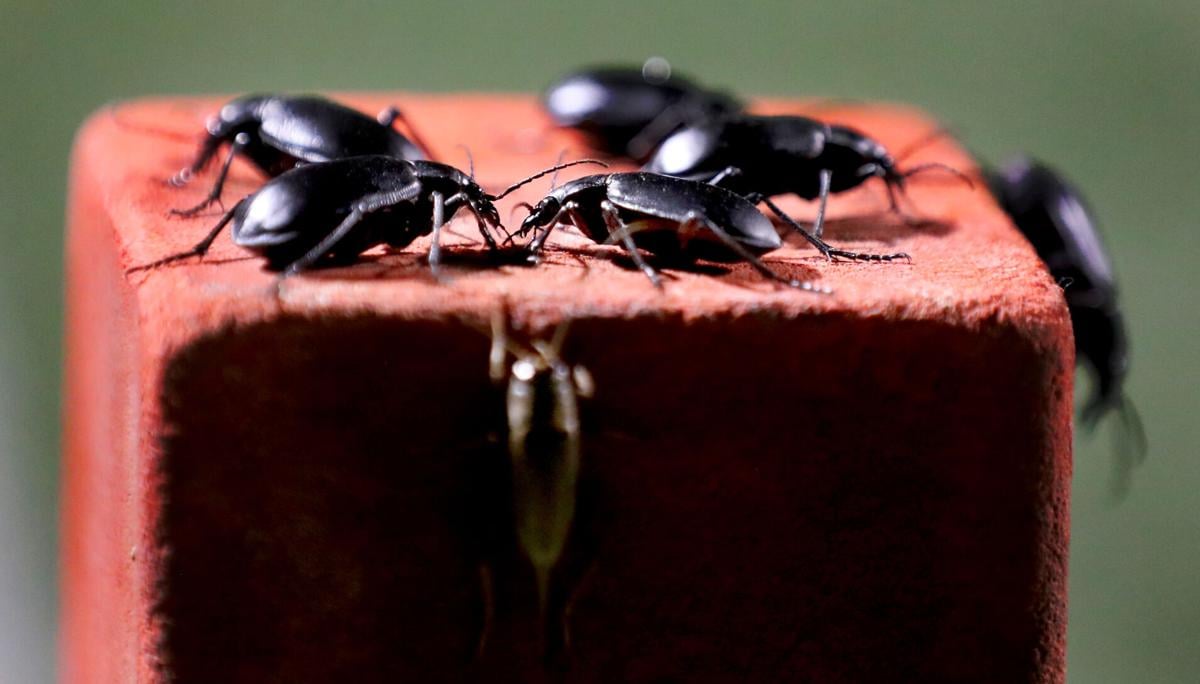 Something stinks about this year's epic monsoon season.
A bumper crop of smelly black beetles has descended on Southern Arizona to eat other bugs brought to life by all the rain.
Commonly known as caterpillar hunters, these native Calosoma beetles are gathering in huge numbers under the lights at public parks and shopping centers, where they leave behind a messy trail of their dead.
But experts insist the beetles are beneficial because they help to control the populations of other, more destructive bugs.
"They're completely harmless," said entomologist Gene Hall, who manages the insect collection at the University of Arizona. "And they feed on other insects, including some we might consider pests such as caterpillars that eat the plants in our gardens."
Hall said he's fielded numerous inquiries about the beetles in recent weeks. There are a lot more Calosomas around this year, because the wetter-than-usual conditions have produced a lot more of everything else.
"The plants are doing well, so the insects that feed on plants are doing well. The insects that feed on the insects that feed on plants are doing well, too," he said. "It's just been a good year in general for insects. It just shows how everything is tied together."
Calosomas are attracted to artificial lighting because that's the best place to find other bugs, Hall said.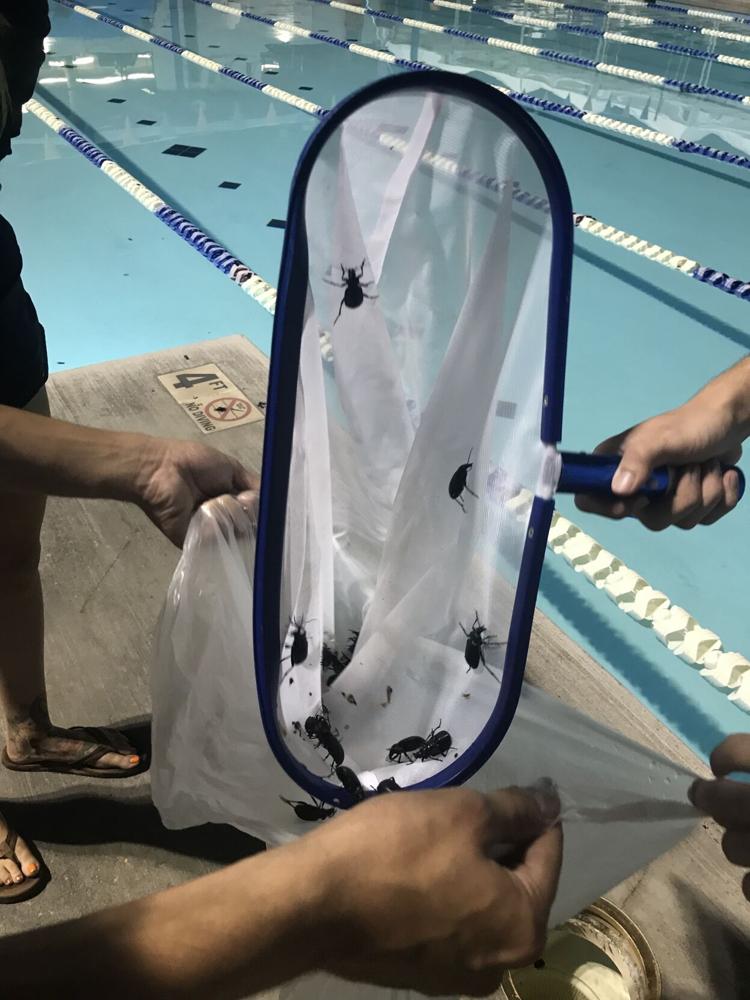 The problem can be especially gross at places like the Oro Valley Aquatic Center, where the beetles scuttle around on the pool decks and occasionally get squished under the bare feet of unfortunate swimmers.
The bugs also hide in people's towels and backpacks or fall into the water and collect by the dozens in the pool's skimmer baskets.
On Thursday night, there were so many beetles rooting around underneath a water polo ball near the edge of the pool that the ball began to rock back and forth.
Facility manager Brandon Laue said the aquatic center's lights always attract some insects, especially during monsoon season, but he hasn't seen anything quite like this during his 15 years with the town of Oro Valley.
He said the beetles showed up in force a couple of weeks ago. The lifeguards try to sweep them from the pool decks periodically, but there are "bodies everywhere" at times, Laue said.
"It's one of the tricky parts of having an outdoor facility."
He said they've received a few complaints from the public, but for the most part people have been pretty understanding.
Laue is hopeful it will all be over soon. He thinks the number of beetles has started to decline in recent days, though he admits it can be a little hard to tell.
"Clearly we're a pretty awesome pool if all these bugs want to hang out here," Laue said with a laugh.
Hall expects this year's unusually large crop of beetles and other insects to gradually fade away as the desert dries out again.
Right now, he said, "they're taking advantage of favorable conditions."
Though they're called caterpillar hunters, the beetles prey on a variety of insects, Hall said.
They're also known to eat each other — a gruesome practice now on full display in lighted parks, parking lots, parks and anywhere else live beetles can be found alongside the recently crushed.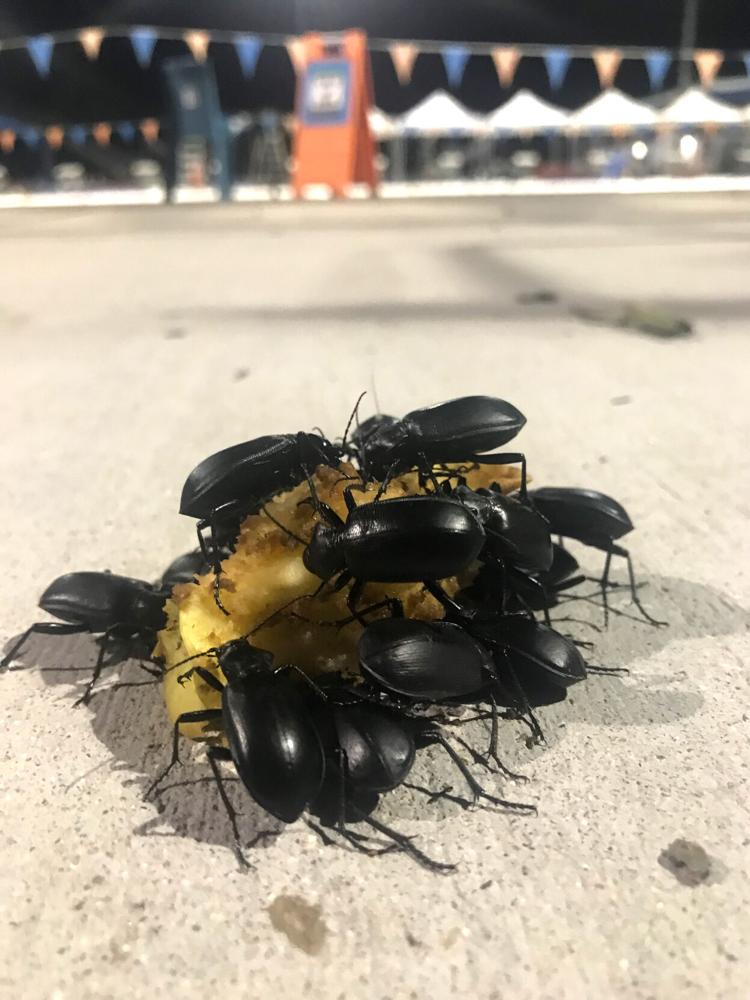 "Insects take advantage of whatever they can get," Hall said. "Sometimes they're not too picky."
Nearly a dozen species of Calosoma occur in Arizona, including one with metallic green wing coverings.
Hall said the dominant local species are the black ones that are being seen now, which can grow to as large as 2 inches in length. Their stink comes from defensive scent glands.
He isn't sure what animals might feed on them. "They probably don't taste very good," he said.
Hall said Calosomas are often confused with another familiar desert "stink bug" called the Pinacate beetle, though the two insects are pretty easy to tell apart if you take the time to study their shape and their behavior.
Pinacates are smooth-shelled, slow-moving scavengers that respond to threats by raising their foul-smelling rear ends in the air. Calosomas are built like the predators that they are, with large mouth parts, ridges on their shells, and the ability to move around quickly.
"It's all part of the great web of life, the biodiversity we have here in the Sonoran Desert," Hall said.
Just try not to get any of it on your shoes.