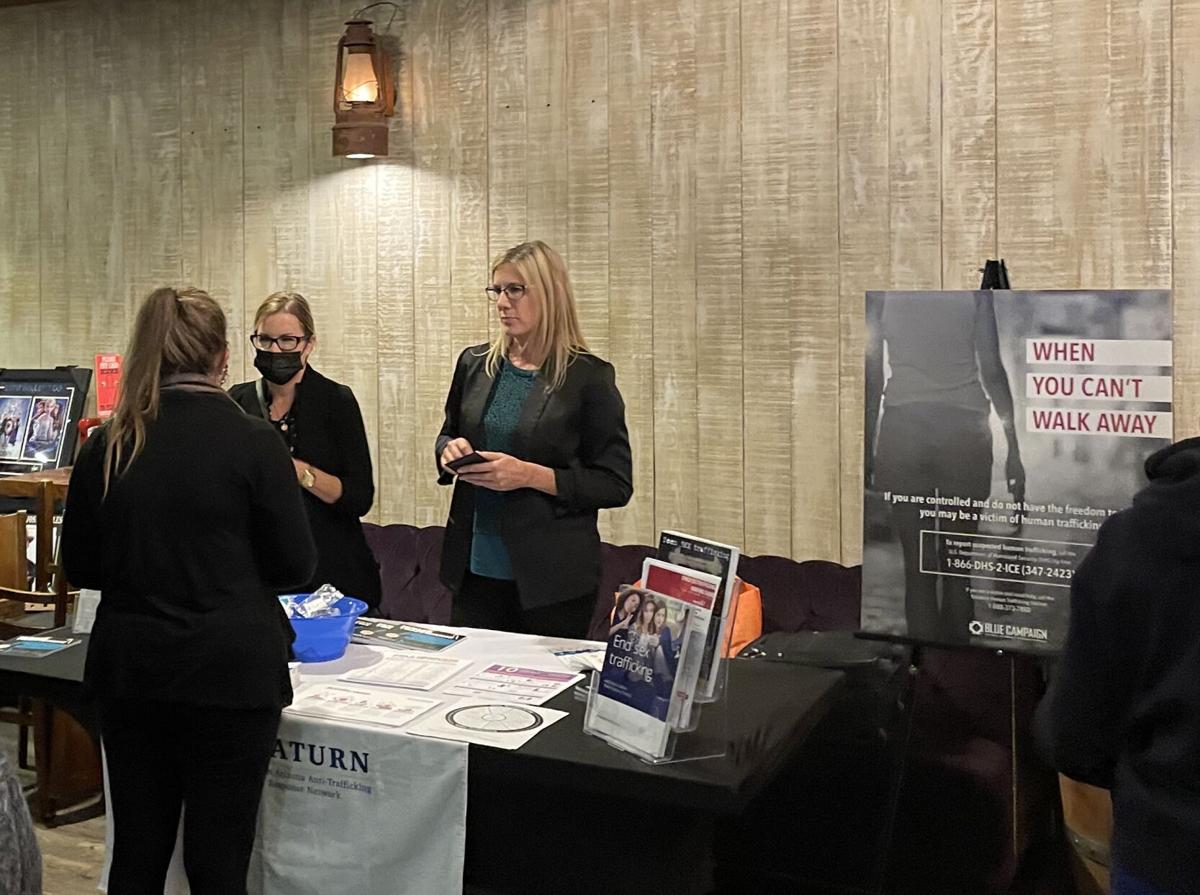 Tucson agencies no longer do proactive undercover work to find sex traffickers, and the Police Department now has only one detective reviewing and investigating suspected cases of people being forced into sex work. Much of that work is now done by federal agents with Homeland Security Investigations.
But local and federal officials say an October rescue of a 14-year-old victim — who said she was sexually exploited in four states — is among other examples showing they are still working together to target suspects and crack cases, despite a recent reduction in funding and resources.
The Southern Arizona Anti-Trafficking Unified Response Network was awarded a $1.5 million grant in October 2015 from the U.S. Justice Department through its three grantees: the Tucson Police Department, CODAC Health, Recovery and Wellness and the University of Arizona's Southwest Institute for Research on Women.
The funds were allocated so the collective could spend three years researching, tracking and fighting human trafficking here. The grant was extended into early 2020 but was shut down during the pandemic.
With officials opting not to reapply for the grant for various reasons, the way human trafficking is addressed has changed. Proactive undercover operations are no longer used because of a lack of staffing and resources.
Detective Jennifer Crawford, a member of the Tucson Police Department and the Southern Arizona Anti-Trafficking Unified Response Network, has worked for years to investigate human trafficking cases in Tucson.
Crawford said that from January through June of 2020, there was a large spike in the number of suspected trafficking cases for TPD to review. But only one of the roughly 15 cases she had open in the summer of 2020 turned out to be a potential case for follow-up investigation, she told the Star in a recent interview.
The numbers have since leveled off, without an increase of verified cases during the pandemic, she said.
Crawford is now TPD's lone detective reviewing and, when needed, investigating suspected cases of human trafficking. Under the grant, TPD had several Homeland Security Investigations agents embedded in the department, but these days it's the opposite, with Crawford lending her services as a task force officer with HSI.
"My official unit now is threat mitigation. I just brought human trafficking with me because there's no one else to do it and I've been embedded for so long," Crawford said. "I do the best I can. But we're a lot more reactive than proactive."
She and other Tucson experts spoke Wednesday night on a panel after the local screening of a film about human trafficking of youths in the foster care system, about their efforts to combat sex trafficking and to help victims.
'Prevention is the key'
Dozens of Tucsonans turned out for the sold-out screening of "Wake Up" at Roadhouse Cinemas. The movie was followed by a panel and informal question-and-answer session with local front-line workers.
The movie was written, directed and co-produced by actress Janet Craig, who, like her co-producer Kristen Wise, is also a foster parent.
Craig, the sister of former Chief Deputy Pima County Attorney Amelia Cramer, said she was inspired to make the movie after attending a benefit for Forever Found, an organization that works to help victims of human trafficking. Human trafficking is the recruiting, transporting or coercing of people for financial gain, typically through forced labor or sexual exploitation.
"I wanted to do something with my art that would impact society for the better. My big passion has been to support foster youth," Craig said. "My dream is that through this movie, we can bring the community together and bring the resources so that when the film shows, people can get involved right away."
After Wednesday's showing, most of the film's masked attendees lingered in the lobby to talk with panelists and collect pamphlets and other resource materials from local agencies.
During the post-screening panel discussion, Crawford and others spoke of an October operation in which Tucson agencies assisted in the rescue of a 14-year-old girl who had been trafficked from Phoenix to Nebraska.
Also in October, Homeland Security Investigations agents in Tucson rescued a 14-year-old girl who said she'd been trafficked and sexually exploited in Arizona, Colorado, New Mexico and Texas, starting in August, according to a news release from U.S. Immigrations and Customs Enforcement.
Two suspects were arrested in El Paso on Oct. 21 and are facing federal sex trafficking charges. Court documents show the victim reported being recruited on social media, with agents saying they "strongly suspect" additional victims, according to the release.
The October cases are the most recent local cases involving youths, but Crawford said there have also been recent cases of adults being trafficked.
In 2021, she assisted in a Marana Police Department case involving an adult. Another verified case involving an adult was dropped in the summer after the victim opted not to participate in the prosecution, Crawford said.
"We certainly had other ones (in 2021) that we suspect a lot, but due to circumstances, like a lack of victim cooperation or evidence, we aren't able to make a case," Crawford said.
While she says she reviews all the suspected trafficking tips that come to TPD or 88-CRIME, she's not able to investigate them all. A lack of victim cooperation is the biggest barrier to building a prosecutable case, she said. While a victim's phone can be a "gold mine" in terms of evidence, without access to that evidence, TPD is out of luck.
Over the years, law enforcement has had help in identifying potential cases through airline workers, bus drivers and other transportation industry workers who are being trained to spot the signs, Crawford said.
Parents are also taking steps to educate themselves and become more savvy about social media. TPD offers a class on the subject several times a year that is widely attended.
"You have to just do what you can to bring awareness to the community. Prevention is the key," Crawford said.
Increasing resources to areas that are known to be targeted by traffickers, such as foster care group homes, would also make a difference, she said.
Sixteen percent of the children who were under the care of social services and were reported missing to the National Center for Missing and Exploited Children in 2019 were likely victims of sex trafficking, according to the group's website.
"I really feel that there just needs to be more therapeutic support services embedded in those group homes. Most of them seem to not be offering them," Crawford said. "It's probably unrealistic to put a therapist in every home full time, but this is a hole I'm seeing. We are getting these revolving-door kiddos who are clearly not getting what they need at some point."
Tammy Breitzke, a special agent with HSI, works on the task force with Crawford and was involved in the October rescue. She said during the post-film panel discussion that the Southern Arizona Anti-Trafficking Unified Response Network and assistance by other local agencies has been instrumental in the success of local operations.
"That collaboration was so important and it was so streamlined in how we were able to successfully able to recover that victim and work that investigation," Breitzke said.
Trying to limit victims' trauma
The victim in the Phoenix case and many other child crime victims and witnesses are brought to the Children's Advocacy Center of Southern Arizona for evidence collection, connection to healing services and coordination with other local agencies.
Executive director Marie Fordnoy of the Children's Advocacy Center of Southern Arizona said the way investigations are conducted makes a difference in the level of trauma a person experiences.
"We use an evidence-based model that gets the story from them while minimizing their trauma," Fordnoy said of the center's interview process. "When you provide these services in an advocacy center, research shows the victim is more likely to get follow-up medical care and follow-up mental health services."
Another member of the collaborative is Mercy Care, a local nonprofit, Medicaid managed-care health plan.
"Children in foster care have a higher risk of becoming trafficking victims, and through our partnership with the Department of Child Safety, we're responsible statewide for the health and wellness of these children," Mercy Care project manager Amber Divens, who works with the Southern Arizona Human Trafficking Collaborative, said in an email to the Star.
"We want to make sure that youth who have been trafficked have immediate access to the physical and mental health care services they need."
Addressing root causes
While Crawford was clear that Southern Arizona still sees confirmed cases of sex trafficking, advocates for sex workers' rights say the issue has been overblown in recent years as a way to shut down proposed decriminalization of sex work.
"The anti-trafficking rhetoric is very powerful and compelling. Who isn't against anyone being forced into any form of labor, especially sexual labor?" said Juliana Piccillo of Tucson's Sex Workers Outreach Project. "No one wants to be called pro-sex trafficking, but evidence-based research has shown that decriminalization of sex work will reduce harm."
In December, The Atlantic magazine published an article, "The Great (Fake) Child-Sex-Trafficking Epidemic," examining how conspiracy theories and the spread of false information in recent years has led to misconceptions that child sex trafficking is widespread.
The article said it's statistically difficult to track the number of confirmed cases each year, due to misleading data. But a 2020 survey "found that 35 percent of Americans think the number of children who are victims of trafficking each year is about 300,000 or higher; 24 percent think it is 'much higher,'" it said.
By contrast, the National Center for Missing and Exploited Children received around 17,000 reports in 2020 related to possible child sex trafficking, with reports coming from every state.
According to the ACLU, anti-trafficking laws often don't distinguish between trafficking and consensual adult sex work. An ACLU study of the correlation between the decriminalization of sex work and efforts to combat human trafficking found that going from less to more prohibitive laws surrounding sex work appears to have little impact on curbing trafficking.
Crawford said that she has no expert opinion on the issue, but that a handful of documentaries she's seen about decriminalization in Amsterdam show that trafficking still occurs there.
Piccillo said that in order to end trafficking of vulnerable groups like foster youths, society needs to address the root causes behind why a child is removed from his or her home in the first place.
"We have to look at what goes on in homes and why are some people's homes toxic," she said. "There are mental health problems and intimate partner violence and other problems, all of which there are known ways to address."
Contact Star reporter Caitlin Schmidt at 573-4191 or cschmidt@tucson.com. On Twitter: @caitlincschmidt