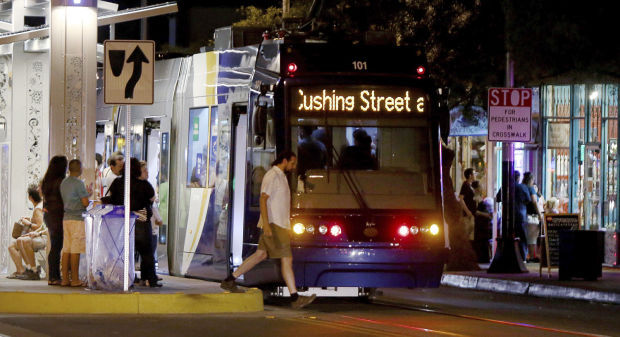 On Saturday, July 25, Sun Link will celebrate one year in service. In celebration of the streetcar's first anniversary, Friends of Tucson Streetcar, Tucson Medical Center and Tucson Electric Power will sponsor free rides on Sun Link according to a media release from the City of Tucson.
The KXCI Presents: Sun Link Summer in the City Concert Series will also hold a special concert on Sun Link's anniversary with award-winning R&B/Jazz/Pop vocalist, Crystal Stark, performing on board at 7 p.m., starting at the stop on Avenida del Convento and Congress (across from Mercado San Agustin). Check Sun Link's Twitter and Facebook pages to identify the streetcar number that will have the performance during the event. The location of the streetcar with the concert on board can also be found using the Tucson Streetcar Tracker app which can be downloaded on Google Play and the Apple App Store.
Sun Link opened to the public on July 25, 2014 and had an estimated 17,000 riders during its opening day and a total of 60,000 passengers over the first three days of streetcar's inaugural weekend. Sun Link celebrated its millionth boarding passenger on May 21, 2015, ahead of projected ridership numbers. Since the launch of Sun Link streetcar, approximately 1.1 million passengers have enjoyed the ride.