Need a ride to the DUSK Music Festival this weekend? Well, Sun Link officials say they have it covered.
The company is offering free rides all weekend starting Nov. 10. The streetcars will operate until 2 a.m. on Saturday and 1 a.m. on Sunday.
"To get there on the streetcar, festival-goers can board at any of the 23 Sun Link stops, get off at the stop on 6th Avenue and then walk 1-2 blocks to the DUSK entrance," a company media release said.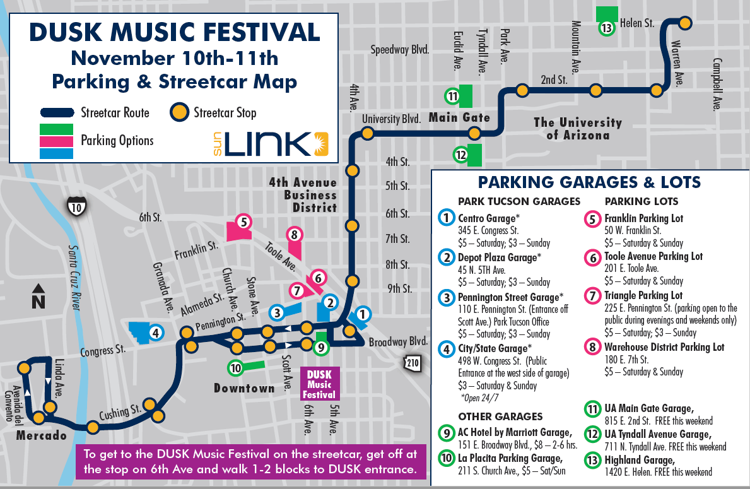 If your driving to the festival, officials say there are several parking garages open in the area. The Park Tucson Garages include:
Plaza Centro, located at 345 E. Congress St.
Depot Plaza, located at 45 N. 5th Ave.
Pennington Street, located at 110 E. Pennington St. (entrance off Scott Ave.)
City-State, located at 498 W. Congress St
Park Tucson Lots include:
 Toole Lot (201 E. Toole Ave.), Triangle Lot (225 E. Pennington St.), Warehouse District Lot (180 E. 7th St.), and Franklin Lot (50 W. Franklin St.).
Other parking garages that will be open this weekend include:
AC Hotel by Marriott, located at 151 E. Broadway Blvd.
La Placita, located at 211 S. Church Ave
UA Main Gate, located at 815 E. 2nd St. (FREE this weekend)
UA Tyndall Avenue, located at 711 N. Tyndall Ave. (FREE this weekend
UA Highland, located at 1420 E. Helen St. (FREE this weekend)
More information about this weekend's festival can be found here. Need assistance with the streetcar? Contact the customer service center at (520) 792-9222 and (520) 628-1565 for anyone with hearing or speech impairments.