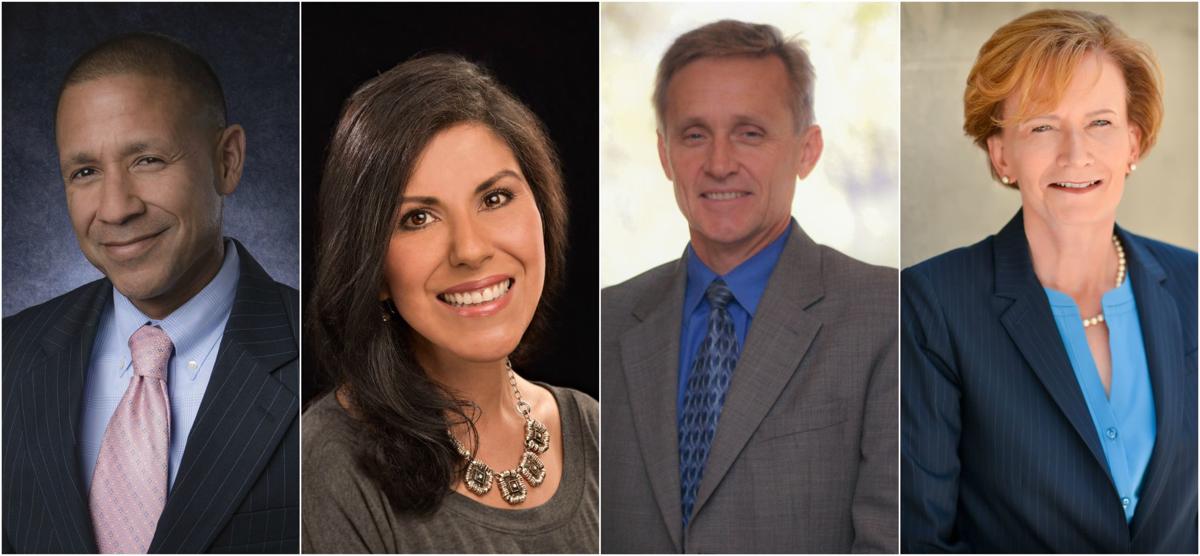 The four finalists vying to become the next superintendent of Tucson's largest school district will have their first public appearances next week, as they host public forums and question-and-answer sessions.
Whoever the Tucson Unified School District Governing Board chooses for the position will have their work cut out for them. TUSD suffers from declining enrollment, funding and teacher shortages, below average standardized test scores and a board that often can't work together.
The Arizona Daily Star caught up with the four candidates to talk about their backgrounds, vision and goals for Tucson's largest school district.
STEPHEN TREJO
Stephen Trejo, a longtime TUSD principal who retired in July 2016, capping off a 23-year career, says turning the district around will be a lot like sending a man to the moon.
Not only will it be a very difficult task, but it will require focus on one big goal.
"It's really hard to focus on 10 different things at the same time. Every organization that has been pretty successful, they focus on one or two things," he said, adding that if the district keeps one or two big goals in mind, the many smaller goals will also fall into place.
Trejo has an impressive track record in TUSD. In his 13 years as principal of TUSD's C.E. Rose K-8 School, he turned the formerly failing south-side campus into a nationally recognized school and a gem of TUSD.
If chosen as the district's next permanent superintendent, Trejo said he wants to take the same approach that helped him succeed as C.E. Rose's principal and apply it to all TUSD schools.
That means offering principals the same kind of support that past superintendents offered him – from setting up mentoring opportunities for struggling principals, to providing the technological tools teachers and students need to stay ahead of the curve, to simply listening to principals' and teachers' concerns.
Trejo plans to rely on academic research in his approach to ensure TUSD is the best district it can be, and if chosen for the job, one of his first orders of business will be to start a listening tour with stakeholders, and start a book club of sorts with district employees to discuss one of his favorite books on education: "Teaching Practices from America's Best Urban Schools." That book, he proudly noted, features C.E. Rose as an example of one of the succeeding schools.
"I think when they read this research-based book, they're going to have a sense of the kinds of things that really could turn the district around. But it can't be one person's dream. It has to be a common vision that everybody buys into, from the custodians to the principals and superintendent," he said.
He said that kind of atmosphere is what President Kennedy created when he announced that the U.S. would send a man to the moon. Trejo recounted a story wherein Kennedy asked a NASA janitor what he was doing, and the janitor replied "helping send a man to the moon."
"If you can get that kind of attitude from everyone in the district — that our goal is to really help every student reach their potential and achieve to their best ability — if everybody buys into that, that's what makes all the difference," he said.
Trejo's public forum will be held Monday, Aug. 14, from 7 to 9 p.m. at the Catalina High School auditorium, 3645 E. Pima St.
MARIA MARIN
After 24 years as a teacher, principal and administrator with TUSD, Maria Marin has had a lot of bosses, which has taught her a lot about collaboration – a skill she'll need if she gets the job as TUSD's next superintendent.
"I love collaborating and I would love nothing more than collaborating with the TUSD Governing Board and all of the professional educators and support personnel to create a vision that supports a greater Tucson for today and tomorrow, and to ensure all of our students have access to a high quality and meaningful education," she said.
Marin is a native Tucsonan with a long history at TUSD, most recently as director of elementary and preK-8 schools, but previously as principal of John B. Wright Elementary, Roskruge Bilingual K-8 Magnet School and Carrillo Magnet School. Before that, she was a teacher at several TUSD schools.
In that time, she's learned that relationship building is key to getting things done, and she hopes to work collectively to improve educational outcomes.
"I see so much promise in the district and I think that has to do with my long career in this district," she said.
Marin got into teaching after having two of her own children, and becoming fascinated with that "moment when the lightbulb goes on." One of the most gratifying aspects of being a teacher and later principal and administrator, was seeing those lightbulbs light up on a daily basis, she said.
Marin hasn't outlined a specific policy agenda – she wants to talk to teachers, parents, students and administrators first. But one of the first things she wants to focus on, if chosen as the district's next superintendent, is the district's discipline policy. It's neither too strict, not too lax, she said, but needs to be utilized properly.
"We go to school to learn to read and write and do math and all the content areas. But not only that, we're learning to be people and interact with each other. Those socializing skills are important as well," she said, adding that an effective discipline policy considers the disposition of both the adults and the students.
Marin said TUSD needs to address the statewide teacher shortage, and one method of attacking the problem would be to explore utilizing a new state law that allows principals to hire uncertified teachers who have relevant work experience in the subject matter they teach. The district so far has been hesitant to take advantage of the new law.
The district can also address the shortage by working with the long-term substitute teachers to become certified, she said. And she wants to make sure the district is supporting teachers with ongoing professional development, training and mentoring.
"When you have a shortage, I think we have to examine all the options," she said.
Marin's forum will be held Tuesday, Aug. 15, from 7 to 9 p.m. at the Catalina High School auditorium.
GABRIEL TRUJILLO
Gabriel Trujillo, the interim superintendent of TUSD since March, has made a career out of taking a temporary position and making himself indispensable.
In one of his first jobs as a teacher, for example, he started with a 10-day contract, and ended up holding the position for seven years. When he was named interim principal at a troubled school in Phoenix, he originally had a 30-day contract, and ended up staying for 10 years.
He hopes to repeat that feat as the TUSD Governing Board selects the district's next permanent superintendent.
Trujillo wasn't the board's first choice to step in after former Superintendent H.T. Sanchez resigned – the board originally tapped someone else, but she backed out. But since Trujillo took over, he has been praised by board members as an effective communicator who has stepped into a difficult role and flourished.
As the interim superintendent, Trujillo has a head-start on the other candidates for the job – he notes that he's already conducted listening tours and visited all of TUSD's 89 schools, he's built relationships with the TUSD Governing Board members and set a series of goals for the district. But Trujillo said his status as a relative newbie to the district is also an asset.
"I'm still new enough to have fresh eyes on a very complex organization," he said.
If he is chosen as the district's next permanent superintendent, Trujillo's immediate goal will be to focus on recruitment and retention of kids. He also sees a need to tighten the district's curricular focus and ensure standards being taught align with the state's standards and standardized testing.
Trujillo also wants to ensure TUSD's leadership is visible and customer-service oriented, which can be as simple as making sure every call or email is returned.
To improve the district's disappointing scores on standardized tests, Trujillo wants to zero in on middle and high school students, who are not performing as well as their elementary school counterparts, and enact academic interventions to help students who are falling behind.
The TUSD Governing Board members rarely see eye-to-eye, and Trujillo said the key to success as superintendent is to build meaningful relationships with all five governing board members. One of his biggest strengths as a candidate for the next superintendent is his temperament and ability to keep a calm demeanor in stressful environments, he said.
"Having the right temperament is key. If you examine my body language, my presence in board meetings, it has to be a constant state of composure, grace, order. Because that's what's needed when you're in a very, very tense environment – an ability to move meetings and discussions along and work with the board president so we can get though the agenda," Trujillo said.
Trujillo's public forum will be held Wednesday, Aug. 16, from 7 to 9 p.m. at the Catalina High School auditorium.
DONNA HARGENS
As a first-generation college student from a humble background who earned her doctorate in education, Donna Hargens said she was attracted to the job of TUSD's superintendent because of the district's emphasis on inclusion and giving every student the opportunity for a great education.
"I know the power of education. … It was education and educators who really made the difference for me," she said.
Hargens stands out in the field of four candidates both for what she has and hasn't done. She is the only candidate who has ever served as a permanent superintendent of a large school district, and she's the only candidate who has never worked in TUSD.
She spent the last six years as superintendent of Jefferson County Public Schools in Louisville, Kentucky, where, under her leadership, schools saw improved graduation rates, and increased student performance on standardized tests. Before that, she was an administrator, principal and teacher in North Carolina.
Hargens said the key to improving test scores, especially for lower-performing subgroups of students, is to create high expectations and provide the support to meet or beat those expectations.
Working with the TUSD Governing Board will also be essential to the success of the next superintendent, and Hargens said her strategy for building relationships with board members in the past has been to meet with them individually.
Hargens describes education as "a people-powered business" and said a key to ensuring students get a good education is to recruit and retain high quality teachers. In lieu of having the ability to offer nationally competitive wages, the school district needs to focus on empowering teachers to make a difference in students' lives.
"You have to start by making it important and relevant and inspiring. So just as a teacher inspires students in their class, we have to inspire and engage employees to really be part of something that is greater than themselves," she said. "The ability to make a difference is really what keeps teachers going."
In Kentucky, inspiring teachers took the form of a deeper learning symposium that was led by teachers, where teachers and principals presented strategies that work for them and were celebrated for their achievements, she said.
But her time in Kentucky wasn't without controversy. In July, she split with the district, after a poor 2016 evaluation and a scandal involving student seclusion and restraints in the district.
Hargens said the controversy erupted after she disclosed a problem in the way the school district tracked incidents of seclusion and restraint, and she did "absolutely" nothing wrong.
Her resignation came shortly after the Kentucky education commissioner announced an "unprecedented" full-scale audit of the district, which is still ongoing, saying Kentucky's largest school district suffered from "critically ineffective and inefficient management."
Hargens' forum will be held Thursday, Aug. 17, from 7 to 9 p.m. at the Sahuaro High School auditorium, 545 N. Camino Seco.