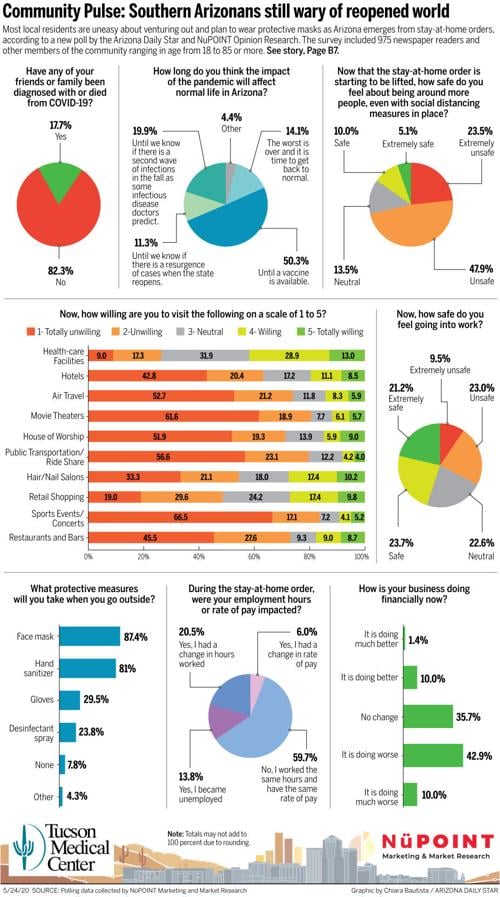 A new survey shows most local residents plan to wear masks as they inch back into the reopening community, but few people expect life to return to normal anytime soon.
As Arizona gradually lifts its stay-at-home orders, more than 71% of those surveyed said they feel unsafe or very unsafe around others, even with social distancing practices still in effect, according to the latest Arizona Daily Star Community Pulse poll.
Here are the latest updates related to COVID-19 from Tucson and Southern Arizona. 
More than 95% of respondents said they plan to protect themselves with face masks, gloves, hand sanitizer or other safety measures when they leave their homes. More than 87% said they would at least wear a mask when they go out.
Just over half of respondents said life won't return to normal in Arizona until there is a COVID-19 vaccine, while 14% think the worst is already behind us and it's time to get back to business.
The poll was conducted by NuPOINT Opinion Research, which surveyed 975 members of the Star's Community Pulse panel between May 15 and May 20. Participants included newspaper readers and other members of the community ranging in age from 18 to 85 or more. The single largest group surveyed were retirees over the age of 64.
The results suggest many Southern Arizona residents aren't ready to dive back into the local economy just yet.
"Science is what's going to win the day"
Tucson City Councilman Steve Kozachik said he has been hearing the same thing from constituents, friends and family members.
"People are concerned that we're going to fling the door open and invite a surge in new infections," said Kozachik, who recently wrote an op-ed in the Star arguing against lifting the stay-at-home order in Arizona.
"Viruses do what they do, and they don't much care about proclamations or executive orders or what governors and mayors have to say," said the Democrat representing Tucson's midtown Ward 6. "Mother Nature bats last, and science is what's going to win the day."
Almost one-fifth of survey respondents said they know someone personally who contracted coronavirus. Just under 4% said their friend or family member later died from COVID-19.
Nine out of 10 people said they have not been screened for the virus, and fewer than half even know where to go to get a test.
Of those who were employed when the virus hit, more than 45% have been doing their jobs mostly from home, while about a third have continued to report to work.
Just over 23% of workers surveyed said their workplaces closed down altogether. Almost 14% said they joined the ranks of the unemployed during the pandemic.
As businesses begin to reopen, 45% of workers think it's safe or extremely safe to return to the job place, while just under 33% consider it unsafe or extremely unsafe.
Don't have to stay home, don't want to go out
Depending on where they work, there might not be much business for them to conduct when they get back. Survey participants showed little interest in actually going anywhere now that they are free to leave the house.
If they do venture out, those surveyed said they were far more likely to go to a retail shop or a hair or nail salon than to a concert, a sporting event, a movie theater, a restaurant, a bar or a church service. Overall, though, none of these activities — from Supercuts to the Super Bowl — got high marks from respondents. A majority said they just aren't ready to risk it yet.
"I think people in Tucson are pretty savvy, and they know we still don't have adequate testing and contact tracing," said Mayor Regina Romero after looking over the survey results. "We cannot rebuild consumer confidence if people don't feel safe when they're out."
That's unwelcome — if not unexpected — news for restaurant owners, who have been limping along with empty dining rooms and spotty, sometimes unprofitable takeout traffic.
Mat Cable owns Fresco Pizzeria and Pastaria on Speedway at Country Club. He also helps run Tucson Originals, an alliance of independently owned local dining establishments.
He would have liked to see more enthusiasm for dining out in the survey, but he gets it. "I can't argue with people's feelings. This is just the way people feel based on the information they've been given," Cable said. "It's completely understandable. This is scary stuff."
Fresco is one of a host of local restaurants that still hasn't reopened its dining room, and there are no immediate plans to do so. Cable said that will only happen when it can be done in a way that feels safe to customers and staff — and without losing money, of course.
Open again with expanded safety features
Grant Krueger is managing partner for Union House, Proof and Reforma, a trio of restaurants in St. Philip's Plaza at River Road and Campbell Avenue that reopened on May 11.
He thinks the restaurant industry has been unfairly maligned during the pandemic — all while being asked to sacrifice more than most businesses. Eateries either had to shut down completely or live by strict safety rules that did not apply for some reason to grocery stores and big-box retailers, Kreuger said.
"Our job has always been to serve the public safely. That was true long before COVID," he said.
Now they've doubled down on that commitment, with widely spaced dining rooms, expansive patio seating, foot-operated doors and menus printed on single-use paper or available for easy download to your phone with a QR code.
Krueger hopes customers will respond to those changes with enthusiasm, as they gradually return to support their local restaurants.
His other business is a trickier proposition. Krueger is also part-owner of The Maverick, a country music nightclub on Tanque Verde Road near Kolb. He said he might try to reopen there sometime in early June, depending on what he sees happen at other night clubs in the area.
The survey results suggest that might not go over too well, but Krueger said he is banking on a livelier customer base that's not heavily represented on the Star's Community Pulse panel.
He might be on to something.
Those surveyed also gave a tepid response to the idea of checking into a hotel or climbing into a bus, a train, an airliner or a ride-share.
So what's the only place a majority of people said they are willing to go to now that they no longer have to stay at home? Health-care facilities, of course.
Contact reporter Henry Brean at hbrean@tucson.com or 520-573 4283. On Twitter: @RefriedBrean.
Concerned about COVID-19?
Sign up now to get the most recent coronavirus headlines and other important local and national news sent to your email inbox daily.