PHOENIX — Unwilling to wait on promises by the governor that things will get better eventually, teachers and their allies rallied at the Capitol on Wednesday to demand a 20 percent pay hike.
More than 1,000 people, many wearing "Red for Ed'' shirts, showed up in the courtyard between the House and Senate to express their demand for more money in their paychecks. Many also wore stickers saying "I don't want to strike, but I will.''
Lawmakers and the governor already have effectively agreed to a 1 percent pay hike for the coming school year, on top of an identical increase this year. And Ducey has promised to eventually restore funds the state has failed to pay schools for things like books, computers and school buses, a move he said should free local districts to use more of their existing funds for pay hikes.
But all that is proving too little for members of the newly formed Arizona Educators United who say that there is no reason teacher pay here should be at or near the bottom of the nation.
The list of demands from the group also includes:
Competitive pay for all education employees;
Restore per-pupil funding in Arizona to 2008 levels;
A permanent salary structure that includes annual raises;
No new tax cuts until per-pupil funding reaches the national average.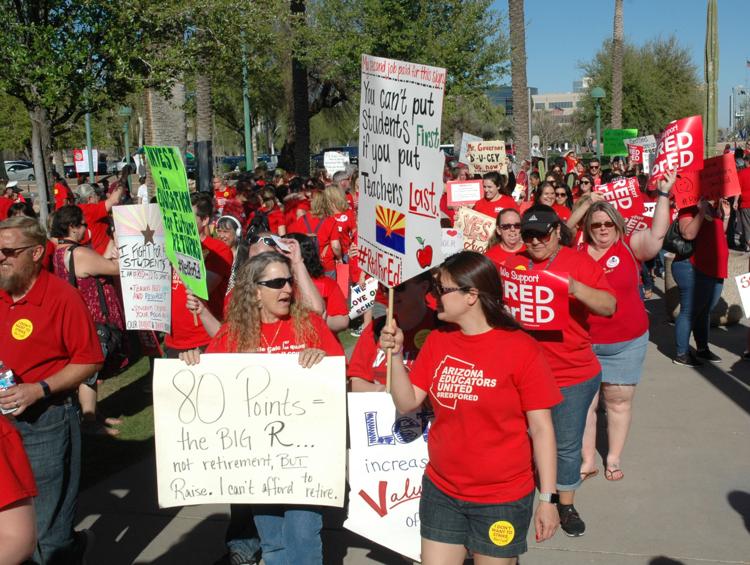 That last demand comes even as Ducey is proposing this year to cut individual income taxes for retired military, a move that eventually will reduce state revenues by $15 million.
There also are some other tax cuts making their way through the process, including a plan by House Speaker J.D. Mesnard to reduce taxes owed on capital gains. That has a $23 million price tag.
"We have teachers who are trying to scrape together anything they have right now, teachers who are living at home with parents even though they have a master's degree and 20 years of experience,'' said Noah Karvelis who put together the Facebook site that became the basis for Arizona Educators United. "So to pass another tax cut right now is a slap in the face.''
What remains undecided at least for this point is how quickly the teachers expect action — and what they will do if they are ignored.
"Obviously we want to see this done as soon as possible,'' Karvelis said. But he also recognizes that the legislative calendar calls for lawmakers to be gone by the third week in April.
"Everybody knows that 20 percent doesn't happen in three weeks or whatever we have left of the session,'' Karvelis said. But what's on the table now, he said, won't cut it.
"We need to see anything that can keep teachers in this state, whether that's 5 percent or 10 percent,'' he explained. Karvelis said while that still leaves teacher salaries here far short of the national average — it would take close to a 24 percent pay hike to do that — "we need to see some movement.''
What is happening now, he said, is the group is trying to gauge support, both among teachers and the community at large. That is not occurring alone, with Arizona Educators United aligning with Save Our Schools Now, the group of parents and teaches that gathered enough signatures to force a public vote in November on the 2016 decision of lawmakers to allow more tax dollars to be used to send children to private and parochial schools.
"And that will tell us kind us is there an infrastructure of support for a job action,'' Karvelis said, meaning a walkout.
He also said teachers want to see what kind of response they get to their demands from the governor and lawmakers.
"If the Legislature and the governor don't budge, we have 40,000 frustrated teachers who are ready to take action,'' he said.
Still, Karvelis acknowledged that if teachers do walk off the job, a more likely scenario would put that not this coming school year but in the 2019-2020 year. If nothing else, that gives the governor and lawmakers — whoever they are after the November election — more time to not only consider the demands but also put the funding plan in place to start moving in that direction.
The issue of the salary hike comes as the most recent data from the National Education Association put average pay in Arizona at $47,218, a figure the association said ranked 43rd in the country.
But the Arizona-based Morrison Institute, using more recent figures, says that when the cost of living in each state is taken into account, the pay of elementary school teachers in Arizona is the lowest in the nation. High school teachers are not far behind at No. 49.
Closely related is that question of per-student funding.
That NEA report shows Arizona in 2016 was spending $8,080 per student. That's less than two thirds of the national average of $12,682.
But what is particularly telling is a report by legislative budget staffers that shows state aid to the K-12 school system in the 2007-2008 school year at $5.12 billion. That has increased to $5.33 billion in the current budget year.
On a per-student basis, however, the figures actually declined from $4,949 to $4,770 during that same period. And when accounting for inflation over that same period, the current per-student figure is less than $4,200.
Getting those demands met would require money — a lot of it.
That 1 percent pay hike in this year's budget has a price tag of $32 million. Extrapolating that out to 20 percent comes out to $640 million.
And that NEA report puts the national average for teacher pay at $58,353. So it would take a pay hike of close to 24 percent to get Arizona to the point where the teachers would no longer object to tax cuts.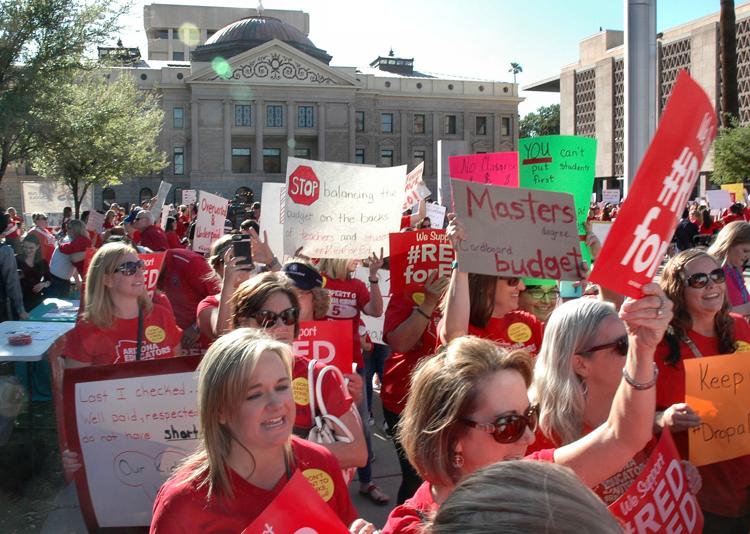 Lawmakers, however, show no sign of adopting changes in the tax code.
Mesnard, for example, contends that cutting taxes on capital gains would be helpful to the economy in the long run, encouraging people who get a tax break to invest.
Sen. Steve Farley, D-Tucson, said the GOP philosophy of tax cuts is based on what he said is the disputed — if not discredited — ideas of economist Arthur Laffer. His "Laffer curve'' contends there is a relation between tax rates and revenues, with the idea that lower tax rates are made up by increased taxable economic activity.
It was that philosophy that was behind a series of tax cuts enacted in 2011 that cut the corporate income tax rate by close to 30 percent and set up an optional tax calculation that allows some multi-state corporations to pay nothing at all.
The result, however, was that corporate income tax collections which were $663 million in 2015 when the phase-down began, are expected to be just $305 million this budget year and $258 million next year.