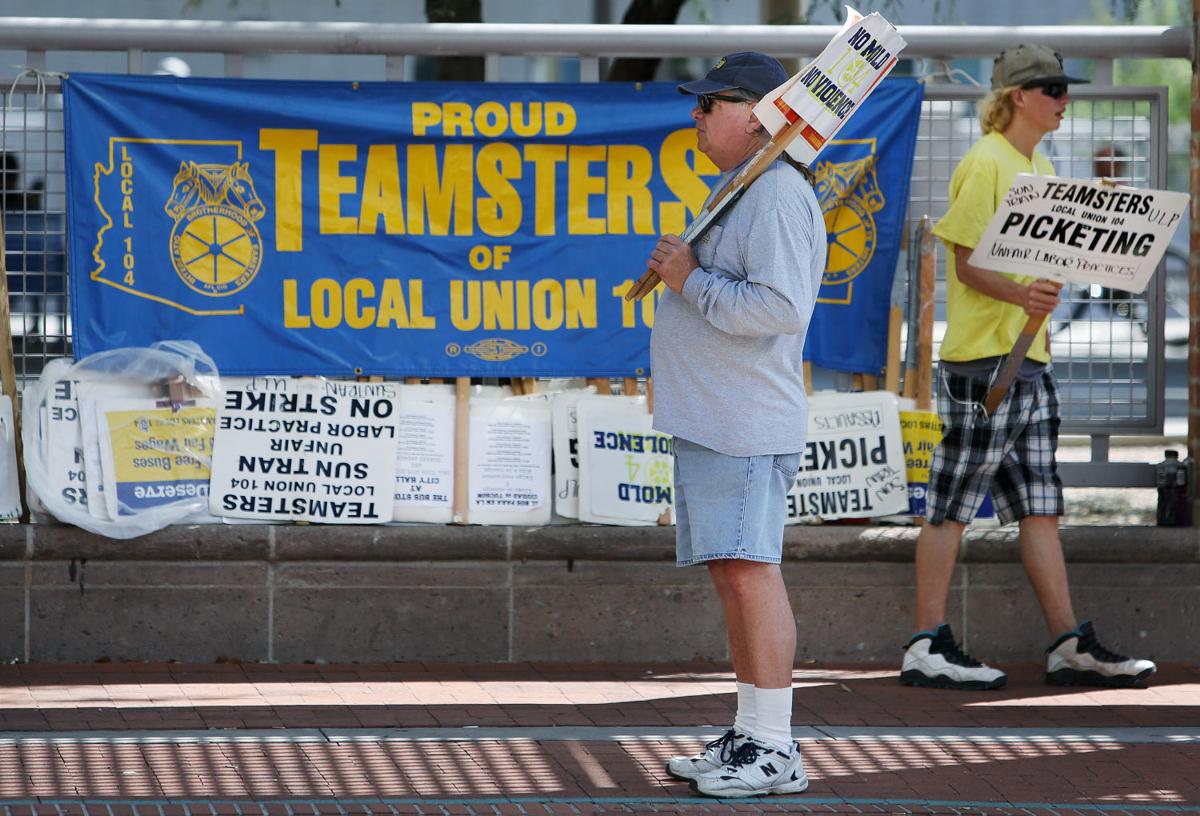 A labor contract released Monday details pay raises of up to 50 percent for some Sun Tran workers.
Teamsters Local 104 and Sun Tran management firm Professional Transit Management signed the two-year contract on Sept. 16, ending a 42-day bus strike in Tucson. Details of the contract were first made public Monday.
"The negotiated settlement was accomplished within the city of Tucson's approved Sun Tran budget for fiscal year 2016 and utilized FY 2016 anticipated fuel savings as well as wage and benefit payment savings realized during the strike," Sun Tran General Manager Kate Riley and Teamsters Principal Executive Officer Andy Marshall said in a joint statement.
The contract outlines pay and benefits for Sun Tran employees, including pay raises for all workers.
Top-tier drivers and mechanics received a 4 percent pay raise, or 80 cents per hour.
Fourth-tier drivers received a 24 percent pay raise, or $3.72 per hour; entry-level drivers and drivers in the second and third tiers received a 6 percent pay raise, or 83 to 84 cents per hour.
Second-tier mechanics received a 20 percent pay raise, or $3.83 per hour, while entry-level mechanics received a 2 percent pay raise, or 35 cents per hour.
Middle-tier fleet-service attendants received a 50 percent pay raise, from $10.15 per hour to $15.25 per hour, while entry-level fleet-service attendants received a 3 percent pay raise, or 31 cents per hour.
Middle-tier parts clerks received a 27 percent pay raise, from $12.02 per hour to $15.25 per hour, while entry-level parts clerks received a 1 percent raise of 11 cents per hour.
Each bargaining unit employee will receive a one-time payment of $3,303.
The company's contribution to the Teamsters health-care plan will increase next year to $947 per month per full-time employee, up from $915 this year, and keep pension payments of $2.42 per paid hour of work
Additional details also were mentioned in the contract. The two sides agreed to:
Establish a program "that encourages employees to identify ways to improve the efficiency" of Sun Tran operations. Any cost savings they identify will be split between the company and the employees — not the city.
Monthly meetings to encourage communication and monthly meetings to review accidents and safety.
Allow employees who have been assaulted the option to go home and be paid for the remainder of the work day, and give the union's chief safety steward the power to be involved in any assault investigations.
The mold and safety partition issues raised by the union during the strike are not addressed in the contract. Rather, the union said a commitment from City Manager Mike Ortega was enough to put them at ease.
At a City Council meeting last week, Ortega said his staff already is moving forward on solutions to those problems.
The City Council is expected to discuss the next steps in transit management during a study session on Oct. 8.
Council Member Regina Romero said she expects to hear labor and management contract details and more information on the mold and safety issues. "I don't think we should rest on this issue," she said.
She wants a performance audit because of a lack of communication before and during the strike, she said.
Romero said, the council should study best practices for transit management and use expert advice on the system recently provided by a consultant.