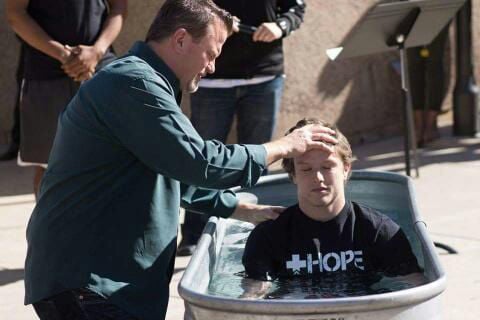 A Tempe church that sprang from a controversial campus ministry in Tucson has been disciplined by Arizona State University for hazing and other misconduct.
Hope Church, accused among other things of sexually humiliating ASU students, will spend the next four years under sanction after a recent disciplinary ruling by the school's dean of students.
Church officials maintain no wrongdoing occurred.
The latest ASU ruling follows five others in February against Hope student clubs found to be posing as secular groups and collecting personal information from ASU students on the church's behalf.
As a result, Hope now stands to lose the lucrative benefits it has been receiving from state taxpayers, including hundreds of thousands of dollars worth of free rent on campus and access to steep tuition discounts for church leaders and their families.
Hope officials claimed — wrongly — in recent interviews with the Arizona Daily Star that the church still has ASU's blessing despite the string of recent misconduct findings.
"Hope Church is in good standing with ASU," Corey Vale, chairman of the church's board of directors, said in an email Thursday. "ASU has encouraged us to continue our involvement on campus."
Not so, said ASU spokeswoman Herminia Rincon, who released a statement to that effect Friday on behalf of the university.
"We disagree with the characterization of some Hope leaders that the relationship between the university and the church has not substantively changed," it said.
Any person or group that engages in misconduct "is not considered to be in good standing with the university."
The Tempe church, formerly known as Hope Christian Church until a name change several months ago, has been under ASU investigation since last summer. Fourteen people including eight current students filed a 123-page complaint that described Hope as a "bona fide cult," as detailed in a Star investigation.
The Tempe church was founded and is still led by ex-members of Faith Christian Church in Tucson, which runs a campus ministry at the University of Arizona.
More than 20 former members of the Tucson church described it as a cult in a 2015 investigation by the Arizona Daily Star. The UA investigated but found no proof of misconduct.
Hope's leaders say the two churches cut ties years ago.
In a June 9 ruling, ASU's dean of students found Hope responsible for a total of eight misconduct violations including:
Engaging in, supporting, promoting or sponsoring hazing — defined by ASU in Hope's case as "acts of mental harm, personal degradation and embarrassment."
Student complainants said Hope staffers grilled them for intimate personal details — such as whether they masturbated or used pornography or whether they'd ever been raped or molested — then pressured them to confess their sexual pasts in front of church members.
Misuse of student information. ASU ruled Hope had no right to use the student contact information its five student clubs gathered on its behalf.
Unauthorized solicitation at student residence halls. Students and ASU employees have complained for years of aggressive solicitations by Hope personnel.
Violation of policies that govern student club registration and the booking of meeting space on campus.
University misconduct charges are judged on a "more likely than not" standard, similar to that in a civil lawsuit.
Three other misconduct charges the church initially faced — for alleged stalking, alleged gender discrimination and allegedly entering student residence rooms without permission — were shelved for lack of evidence, the dean's ruling said.
ASU's Council of Religious Advisors is expected to vote soon on whether to strip Hope of council membership. Churches that engage in misconduct don't qualify for membership under the council's constitution.
Loss of council membership is significant because Hope, which takes in more than $1 million a year in donations, would no longer be able to operate rent-free on campus as it has for the past decade, according to school officials.
ASU said it has already suspended several other financial benefits once available to the church's leaders, through the Council of Religious Advisors, such as a 75 percent tuition discount for themselves and their families and reduced ticket prices for ASU sporting events.
University officials said four Hope leaders were eligible for those benefits last school year but would not disclose their names.
Hope administrator Jason Shaffery — who, like Vale, maintained the church is still in good standing with ASU — said Hope plans to carry on its campus activities and comply with university rules.
"It is our intent to continue to hold services on campus," he said. "We do not anticipate any impact on our ability to help students explore their Christian faith."
Meanwhile, Hope now has new competition on campus, courtesy of its former mother church in Tucson.
Two longtime members of the Tucson church and four ministers from one of the Tucson church's Colorado satellites recently founded a new religious organization that's already recruiting ASU students.
The new entity, Foundations Church, was registered last fall with the Arizona Corporation Commission, state records show. Neither the Tucson church nor the Colorado church responded to requests for comment.
The Tucson church has established eight satellites over the years, including the one in Tempe, that recruit university students in three other states and New Zealand.
Four of the eight satellites have been censured for misconduct by the universities at which they operate.
Contact reporter Carol Ann Alaimo at 573-4138 or calaimo@tucson.com. On Twitter: @StarHigherEd