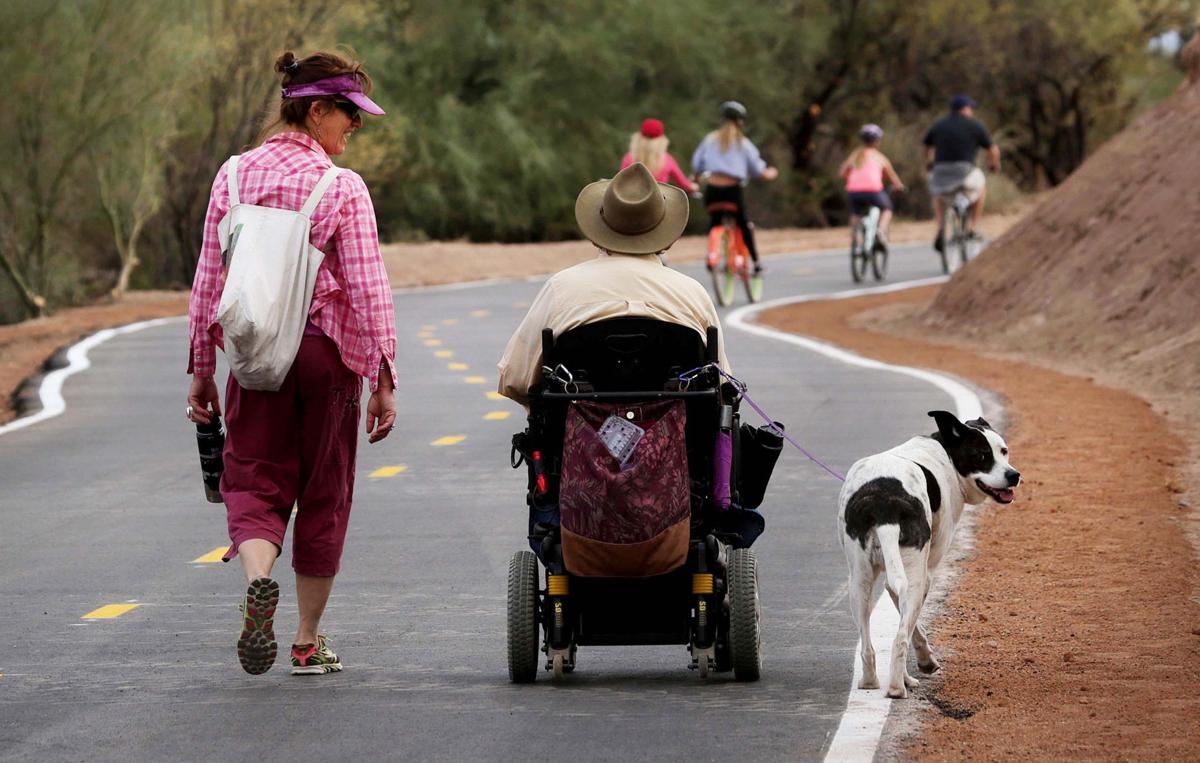 The loop, a 131-mile multi-use trail spanning the Tucson metropolitan area, has been declared officially completed — and Pima County is hosting completion celebrations at several sites on Saturday, March 17.
"The completion this month of two key sections of the shared-use path connecting the Rillito and Pantano River Parks truly brought The Loop full circle," said Mark Evans, a spokesman for the county, which oversees the route.
Evans said completing the main course of the route doesn't mean that all work is finished.
Future projects in the planning stages call for an improved river-park pathway along the north bank of the Tanque Verde Creek from Craycroft Road to Sabino Canyon Road and from Sabino Canyon Road to Tanque Verde Road, he said. More improvements and path extensions are planned over the next decade, according to county officials.
Some of the additions and improvements will take place along existing segments of the route.
EVOLUTION OF THE LOOP
As it now stands, The Loop is a system of paved, shared-use paths and short segments of bike lanes connecting the Rillito, Santa Cruz, and Pantano River Parks with the Julian Wash and Harrison Road Greenways. It extends through unincorporated Pima County, Marana, Oro Valley, Tucson and South Tucson.
Evans said The Loop began taking shape in the 1980s after flooding along waterways led to the construction of soil-cement banks to protect against future flooding.
"We noticed that people were using them to go out for a walk," he said. "We did a couple of small paved segments along the Rillito and Santa Cruz rivers in the mid-1980s. They became quite popular, and a river park concept was developed out of that."
As new segments were added over the years, the route attracted not only county residents but lots of tourists.
"The lodging industry now promotes it quite heavily, and some real estate agents say people seek properties near The Loop," Evans said.
HIKING THE LOOP
Sirena Dufault, a local hiking expert and owner of Trails Inspire, and Liz Thomas, a nationally known "urban hiker" from California, planned to hike main sections of The Loop beginning March 13 and ending March 17 at Pima County's Loop Completion Celebration at the Kino Stadium North Complex.
The hike, which won't include some outlying segments of the route, will total about 78 miles and is intended to "demonstrate the community connectivity and expansiveness of The Loop."
Dufault and Thomas planned to hike The Loop in daily segments, with the last segment March 17 being a 4-mile hike starting at Augie Acuña Los Niños Park, 5432 S. Bryant Ave. They will follow the Julian Wash Greenway into the sports complex where one of three Loop completion celebrations will be underway.
The public is invited to participate in the March 17 hike to the celebration.
Contact reporter Doug Kreutz at dkreutz@tucson.com or at 573-4192. On Twitter: @DouglasKreutz