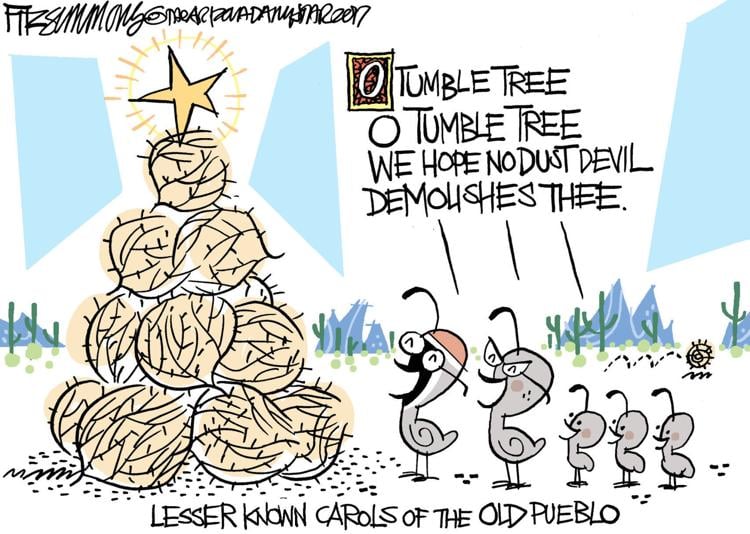 This version of the poem ran in the Tucson Citizen, Monday, Dec. 23, 1974:
St. Nick's dusty Tucson entrance
Normally we shy away from verse in this department, but this Tucson parody of "A Visit from St. Nicholas" was too good to pass up. It started as a school assignment and became a family project for the Faulkners — Bob, Jo, Casey, Jody, Molly and Duffy — of 4102 E. 6th St.:
'Twas the night before Christmas and all through the state,
Not a snowflake was falling, our usual fate.
The bikinis were hung by the poolside to dry,
There wasn't a sign of a cloud in the sky.
The children were coughing and wheezing like mad,
Which, of course, did not make their allergist sad.
Mom in her baby-dolls, me in my shorts,
Were all tuckered out from our day on the courts.
When on the ramada there arose such a roar,
Davis-Monthan was flying a squadron or more.
Away to the patio in a wild, frantic tear,
Missed the step, "Oh, my! That old prickly pear!"
The moon on the sand was a beautiful sight,
The cactus and sage were an artist's delight.
When, what in the world should appear there to me,
But a little old gun in a red dune buggy.
The little old man was both lively and slick,
Surely it could be — it must be, St. Nick.
With a rattle and bang, his buggy it came,
Energy, making dust devils seem tame.
Neither cactus nor rattlers nor wild tumbleweed,
Seemed to have an effect on its startling speed.
To the very tip top of the adobe wall,
To the end of the garden, ocotillo and all.
As brown waters beneath the overpass flow,
When our seasonal rains and windstorms do blow.
So up to the cedar shakes his buggy it flew,
With a seatful of goodies for me and for you.
And then in a minute I heard on the grate,
The rumble and roar of his little V-8.
As I crossed by the pool and was turning around,
Down the cooler vent Santa came with a bound.
He was dressed all in denim from his head to his boot,
His clothes were all Western, a real cowboy suit.
An old saddlebag he had slung, peddler-like,
He looked like a prospector, out for a hike.
His eyes behind fancy Polaroid shades,
Were protected from glare and hot desert haze.
His wrinkle-lined face, all weathered and tan,
Burned by the sun and the old weatherman.
A small black cigarro was stuck in his face,
Smoke hung like a cloud all over the place.
He was dusty and sandy and windblown, too,
Not surprising — consider all he'd been through:
Arroyos and mountains, plateaus and mesas,
And occasionally even a lush green oasis.
He brushed off his duds, gave his Stetson a shake,
His spurs going jungle, with each move he'd make.
Then he started to bring from his saddlebag full,
All sorts of toys, with a tug and a pull.
When at last there were goodies stacked here and there,
Selected with typical Westerner care.
He sprang from his work, straight forward he tore,
With much fuss and ado, toward the sliding glass door.
He leaped for his car with a bound that was game,
His skill and agility put bronc-busters to shame.
He was quickly gone, yet he paused to say,
"Adios to y'all, and have a nice day!"
Get local news delivered to your inbox!
Subscribe to our Daily Headlines newsletter.