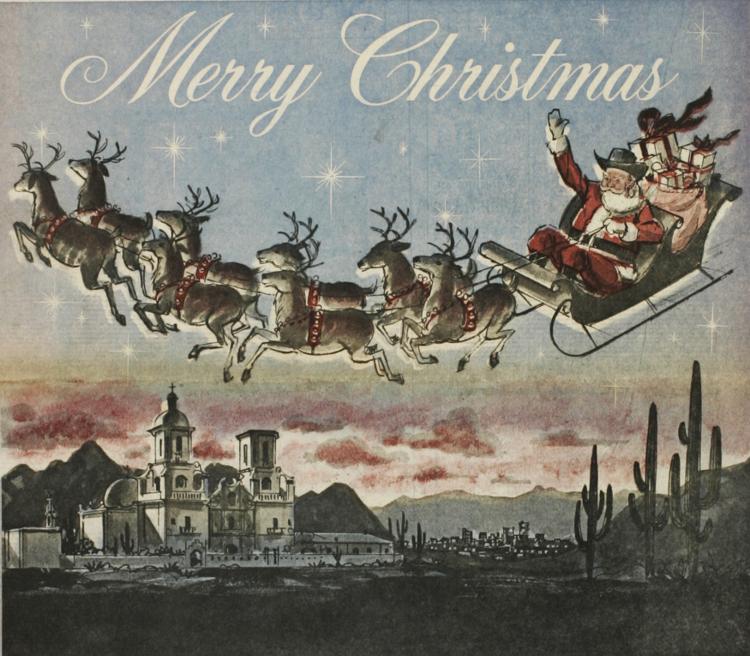 This version was reprinted in the Arizona Daily Star Sunday, Dec. 21, 1913, originally from the Ladies' Home Journal:
'Twas the Night Before Christmas
By Alice Jaynes (Ladies' Home Journal)
'Twas the night before Christmas, when all in the shop,
Not a salesgirl nor wrapper but thought she would drop;
The cash children rushed with the money with care,
With wan faces strained, thither they fled,
While visions of reprimands flashed through each head,
At an hour when rich children were tied in nightcaps,
And settling themselves for their long winter naps.
From tables and counters arose such a clatter
Some terrible tragedy must be the matter;
The lights from the shining bulbs, white in their glow,
Gave luster of midday to objects below.
A salesgirl was selling small gifts. Like a flash
She tore open boxes and counted out cash,
When what to my wondering ears should resound,
But a shrewish abuse you could hear aisles around,
From a woman, well gowned, who came just to kick,
I knew in a minute she was "the Old Nick."
She was dressed all in fur from her feet to her head,
And a comfortable feeling of opulence shed.
More rapid than reindeer, reproaches they came,
As she scolded and called the poor girl a harsh name.
"How stupid! You vixen! Don't dare answer back!
I'll report you at once for being so slack.
My gifts never came. Now where can they be?
How such things can happen I really can't see!"
And giving a nod, up the store aisle she sailed,
Full of wrath that her own "Merry Christmas" had failed.
The salesgirl so pale went straight to her work,
For dozens of buyers forbade her to shirk.
Hours and hours played the drama, long after she'd gone,
Delivery boys, women, cash girls struggled on.
In hundreds of stores, in many a city,
This spells "Merry Christmas." Oh! Good people, pity!
Get local news delivered to your inbox!
Subscribe to our Daily Headlines newsletter.