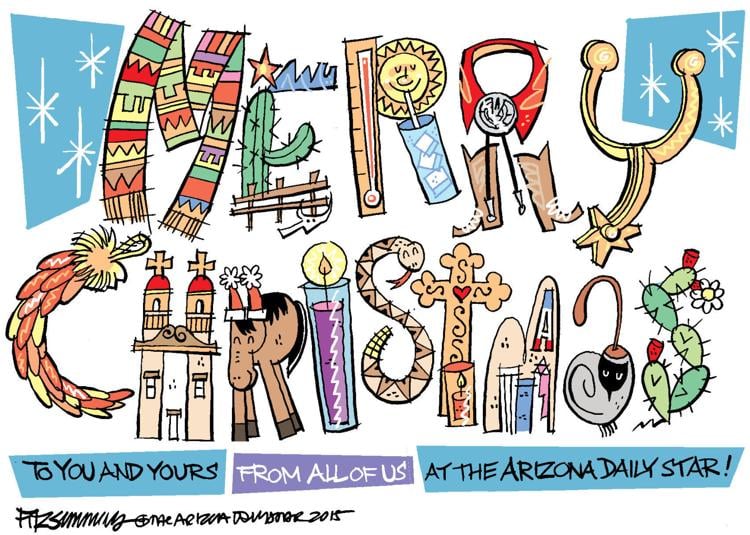 This is David Fitzsimmons' take on the classic, which ran in the Arizona Daily Star Saturday, Dec. 23, 2017:
'Twas the night before Christmas in Tucson
'Twas la noche before Christmas and all through the casita
Not a creature was stirring,
Not a packrat, not a jackrabbit, not even mamacita.
Our chile peppers were hung with mucho cuidado.
We picked them up at a market in Tubac.
"Papa! We cleaned the chimenea!"
Such a good boy. Such a good daughter.
For Santa they set out one empanada,
Two tamales and a tall cold horchata!
Los niños couldn't sleep! They were wired! They were loco!
We filled them with stories and delicious hot cocoa.
Mis niños finally settled down all snug in their beds,
With visions of churros and piñatas dancing in their heads.
Mamacita said that our work here was done.
It was time for us to have some Christmas fun.
We were about to enjoy a Christmas Eve snooze,
When we were both shocked awake by late-breaking news.
The KOLD weatherman said, "Santa is coming!
"D-M has launched the A-10s! Their jet engines are humming!
"NORAD's spotted Santa. He's coming in fast, he's coming in low!
"Tomorrow we can expect sunny skies. With no chance of snow."
He's flying near Tortolita!
"What's this? Now he's zooming over Pusch Ridge!"
Santa sailed straight on through downtown!
"He's where? He's under the Rattlesnake Bridge!"
There wasn't a camp or casita that the old Saint didn't enter.
He barnstormed South Sixth, Kino Hospital, the Diamond Children's Center,
The Gospel Mission, Wagon West Trailer Park and the County Jail, too!
He even stopped in to pet all the anteaters at Reid Park Zoo!
We stepped outside on that fine Christmas Eve to see what we could see.
Just a billion stars, the Catalinas, mamacita and me.
And then we both heard a marvelous sound.
Such jingling and jangling — we turned around!
What I saw next made me swear off any more trips to the cantina.
It was a buckboard wagon pulled by eight tiny, stinky javelina!
Cracking the whip was a little old driver, so lively and game,
He whistled and "Yeehawed!" as he called each of his varmints by name.
"On, Vato! On, Stinker! On, Furball and Musky!
"On, Piggy! On, Porky! On, Rosa and Tusky!
"To the top of the pueblo! to the top of the wall!
"Andele! Andele! dash away all!"
Up to the top of the hacienda his javelina, they flew,
With a sleigh full of toys, and good old San Nicolás, too.
And then, in a twinkling, we heard on the roof
The scratching and pawing of each little hoof.
And snorting and grunting. And the musky smell was not very nice.
Those javelina really could use a splash of some pumpkin spice.
Down through the chimenea Santa arrived.
The niños were zonked. It was 1:45!
Santa was covered with cactus spines and dirt!
"Did you hit a big cactus? Did you get hurt?"
He laughed as he brushed the dust off his belly
That shook when he laughed like prickly pear jelly.
He told me he loved the Old Pueblo, every boy and girl,
And when he retires he just might give Sun City a whirl.
He told me there's more Christmas in a desert than anywhere else.
"Open your heart to its mystical call!
"It was in a desert where miracles came to pass long ago.
"Let the stars above inspire you all."
He filled all the stockings. I gave him his drink and his empanada.
I thanked him for all the kind gifts, especially the piñata!
He winked and said, "I'm impressed by your Spanish."
Then up our chimenea he vanished!
He snapped the reins on his eight javelinas,
Winked, and flew out over the Catalinas.
As he circled the Old Pueblo he said his farewells,
Singing "Feliz Navidad" and jingling his bells.
He wished for us all this hopeful scenario:
"Let peace and love reign in every barrio!"
And I heard him shout as he flew out of sight,
"Merry Christmas, Tucson! And to all a good night!"
Get local news delivered to your inbox!
Subscribe to our Daily Headlines newsletter.