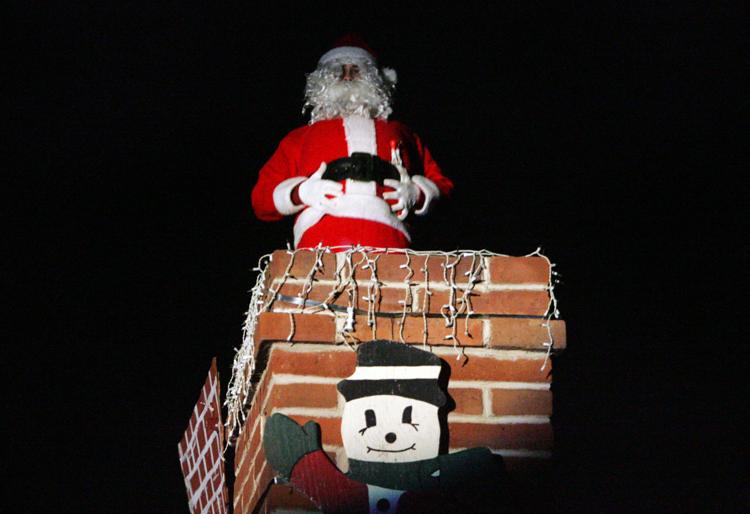 This safety version ran in the Tucson Citizen Tuesday, Dec. 19, 1995:
A HOLIDAY VERSE PUTTING SAFETY FIRST
(or, "'Twas The Night Before Christmas, Part Deux")
'Twas the night before Christmas and all through the city
Folks had decorated homes and trees to look pretty.
Our lights were wound around bushes and beams,
Hooked by more extension cords than you've ever seen.
The tinsel and angel hair glittered so bright,
Snuggled close to the heat from each colored light.
A blaze in the fireplace, each candle aflame
Produced such a glow, that no darkness remained.
Plugged into the outlet, the cords all connected;
Small wonder, I guess, electricity was affected.
Away from the tree I jumped when it flashed,
Gathered my family, from the house we all dashed.
Shrieks from our smoke alarm were piercing the air
As neighbors gathered 'round us, close as they dared.
A fire truck pulled up; the guys knew what to do
They put out the fire, then one talked with us, too.
"Each holiday season, and throughout the year,
"Use fire safety to protect all that's dear.
"More rapid than bullets, a fire can destroy;
"Children must learn it's a tool, not a toy.
"Keep matches and lighters away from their hands;
"Keep cords from dangling; turn in handles on pans.
"The plugs in your outlets should not be a crowd;
"One per receptacle is all that's allowed.
"Avoid the adapters that allow you to cheat;
"Power strips with breakers stop electrical heat."
The firefighter was tired and ready for bed,
But wanted to leave nothing important unsaid:
"You know you were lucky; this fire's over, no doubt.
"Your house is still standing and everyone got out.
"Your Christmas may be short a present or two,
"And smoke damage can sure make a family feel blue.
"But tomorrow you'll wake up and still have each other;
"Your children will still have both father and mother.
"The mess will get cleaned up, and life will keep going,
"And you'll be much safer because you'll be knowing
"That fire can be deadly! We must try our best
"To practice fire safety, our detectors to test."
He looked at my family and nodded his head;
Then spoke to me softly, "Hope enough's said."
By the time that he left, I'd thought through my mistake
And vowed from then on all precautions to take.
I hope all of you will relate to my reasons
All I want for Christmas is a safe holiday season!
—Northwest Fire Department
Get local news delivered to your inbox!
Subscribe to our Daily Headlines newsletter.