David Egbo stands with his phone in one hand and a notepad in the other next to two female University of Arizona students on campus.
A camera films as he reads off the question of the day: "What's heavier, A pound of bricks or a pound of feathers?"
After several seconds of deep thought, one student responds, "a pound of bricks," eliciting an embarrassed chuckle from her friend.
A few more seconds and all three are rolling with laughter as the student realizes a pound is a pound. Bricks and feathers were beside the point.
The clip continues for nine more minutes as Egbo and the rest of his YouTube crew, known as The Shepherdz, attempt to stump several UA students with silly questions, riddles and trivial knowledge.
Their online high jinks have made them YouTube famous.
The feather vs. bricks clip, titled "Are You Smarter Than A 5th Grader | UofA Athletes vs. Students," has generated more than 940,000 views since it was posted last December.
Overall, The Shepherdz have more than 37,000 channel subscribers (at tucne.ws/theshepherdz) and their videos have garnered a combined 2.7 million views.
Daniel Egbo, David's twin brother and another member of The Shepherdz, said they are never surprised when people get easy questions wrong.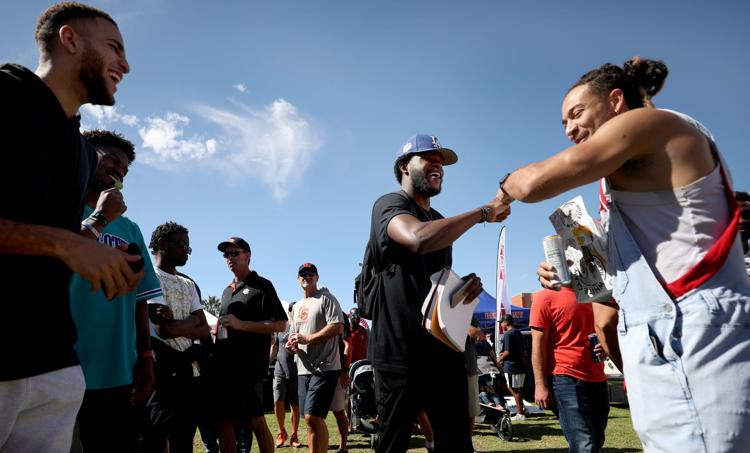 "That's usually the case for most of our videos," Daniel said. "Everyone seems to tense up and freak out when they're put in front of a camera."
The Shepherdz consist of four former and current UA track and field athletes: Daniel and David Egbo, Imani Lee and Justice Summerset.
David Egbo graduated from the UA in May, but Daniel is still enrolled and is now playing on the UA football team. Lee is a junior and Summerset is a senior. The four have been friends for years and each brings a different personality to their YouTube channel, which is partly why they've become so popular, Summerset said.
The Shepherdz don't discriminate. They'll ask just about anyone questions — students, athletes, coaches — and have even created videos at other universities.
They started the channel at the suggestion of some of their close friends. They didn't act on it right away because they were afraid no one would watch, and didn't post their first video until November 2018.
Using The Shepherdz as a channel name was a mutual decision. It came from the idea of herding their viewers, like a shepherd herds sheep. They also refer to their subscribers as "The Sheep."
All four contribute video ideas and take time out of their busy schedules to produce content.
David Egbo is the one who edits all of the videos and posts them onto the YouTube channel.
"I make sure all my homework is done and then I will set aside the time," he said. "It's actually fun to edit the videos and I have (the other members) to back me up and tell me how the video looks."
The videos they produce often find The Shepherdz stopping students at the student union or on the mall and asking them if they would be willing to answer a few questions.
Some aren't, but more often than not people will recognize them and give the OK.
"After we film the questions, we will show them our page so they can check it out if they want to," Daniel Egbo said.
New videos are promoted on The Shepherdz Instagram account (@the_shepherdz). But a lot of their video traffic comes from UA students sharing them on social media, Summerset said.
Summerset said it is their comedic nature that has made the channel stand out. Videos are always completely candid.
"A lot of people think we script the responses and our reactions, but we don't," Summerset said.
With so many people looking at Shepherdz YouTube clips, the group has tried to make the numbers work for them.
They've monetized their videos, which means they make money from YouTube based on how many people have viewed them.
"It's cool being able to make money for something as simple as YouTube videos," Daniel Egbo said.
"Having the extra form of income, even if it is a little, is nice to have."
The Shepherdz also have their own logo sweatshirt and a T-shirt that they sell on their website, shepherdzrus.com.
They plan to add more merchandise for subscribers as the channel continues to grow.