Erica Cantua didn't think she'd become an artist — let alone drive a school bus full of her artwork.
But when her art sales dipped during the pandemic, she knew she needed to get creative.
"When the pandemic hit, my sales were horrible," she says. "I was like, I can either give up or think of something creative. People aren't prioritizing art (during the pandemic) and that's totally understandable — but I need to keep my dream alive."
"I got the bus as a creative solution to bring my art to everybody," she says. "If they weren't coming to me, I'm going to bring it to them."
Last March, she purchased a 20-foot school bus from Craigslist — from someone who had originally planned to make it a tiny home. After nearly a year of renovations, Cantua's mobile art shop is ready to hit the road.
From a school project to a full-fledged business
Cantua is most known under the name Erixaart. She creates "Halloweeny" watercolor paintings of what she describes as creepy faces.
"They are like my little buddies because I don't have siblings, I'm an only child, and I don't have a lot of extended family," she says.
Cantua started painting the creepy faces as an outlet for her confusion and frustration in high school, when she'd carry labels of being less intelligent because she enjoyed things like dressing up and doing her makeup. In her artist statement, she says of the paintings: "They served as a reminder to me that someone's opinion of you does not have to become how you view yourself."
Once Cantua completes her watercolors, she digitizes them to put on stickers, prints, shirts, notebooks, keychains and more.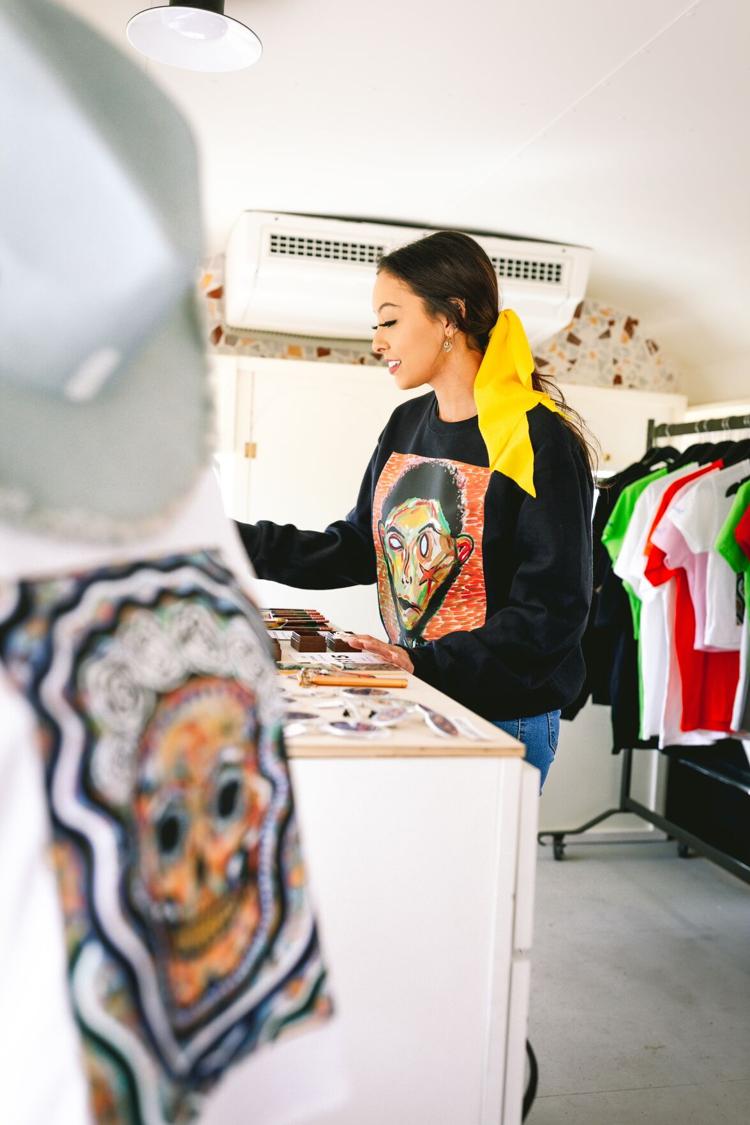 Cantua's journey through art started in an AP literature class at Tucson High, when a teacher requested artwork to go alongside a project.
"I never really liked to do art back then, but I was like, I'll try it," she says. "I did a couple watercolor paintings and my teacher said, 'You need to keep painting.'"
Then in an entrepreneurship class, Cantua was tasked with creating a fake business project. Her idea? Putting her artwork on a line of shirts.
"My classmates were like, 'You should really do this,' and I was like, 'I don't know about that,' but I kept it in the back of my mind," she says, adding that her entrepreneurship teacher really helped her believe in herself.
"It's been four years now — and this all started with a fake business."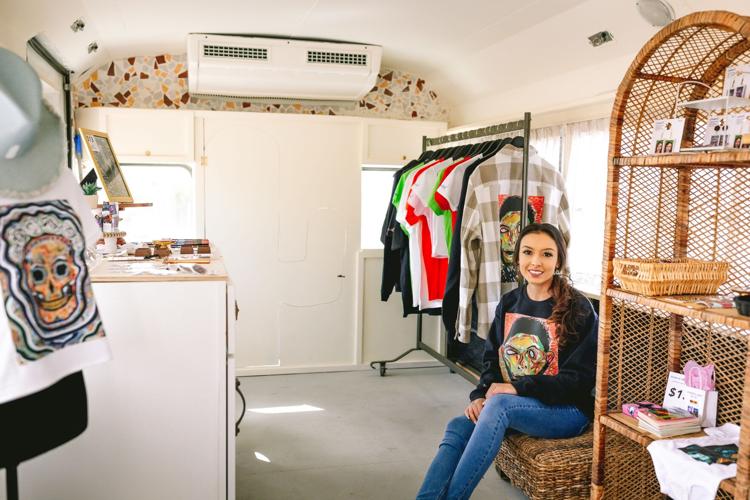 Shop prints, shirts and more from the renovated bus
Since getting the bus in action, Cantua's art sales have gone back up.
The renovations — which she did entirely herself — took about 11 months. She ripped out the seating, removed the flooring, painted the ceiling, added frames to the windows, built a checkout stand, put together shelves and cabinets, and sewed all the curtains. There's still more she'd like to do, like adding QR codes to the outside of the bus so people know what it is when it's parked places.
The space is warm and inviting, with marshmallow-colored walls, mosaicked steps and wicker shelves.
"When people come inside the bus, they don't expect it to be built out as much as it is," she says. "That was one of my goals."
She's also done mechanical work herself — changing the fuel hose and the filters, doing oil changes.
"One of my priorities with the bus is always maintaining it because I think one of the preconceptions people have is that an old bus isn't reliable, but I never want that reputation," she says. "I don't want to be labeled as flaky just because it's an older bus. I take care of the bus a lot."
She's learned a lot too, like how to drive a 20-foot-long vehicle and to use earthquake putty on items she doesn't want to move around when the bus is in motion.
For now, Cantua parks the bus at artisan markets around town, allowing attendees to walk inside and shop her art. In the future, she'd like to also offer snacks — cupcakes and cookies shaped like the bus, for example — and host mini art workshops. She also wants to put in a picnic table (which can be removed when the art shop is open) as a way to rent the bus to couples looking for a date night.
"There's many things I could do, and that's how I built the bus — I built it so I could have these opportunities in the future," she says.
Here's where the Erixaart bus will be next:
If you can't make it to the bus, you can also order Cantua's art online here.
---