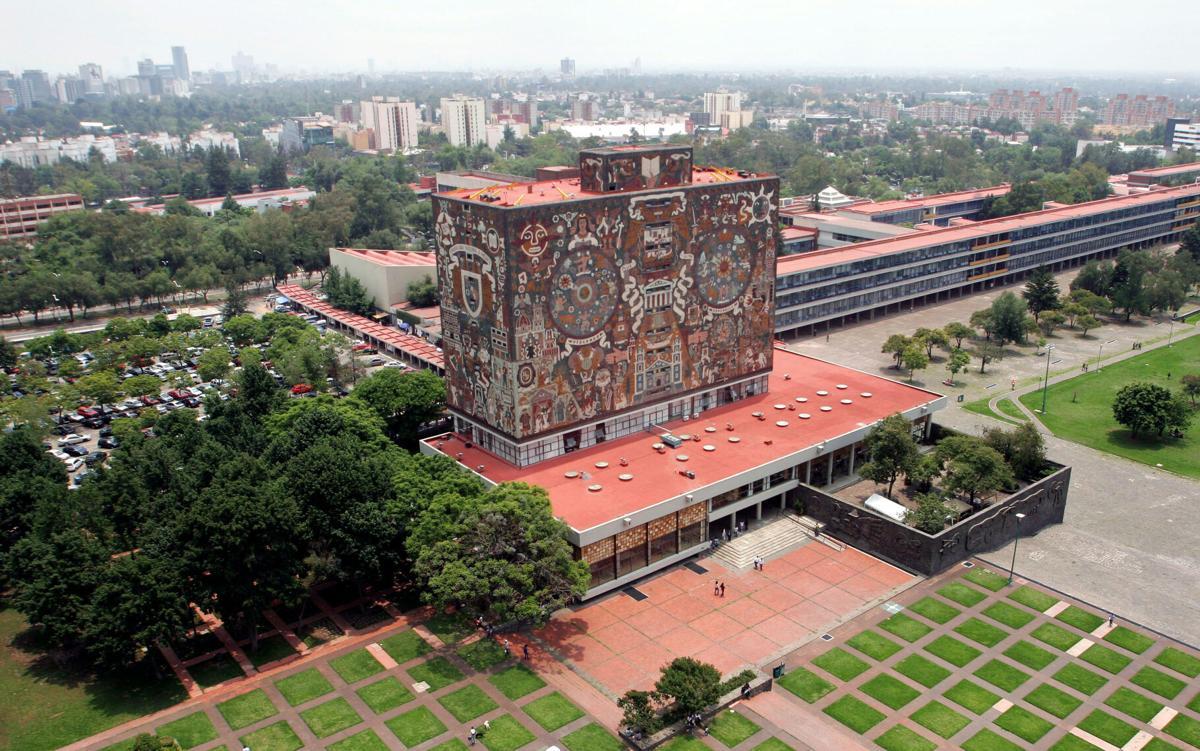 Graciela Aguayo began volunteering in hospice after she moved with her family to Sahuarita from Nogales, Sonora, in part to work on her English and also because she likes working with older people.
Doing that work, she realized she wanted a permanent change from her previous career as an engineer. She wanted to work with people and help her community, Aguayo said.
She began looking into going back to school, but in her 40s and with two daughters in school, she needed something flexible and affordable. Then she heard about UNAM.
"I looked for universities online and then which is the best to study social sciences, and I liked UNAM because it is free," Aguayo says.
The Universidad Nacional Autónoma de México is free to anyone who is fluent in Spanish and able to pass a rigorous admissions test. With numerous online degrees that are valid in the U.S., UNAM could be an option for Spanish-speaking students who may not be able to afford the $50,000 or more it takes to get an undergraduate degree at an Arizona public university.
Aguayo began the journey of preparing for the admissions test five years ago, and this month she's finishing her bachelor's in social work at a top-rated university — for free.
Assortment of programs
UNAM is ranked 122nd in the QS World University Rankings. The University of Arizona ranks 230 and Arizona State University ranks 209. UNAM has 360,000 students and about 40,000 professors, including many part-time lecturers across campuses throughout Mexico, including the main campus in Mexico City.
It also has offices in the U.S., including the UNAM Center for Mexican Studies at the UA, at 939 N Tyndall Ave.
The two universities have been collaborating since 1969, and in 2015 UNAM opened an office on the UA campus, with the main purpose of letting students know that UNAM is an option, says director Elena Centeno García.
"If we can support the Mexican or Spanish-speaking community that is in Arizona to raise their level of education, it is to the benefit of the entire society," Centeno García says, also a research geologist who received her master's from UNAM and her doctorate from the UA.
UNAM classes, offering well over 100 degrees and career paths, are completely remote for the upcoming semester due to COVID. But the university has 22 degrees that can be attained completely online, regardless of the pandemic. And all UNAM's degrees are transferable to jobs in the U.S., Centeno García said.
UNAM also has a high school, which is online and free too. Any student who speaks Spanish can enroll after passing an admissions exam. The high school exam is easier than admission to the college. And graduates of the high school can move into the college-level online degree tracks without taking the admission exam.
Part of why UNAM is rated so high is because the strenuous admissions process leads to more dedicated students getting in. Only about 1 in 10 pass the university-level test, which consists of general knowledge across many areas of study, Centeno García says.
Aguayo says the test was very hard. She spent six months studying and had to travel to Mexico City to take it — the only part of her degree that she had to do at the school in person. She said the test was a lot of information that she had learned in high school — basics on history, science, literature and math. But being in her 40s, she did not remember a lot of the material.
UNAM provided everything she needed to prepare, including study guides and practice tests.
DACA recipients can get ahead
UNAM could also be especially helpful to young adults who are undocumented or have DACA, with an ASU program that is especially geared toward helping DACA students get an ASU degree while paying far less than typical by taking many classes through UNAM.
"We can serve the population that's undocumented because we don't ask for any documentation of residence or anything," Centeno García says. "And that is a benefit to the country because even though these people don't have documents, if their education improves as a result of their work, they are a more capable person. So we all benefit."
UNAM is able to offer classes for free because it is funded by the Mexican government. The university also receives private donations and makes money by collaborating on research projects in both the private and public sector.
It also has many smaller income streams from book sales, two grocery stores it owns, entry fees into museums, orchestra performances, and it even has its own soccer team.
Even for graduate studies there is a very small entry fee, but everything else is free, Centeno García says. Foreigners can apply for scholarships to cover the entry fee. UNAM has students from all over the world, including many from Colombia, Italy and Spain, who are getting master's and doctorate degrees.
Centeno García is trying to spread the word about UNAM being an option for the Spanish-speaking community, including reaching out to Tucson Unified Superintendent Gabriel Trujillo as a possibility for TUSD graduates.
Experience was transformative
Aguayo says her experience with UNAM was great, but it was not easy. It took a lot of discipline, and the process transformed her.
"It transforms you into what you learn," she said. "There is a before and after. It fascinates me to reflect on that. ... It has created an awareness in me that I did not have before about the systemic nature of social problems. It's exciting. I fell in love with my career."
As part of her studies, Aguayo did hands-on projects in her community. One socioeconomic investigation she did, before COVID, involved going door to door in a Sahuarita neighborhood where the majority of people are immigrants to see if there was a public-health problem that she could help fix.
She found that many people suffered from respiratory ailments, including cough and flu. She created a simple information program on preventing respiratory illness, including education on proper hand-washing, covering a cough and other simple measures.
She did another project on dropout prevention in high schools in Nogales, Sonora. And for the last year, while doing classes over Zoom, she's been doing an internship with the health department in Nogales, working with adults with chronic illness.
Aguayo plans on taking a short break and continuing with her graduate degree.
She remembers when she was in high school, everyone dreamed of going to UNAM. And now, she's completed a childhood dream.
"Yes, you need discipline to study like this, online, and a lot of desire to want to do everything to not to abandon your dreams — be very focused, be clear about what you want," she says.