Thousands of student activists and adults gathered Saturday in Tucson for the March for Our Lives protest to support changes in gun laws. The demonstration came more than one month after 17 students were killed at Marjory Stoneman Douglas High School in Parkland, Florida.
The local event, which started at 11 a.m. in the Jacome Plaza in downtown Tucson, joined similar events around the world in support of students leading a movement for safer classrooms.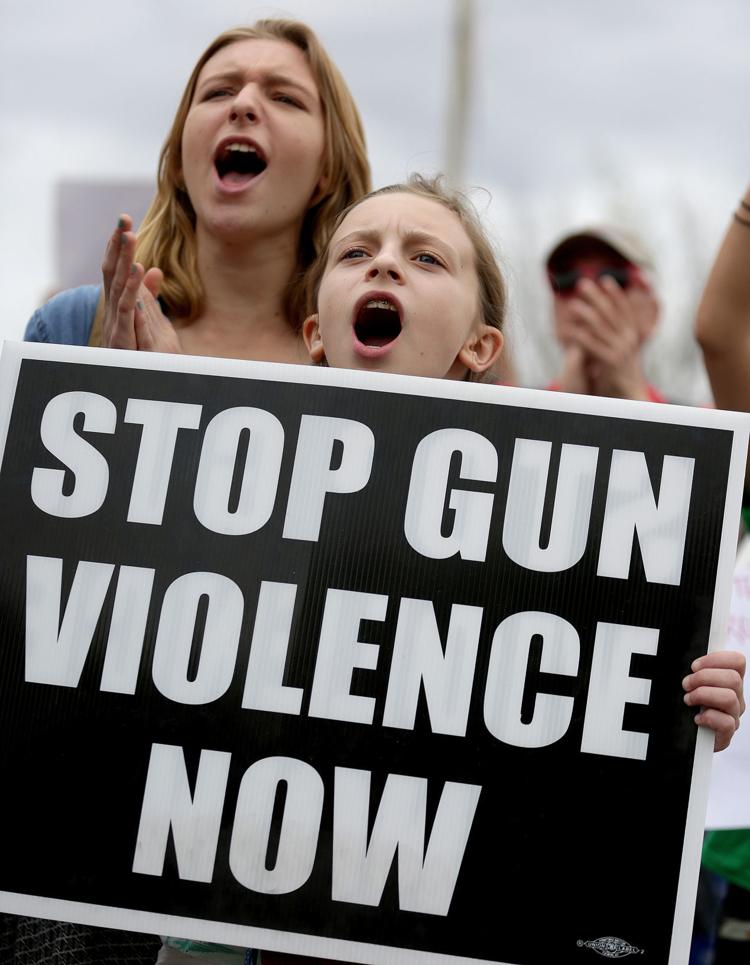 Sharmila Dey, a sophomore at University High School, was one of the many student organizers who used their spring break to work on the event.
"I spent a huge amount of time contacting people, going to meetings, and knowing that all of that really paid off and everybody came out and supported us and showed such great spirit is really incredible," Dey said.
Approximately 7,000 to 8,000 people showed up to the event, the Tucson Police Department said.
Participants waved signs throughout the crowd during the 1½ mile march, which finished at the University of Arizona. Signs that included "Vote them out" and "Stop the slaughter" were seen among the sea of people. Shirts remembering victims of gun violence were also on display.
"I think especially with the young population, we had so many of them out today, and we encourage all of them to go out and vote, get registered," Dey said. "I hope that will have an impact on their decisions in the future."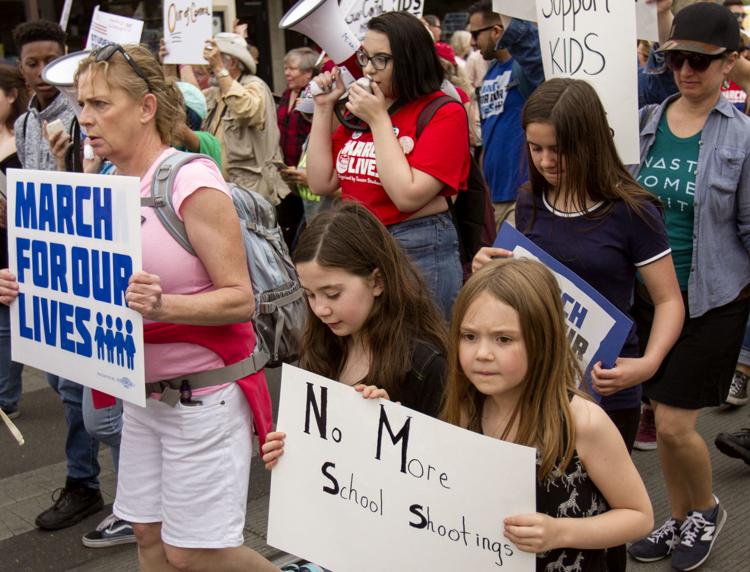 As the crowd reached the UA campus at 1:15 p.m., several young adult speakers stepped onto the stage to share their messages of change, including two friends of Christina Taylor-Green, the 9-year-old girl killed by a gunman at the Congress on your Corner event for former U.S. Rep. Gabrielle Giffords in 2011.
Now high school students, Katie Sutherland and Rebecca Shanks were accompanied by Roxanna Green, Christina's mother, who stood in support of their message.
"Schools should not be a battlefield; neither should malls, theaters, concerts and any other public place," Sutherland said. "Some lawmakers have suggested that our generation is too young to clearly understand this issue. I disagree."
Among their gun-reform suggestions were a minimum gun purchasing age of 21 and the banning of semi-automatic rifles.
Jessica Hopkins, a senior at the UA and an organizer of the event, is one of the friends of Christiana Duarte, a UA graduate killed in the Las Vegas mass shooting in October 2017. Hopkins said she continues to grieve the loss of her best friend but will not let her memory be forgotten.
"I stand with everyone else. We the people in this moment are a milestone for generations to come, so it's time that we demand to be heard," she said.
Among the crowd listening to the speakers was Skye Paulus, an eighth-grader at The Gregory School, with her friends.
"I'm very politically active, so I think its really cool how all of us are finally stepping up to do something and make a change."
Paulus was also among the 15,000 people in the Women's March in Tucson last year.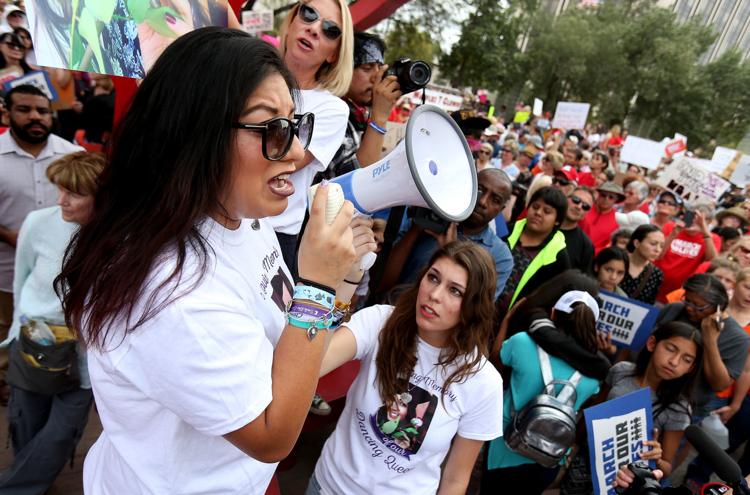 Former U.S. Rep. Ron Barber and Democratic state Rep. Daniel Hernandez Jr. spoke at the rally to encourage students and share their solutions to gun violence.
"This is not normal. This is not OK. We need to do something about guns," Hernandez said.
The protest, which lasted until 2:40 p.m., was conducted in a peaceful manner, said Sgt. Pete Dugan, a Tucson police spokesman.
"Officers walked and talked with the members of the community throughout the event."
The rally was used as an opportunity to sign up as many unregistered voters as possible for the elections in November.
The Tucson event was not the only protest in the state. An estimated 15,000 gathered at the Arizona Capitol in Phoenix. While a majority of the protesters supported reform, a few dozen people, some carrying rifles and other weapons, waved signs in support of the Second Amendment, according to the Arizona Republic. No arrests were reported by the Department of Public Safety.
More than 840 protest events took place worldwide, according to the March for Our Lives website. The day of protests came 10 days after thousands of students walked out of their schools in a national protest of gun violence after the Feb. 14 shooting in Florida.
Contact Star reporter Shaq Davis at 573-4218 or sdavis@tucson.com On Twitter: @ShaqDavis1