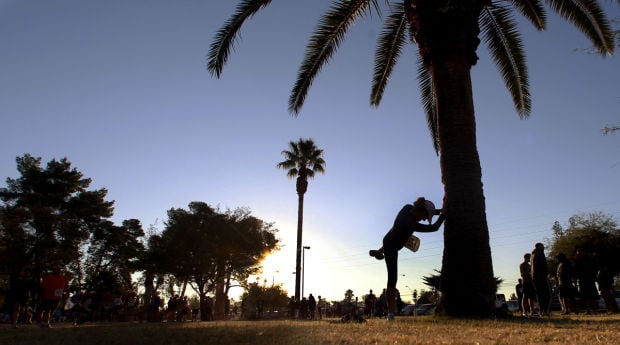 Enough with the palm trees, OK Tucson? For almost a century, this city has indulged its sense of itself as an oasis in the desert by trying to make the Old Pueblo look like one.
An oasis of strip malls and apartment complexes lined with 60-foot Mexican fan palms. An oasis of house after house marked by raggedy, 20-foot date palms in the front yard.
Or should I say marred? I've got one in my yard, and I'm that close to cutting it down.
Now that we're entering a new stage of economic growth, let's try something novel: landscaping without simply dropping palm trees into newly bladed ground to add a little cheap greenery around the edges.
It's not just that palms are non-native - there are plenty of beautiful non-native trees common in Tucson. Take African sumacs for example - they're green and branchy like a mesquite with leaves like those of a desert willow.
But palms also stick out obnoxiously, give little shade and symbolize something false about Tucson: that it's a tropical paradise.
It's not. It's a high-desert city with some great trees of its own. Mesquites, desert willows, palo verdes, sweet acacias.
The palming of the University of Arizona began in the 1920s, arborist Elizabeth Davison told me Tuesday. She's the retired head of the UA Arboretum, and she's looked at historical photos showing that they first appeared in that decade. Now, of course, date palms line the UA Mall.
Palms were significant and successful landscaping trees for decades. In the handful of houses around mine - houses built in the early 1950s - there are at least a dozen palms of all varieties.
But perhaps most significant have been the plantings on commercial properties. That's where builders want the "skyline effect" of being recognizable from a distance, UA professor Margaret Livingston told me.
"The one you see most is the Mexican fan palm," she said. "It grows very fast and very tall and provides that skyline effect."
Local ordinances have played a role in their spread. In Tucson, parking lots must have one tree for every four spaces. While "shade trees" - a category that doesn't include palms - are required now, that wasn't always the case. Many trees have survived for decades and been grandfathered in under the new ordinance.
Palms also are common here simply because they're tough enough to thrive. They're not native to the Tucson area, but there is a palm from Western Arizona, indigenous to the Kofa Mountains near Yuma, called the California fan palm.
Many palms prefer oasis-type climates: lots of sunshine, with lots of water around the roots. But most do all right in this climate even without consistent watering.
"The immediate effect is to have a more lush, tropical feeling in a desert landscape," Livingston said.
I admit the breeze sounds nice in the palm fronds, but the drawbacks are many, even if some are subjective.
"For the amount of water you put on palms, you don't get that spreading shade," Davison said.
You also get the hassle of regular prunings that can be expensive if done by professionals, and risky. Not only is the height a danger, but so are the scorpions that like to nest in palm trees.
I lost my remaining respect for palms about three weeks ago, when I borrowed a friend's chain saw to cut down a 5-foot trunk that had been sitting in the backyard, covered in vines, for years. After clearing the vines, I tapped the trunk with my foot and discovered the bark was flimsy.
I poked and prodded the trunk, then realized the best way to take it down was to forget the saw, grab the top of the trunk and tear it apart with my hands. I discovered the interiors of palms are made up of long fibers that you can tear apart.
No tree rings - barely anything you can call wood.
Surely Tucson can do without any more of these empty symbols.