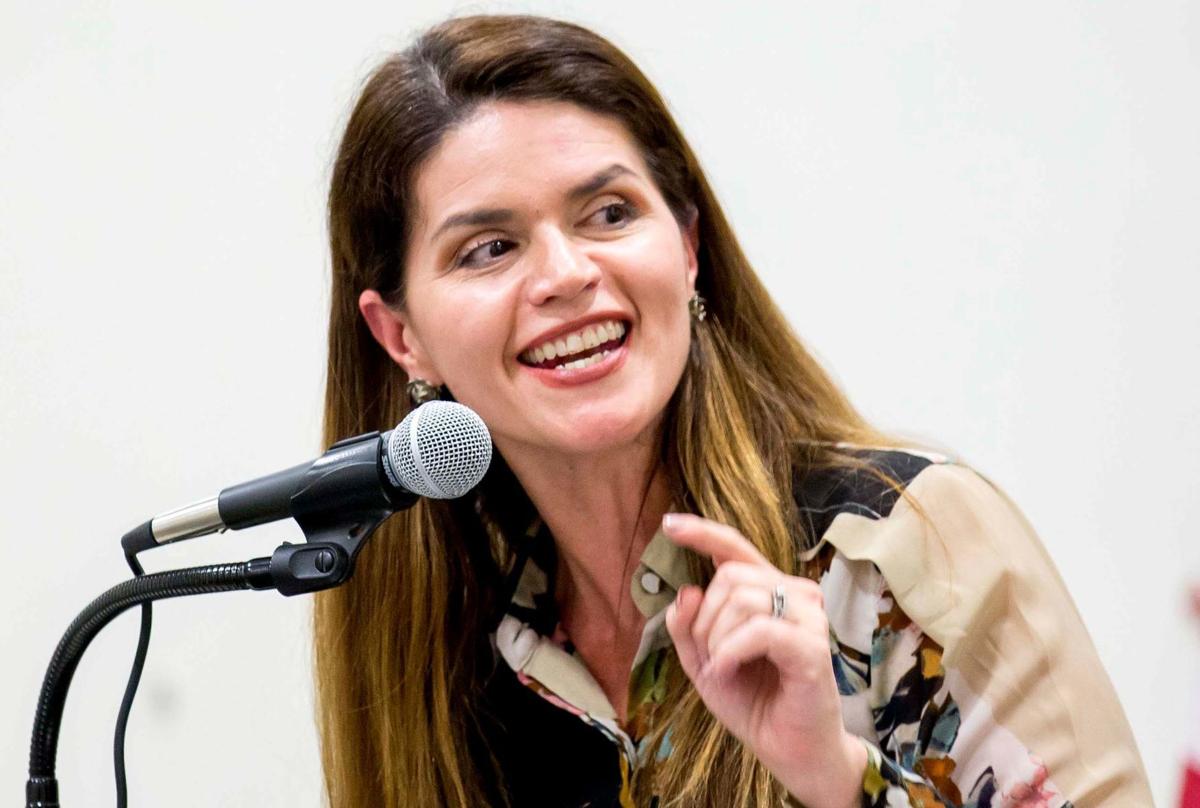 Tucson voters had foresight in 1985 when they voted to approve a public-finance system.
Candidates who opt into it agree only to raise and spend a certain amount. The city then matches their fundraising.
And that's supposed to be it for that candidate.
But the experience of this year is showing the old public-finance system, intended to keep big money out of elections, has been overwhelmed. We need to update it in order to keep up with the era of massive outside spending and undisclosed donors.
That struck me in part the night Regina Romero won the Democratic primary election for mayor, Aug. 27. At her victory party at American Eat Co., I edged through the crowd mid-speech and was surprised by what I heard.
Romero was calling out groups who had supported her — Planned Parenthood, Las Adelitas, Chispa, Mi Familia Vota and others — and saying "You're going to be part of the decision-making from now on."
What raised my eyebrows is that some of these groups had contributed money to an unprecedented wave of outside spending in the mayor's race — probably more than $600,000 if it were all reported. While candidates and their campaigns aren't allowed to coordinate with outside groups, I was surprised to hear the new leading candidate for mayor thanking them for their support and promising partnership in the future.
The next day in an interview, Romero explained that "Grassroots organizations that represent marginalized communities haven't traditionally been at the decision-making table." Under her, she said, they will be.
On Friday, the city clerk's office sent out a letter that confirmed how far behind the times we are.
Democratic mayoral candidate Steve Farley had complained to the clerk, who oversees city elections, that one outside group, Mi Familia Vota, spent heavily in the mayoral campaign but never filed any reports with the city.
Other groups, such as Chispa, spent in the six figures but carefully reported their outlays as the city codes require.
Mi Familia Vota probably spent in the tens of thousands of dollars on the Tucson mayoral election. Its Facebook page shows $60,407 in online ad buys from May 2018 to October 2019 and its Tucson mayoral race ad buys were longer lasting and more highly produced than previous campaigns.
The group also distributed mailers about Romero and Farley, which Farley alleged in the complaint were passed out by paid canvassers who advocated for Romero's election.
Whatever Mi Familia Vota did was not cheap. And by any common sense interpretation, it suggested that voters pick Romero over Farley.
But in a shocking decision, the clerk's office said Friday that neither the mailer nor the online video ads, according to the terms of city code, "expressly advocate for the election or defeat of a candidate." Thus, the spending on those ads does not need to be reported.
The code the clerk cited says to be seen as clearly advocating a candidate, and therefore reportable, the speech must be "unmistakable, unambiguous, and suggestive of only one plausible meaning."
Now, the Mi Familia Vota material maintained a semblance of ambiguity. I'd say "deniability" would be a better phrase.
The mailer, for example, listed Romero as: "Daughter of immigrants and first Latina elected to Tucson City Council," while Farley is "originally from California."
It said Romero "helped lead the fight against SB 1070, established the Cesar Chavez paid holiday and passed earned sick and parental leave," while describing Farley as a "former state legislator who spent 12 years at the state capitol in Phoenix and lost a race for governor in 2018."
There's more, but you get the point. The mailer and video ads subtly advocate for Romero and against Farley. But the city code, as written and interpreted, doesn't require disclosure even of how much was spent, let alone who donated the money.
Farley, who also benefited from a smaller scale of outside spending in the primary, said of the city: "They've declared a loophole big enough to drive a truck full of dark money through." So clearly, the language of the city's code could use some updating. There's no reason outside groups should be allowed to subtly advocate for a candidate and get away with not declaring their spending.
But it's not just those codes that need work.
If a candidate can run "clean" on the public-finance system, but have their own campaign's spending matched or even doubled by outside spending, that defeats one of the main points of public financing. It means outside groups can create a quid-pro-quo relationship even with publicly financed candidates who have agreed to limit their spending.
That's what concerned me about Romero's comments on governing in concert with the groups that supported her with outside spending.
Former mayor Tom Volgy, who spearheaded the public-finance campaign in 1985 when he was a council member, said he and others worried about outside spending even back then. One proposal was to establish a 50% public match for every candidate whose opponent receives support from outside groups.
In other words, if Romero had received $200,000 in support from Chispa, her opponents would each receive $100,000.
It's a worthy thought, but you can see how quickly the bill could add up for Tucson taxpayers. Also, the U.S. Supreme Court threw out a somewhat similar matching system operated by the Citizens Clean Elections Commission, so it might be found unconstitutional.
Another idea that emerged from my conversations with several state elections experts was to tax outside spending on elections. This could fund whatever remedy we want to pursue for those targeted by outside spending. But it would probably be ruled unconstitutional.
A new idea approved in Seattle and under consideration in Albuquerque is "democracy vouchers." Under this program, each registered Seattle voter receives four vouchers worth $25 each, which they can donate to any candidate's campaign. The program is paid for with a voter-approved $3 million property tax increase.
In Arizona, Tempe and Phoenix have passed laws requiring disclosure of the source of any spending of $1,000 or more on city elections. The idea of these ordinances is to strip away the shell organizations and other intermediaries, requiring that the actual original donor is named.
After Tempe's ordinance passed, the state Legislature passed a bill attempting to prohibit local efforts like this — another effort at preempting local control. Sen. Vince Leach, the SaddleBrooke Republican, then challenged Tempe's law. But in April, Attorney General Mark Brnovich ruled it does not, for now, violate state law, though it could be revisited once it is put in place next year and the mechanics become clear.
Tucson used to be on the cutting edge of municipal campaign finance, but we're not anymore. As this year's elections are showing, it's time for us to look for new ideas and catch up.
Tim Steller is the Star's metro columnist. A 20-plus year veteran of reporting and editing, he digs into issues and stories that matter in the Tucson area, reports the results and tells you his opinion on it all.
Contact: tsteller@tucson.com or 807-7789. On Twitter: @senyorreporter
Get local news delivered to your inbox!
Subscribe to our Daily Headlines newsletter.