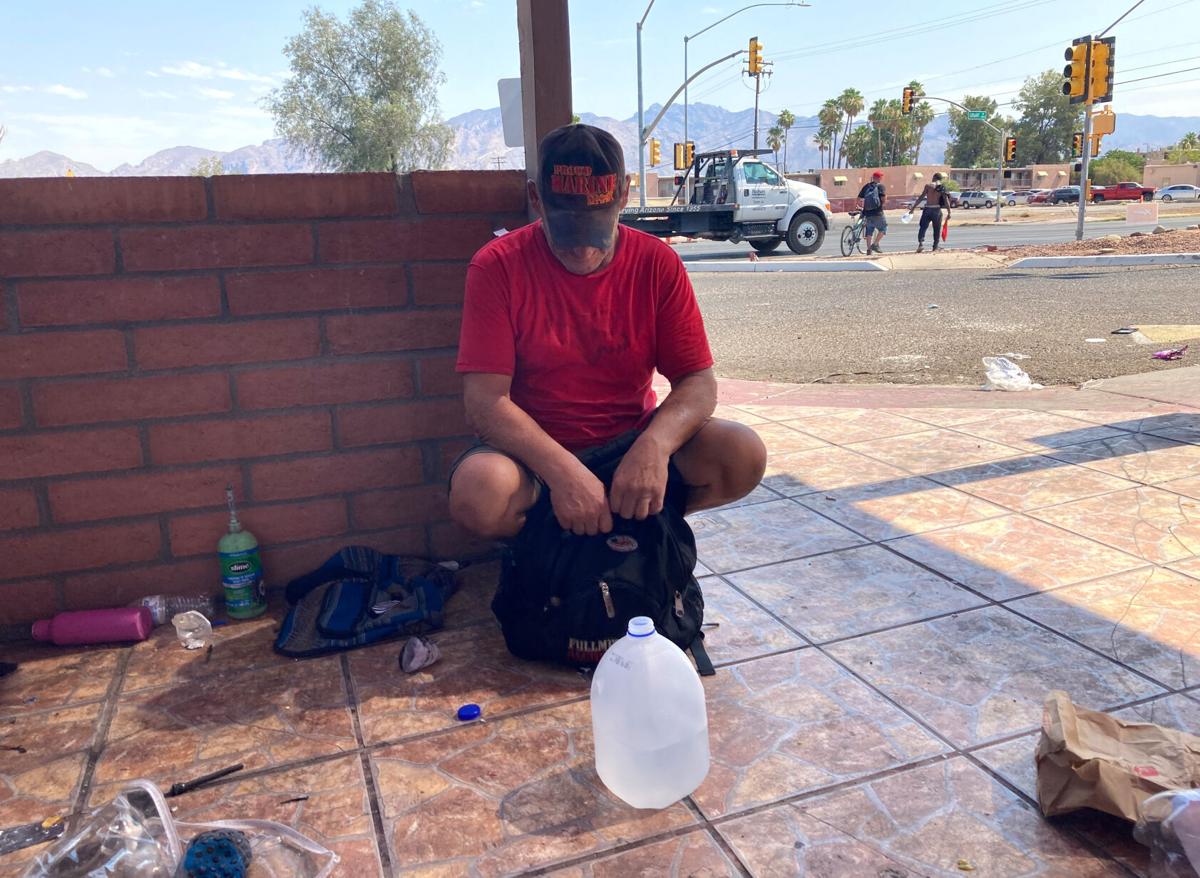 Richard Corey and his friends struck gold on Grant Road.
Or that's what it seemed.
Like so many people living outside in Tucson, Corey and company often move from spot to spot as they're ousted for one reason or another.
Just before this heat started, about two weeks ago, they landed at a great place, newly available — the covered, outdoor patio of a Losbetos that had just closed at Dodge and Grant. It offered all-day protection from the sun due to the shade cloths strung across the top of the patio, the building to the east and a wall to the west.
I met him there about 6 p.m. Wednesday. He didn't know I was coming, and I barely made it outside that evening myself. I was so wiped out from the heat that I was just lying on a bed in my air-conditioned home trying to get my energy up to go out and find people who have it worse in this heat — those who live in it 24 hours a day.
I brought four cold Powerade drinks and found a rotating group of five or six people splayed out on a handful of cots they had inherited from the streets.
When I asked about surviving the heat, Corey, 59, launched into a rant about electricity, of all things. People won't let him or his handful of friends charge their phones in any of the usual places — outdoor outlets at stores, or indoor ones at some
fast-food restaurants — which means their phones die, and they can't reach out to other friends or family members for help with the heat.
In an era of hyper-connection, as the electricity drains from their devices, they are left with word-of-mouth.
People drifted in and out of the camp as traffic plowed by on Grant Road, about 30 feet away. The sun mercifully went behind buildings. But it was so, so hot. Sweat immediately trickled down my back and began moistening my whole shirt as I talked with Corey and others.
"I don't think I've urinated all day, but I've drunk a ton," Corey said.
"There are no secrets to the heat. We're all barely surviving."
Survival is a real concern. Dr. Greg Hess, the Pima County medical examiner, told me his office registered 10 deaths from hyperthermia in 2019. Last year there were 19 deaths from overheating. As the climate warms and extreme heat drags on, there's no reason to think more people won't die from it.
I mentioned the city's six cooling stations to Corey, and he and his friends were vaguely aware of them. He asked if you could really just sit in the air conditioning and drink water. He wondered if they would roust you if your eyes close and you drift off, as they often do at fast-food joints, on the bus or in the library.
I looked up the addresses of the cooling stations and wrote down the nearest ones on a piece of paper for him.
As the sun descended, thoughts turned to sleep — always a problem for people living outside, and much worse on the longest, hottest days of the year. It doesn't get cool enough to sleep well until around midnight, Corey said. Between 3 a.m. and 4 a.m., the streets are quiet.
Then it picks up, and by 5 a.m. the light is coming up, the traffic is moving, and the heat is stirring.
"The day is so draining that you'll fall asleep eventually," he said. "I don't know if it's sleeping or passing out."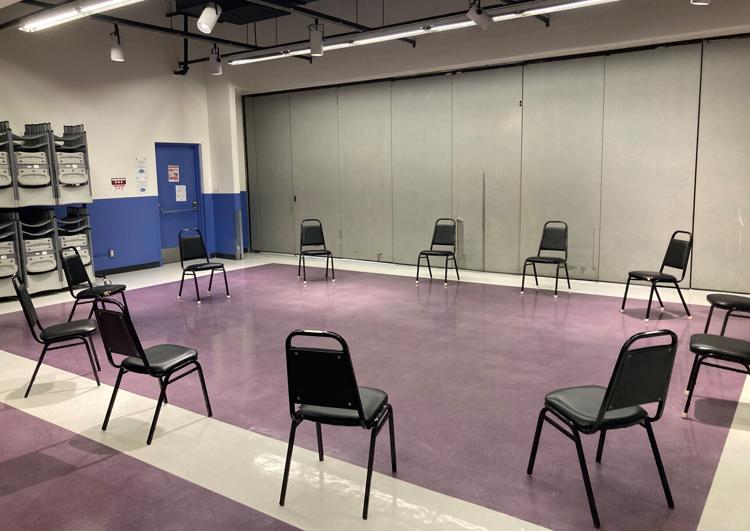 "It's pretty quiet, but you never know who's going to come up here drunk or tweaked out."
As hard as sleeping can be for homeless men, it's worse for women.
A woman who goes by "Gabby" walked up around 7 p.m. and asked "anybody have water?"
Learning who I was, she told me her professional history, and how it was sidelined by mental illness and drug addiction. She gave me her full name, Brandalin Chisneall, and she told me about sleep.
"Lots of us women sleep during the day where men can't hurt us. You sleep at night, you're dead."
She said she and other women find spots to slip away to during the day, often the air-conditioned laundry rooms of apartment complexes or hotels.
"It's bad for a woman to sleep all night. I just try to catch a nap here and there," she said.
You can imagine what that sleeplessness does to anybody's mental condition.
I left before dark and promised to return the next morning. When I arrived after 8 a.m. Thursday, sleep had done them in.
While eight or nine people were asleep overnight, someone had come and looted the whole place. Everything of any value was gone — worst of all, the working bikes.
Corey was upset. His cellphones — all but one unworking — were gone, along with his tools, his good backpack and a bike. He sewed together a backpack with a hole in the bottom using a charging cord for thread.
"I wouldn't think everybody would sleep through it," he said, shaking his head.
When a young man named Hassan came up, Corey lashed out at him, holding him responsible for a good bike now stolen. Corey pulled his pepper spray and sprayed it at Hassan, but not at his face — on his shirtless body, before calming down.
Hassan hung around, apparently not holding it against him, and we all coughed for a while. Corey gave Hassan advice on how to get the spray off without suffering more discomfort.
Corey decided to try out one of the cooling stations, at Randolph Recreation Center. I offered a ride, since I was heading that direction, but he said he wanted to go to Walmart first and would catch a bus down Alvernon. They're free now, so that's good.
The cooling stations are officially open 12 noon to 6 p.m., but several of them were ready for people in the morning. It's just that no one was showing up, even on previous afternoons.
I circumnavigated the city and went to all six of them Thursday around midday. At every one, staff members told me there was little or no traffic. They had empty rooms stocked with chairs and water, but few if any users.
The only one I encountered cooling off was Monica Ashton at Udall Senior Center. Her west-side apartment's air conditioning had not been working and was being repaired Thursday.
She told me she's spent time, and money, working on her iPad at Starbucks and Beyond Bread lately, but she was in midtown Thursday and found a story about the cooling stations at Tucson.com, the Star's website. She didn't have to rely on word-of-mouth.
Robert Wild, the city's homeless-outreach coordinator, told me he doubts that the cooling stations are unknown among the people living outside who most need them. He pointed out that the same ones open up most every summer.
"I think a lot of it is that people are hunkering down where they're at," said Wild, who himself has been homeless. "Most people figure out a spot where they're not planning on leaving during the day."
The boarded-up Losbetos was not such a spot, it turned out. I left, then apparently everyone left. When I stopped back late Thursday morning, nobody was there, and everything of value was gone, except the cots.
Corey had said he was going to leave, though I never did see him at a cooling station.
"For me, I'm moving," he said. "Too exposed, too much of a target, I wouldn't feel safe falling asleep."
Tim Steller is an opinion columnist. A 25-year veteran of reporting and editing, he digs into issues and stories that matter in the Tucson area, reports the results and tells you his conclusions.
Tim Steller is an opinion columnist. A 25-year veteran of reporting and editing, he digs into issues and stories that matter in the Tucson area, reports the results and tells you his conclusions.
Contact him at tsteller@tucson.com or ​520-807-7789. On Twitter: @senyorreporter