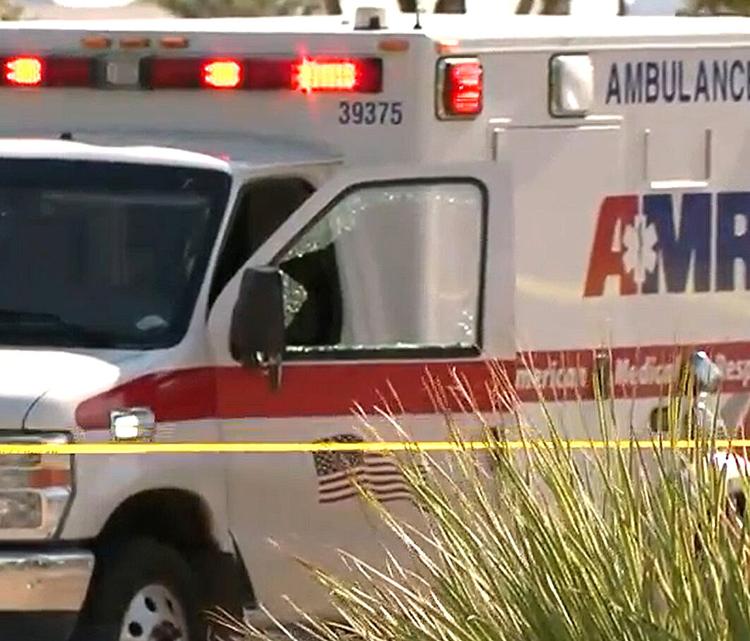 Sunday, July 18
A house fire is reported on the 2100 block of East Irene Vista, near South Kino Parkway. Concerned neighbors and Tucson Fire Department crews arrive soon after.
Two American Medical Response EMTs are shot at Silverlake Park, about a mile away from the house fire.
Police suspect Leslie Scarlett, 35, fired repeatedly into the cab of an AMR rig, wounding both emergency medical technicians inside.
Jacob Dindinger, 20, is shot in the head as he sits behind the wheel. His condition has repeatedly been described as "extremely critical." The EMT in the passenger seat, a 21-year-old woman who has not yet been publicly identified, is shot in the arm and chest but is able to describe the gunman and the SUV he was driving. She has reportedly been released from the hospital.
Dindinger and his colleague were parked at Silverlake Park due to an unrelated medical emergency when they were ambushed, officials say. 
Firefighters on scene at the house fire report over emergency radio that shots are being fired at them.
Scarlett arrived at the burning house after attacking the two EMTs at Silverlake Park and shot at the responding firefighters and neighbors, police say.
A neighbor trying to help, 44-year-old Cory Saunders, is shot and killed. Another neighbor has a bullet graze his head and a TFD fire captain is shot in the arm.
After ambushing the firefighters and neighbors, police say Scarlett rammed the patrol car of TPD Officer Danny Leon a few streets away from the house fire. Scarlett then opens fire on Leon, who is able to get outside the patrol car and return fire. Leon shoots and critically wounds Scarlett before immediately rendering aid.
Monday, July 19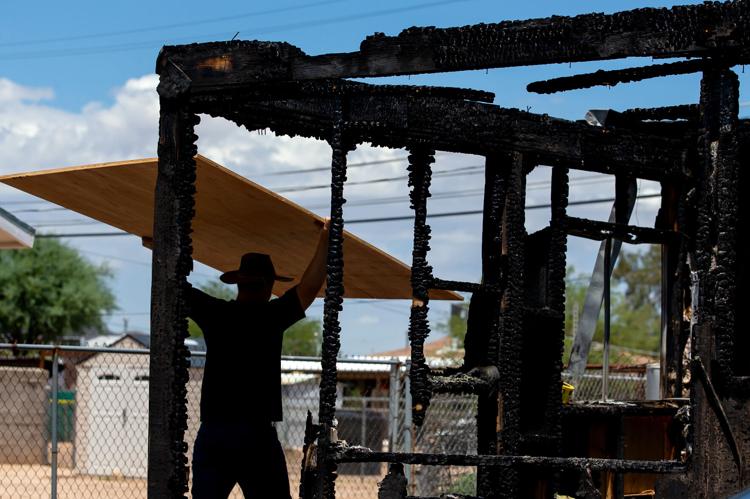 At a news conference Tucson Chief of Police Chris Magnus shares more details about the investigation. 
Magnus says the Tucson Fire Department captain who was shot in the arm is out of the hospital and the neighbor who was grazed by a bullet did not need to be hospitalized for his injuries. He also says Scarlett is in critical condition. 
Bodycam footage of Leon's gunfight with Scarlett and audio of radio distress calls from firefighters who were attacked at the house fire are played at the conference. 
Wednesday, July 21
Homicide Survivors Inc. holds a candlelight vigil at the Mercado San Augustin Annex to honor the victims and survivors of the attack.
Thursday, July 22
The body found in the burning house on Irene Vista is confirmed as 36-year-old Jennifer A. Fells, police say. Fells, a mother of three, is believed to have been dating Scarlett. 
Police also say Scarlett died on July 21.
Monday, July 26
Relatives of Jennifer Fells, the slain mother of three who police say was the first victim of the July 18 shooting rampage and house fire, speak out about the tragedy.  
Friday, July 30
The family of Jacob Dindinger shares that the 20-year-old EMT has died after he was shot while in an American Medical Response rig parked near the scene of the July 18 house fire and subsequent shootings. 
A caravan of local first responders escort a hearse carrying Dindinger's body through Tucson Friday afternoon.