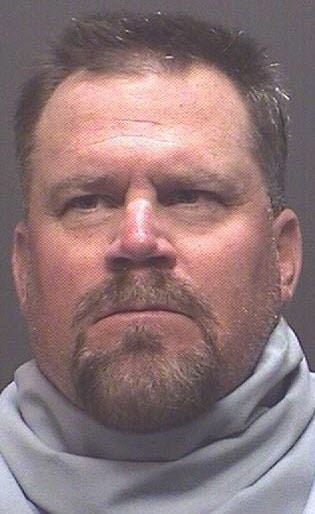 Tonight's episode of ABC's '20/20' will feature Craig Carter, the former Arizona Wildcats track and field coach accused of stalking one of his athletes and threatening her with a box cutter.
The show begins at 9 p.m. and will later be available to watch on ABC's website.
Carter admitted to police that he held a box cutter to Baillie Gibson's throat and choked her in his office. While he claimed the two were romantic relationship, Gibson has continuously said that the relationship was not consensual and that he'd been emotionally and physically abusing her for years.
The 20/20 episode will include audio recording of Carter allegedly threatening Gibson, the police interrogation video and a 911 call from a student who saw Carter allegedly harassing Gibson, according to a news release from ABC.
The episode will also features interviews with Gibson; Julie Labonte, Gibson's former teammate and roommate; Gibson's parents; and ESPN reporter John Barr, who has a recording of his phone interview with Carter, during which he claims Gibson provoked him and denies forcing her into a relationship, the release said.
Carter is scheduled for trial in March at Pima County Superior Court and is facing charges of aggravated assault, aggravated assault with a deadly weapon, stalking with fear of death, and disrupting an educational institution.
In October, Carter turned down a plea deal of one to 3.75 years in prison. If convicted of all charges, he is facing between eight and 27.5 years in prison.
In a second criminal case, Carter is also facing four felony counts of aggravated harassment and violating a restraining order, after a woman affiliated with the UA track team said that he violated an order of protection and contacted her via Facebook and Skype.
If convicted on all charges in the second case, he could face up to an additional 33 years in prison.
Carter was arrested in May 2015 and resigned as UA throwing coach the same month, after the university began proceedings to fire him.
Gibson is suing Carter and the UA in Pima County Superior Court, saying that the school didn't do enough to protect her. UA track and field coach Fred Harvey and former UA athletic director Greg Byrne are also named in the lawsuit.
Carter and his wife countersued Gibson, saying her allegations caused them emotional distress. The Carters have also sued the Gibson's attorney for defamation.
The state is paying for Carter's defense in the civil suit against him and the university, and as of the end of September, his legal bills had risen to nearly $640,000.