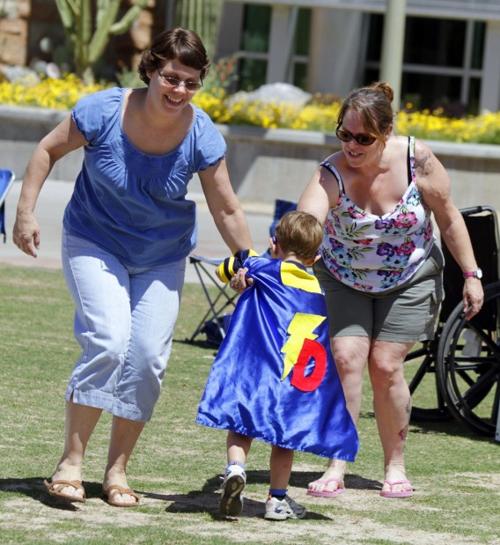 The UA Mall didn't overflow with people Saturday for the Together Tucson picnic, but those who did attend overflowed, appropriately enough, with kindness.
The event, organized by the graduating class of the Greater Tucson Leadership program, aimed at continuing the kindness and fellowship Tucsonans demonstrated after the Jan. 8 shootings that killed six people and wounded 13, including U.S. Rep. Gabrielle Giffords, who is recovering in a Houston rehabilitation center from a gunshot wound to the head. About 200 people attended.
Nine-year-old Ashton Rowe signed a kindness pledge before painting a ceramic tile that will become part of a Ben's Bells public art project downtown.
It was a "pretty easy" decision, said Ashton, who is already part of the Kind Kids program at Coronado K-8 School, also run by Ben's Bells.
Asked if the program had made his school a kinder place, Ashton responded with an emphatic "Yes."
Kind Kids is now in 60 area schools, said Jeannette Maré, who founded Ben's Bells after the death of her 2-year-old son from croup in 2002.
A workplace version called Kind Colleagues will be launched soon, she said.
Kindness is contagious, said Barbara Dolan, one of Maré's classmates in the leadership program.
Her stated intention Saturday was to be more patient, especially while driving. Dolan said Maré told the class that small acts of kindness, such as slowing down to let another car merge in traffic, add up to a kinder community. "When I'm driving now, I think of Jeannette."
Ron Barber, district director of Giffords' congressional office, said not only the victims of the shooting but "the entire community of Tucson was traumatized" by the Jan. 8 shootings.
"It was an aberration, not who we are. Who we are was what happened afterward."
Barber, who is recovering from gunshot wounds to the leg and face, gave a short speech in which he thanked those who came "to celebrate the unity and the kindness and the togetherness of the community that we saw after January 8."