Tohono O'odham Nation officials continue to assess flood damage from remnants of Tropical Storm Rosa ahead of expected rain Sunday.
Areas of the nation received up to seven inches of rain within a three-day span this week. Rainfall of three to five inches was widespread on the land, according to the National Weather Service in Tucson.
Nation officials were worried about "imminent" flash flooding from the 22-foot Menagers Dam but water levels dropped four feet by Wednesday afternoon.
"The changing weather and the incredible dedication of the Nation's personnel from multiple departments has helped us dodge a bullet," said Tohono O'odham Nation Chairman Edward Manuel. "But with more rain expected over the weekend, there continues to be imminent danger in the Menagers Dam area."
A storm system is expected to arrive Sunday with potential rain showers and thunderstorms, according to the National Weather Service.
While Menagers Dam is a nearly century-old earthen dam, it is still holding, Tohono O'odham officials said. The dam is being assessed twice a day for the foreseeable future.
The Menagers Dam community, also known as Ali Chuk, has more than 100 people. Of those, 23 residents were evacuated to shelters in the Sells area, "and the rest left in their own vehicles, with a few refusing to leave," a Tohono O'odham news release said.
More than 30 residents of the Kohatk village in Pinal County were evacuated by emergency personnel.
Flooding also made some roads impassable and caused erosion, a Tohono O'odham news release said.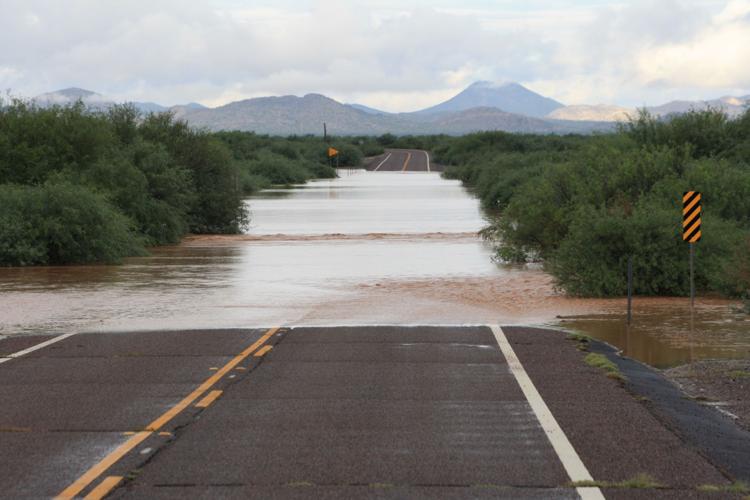 Officials will send a damage assessment to FEMA for potential assistance, the news release said.
The emergency shelter is being managed by tribal department personnel, local volunteers and the American Red Cross.
To assist the emergency shelter or recovery efforts, contact Donna Estrada at (520) 993-1079 or (520) 383-6600 ext. 2279. 
Items needed for evacuee shelters:
• Snacks in boxes (20 boxes)
• Boxed juices (20 boxes)
• Diapers (40, all sizes)
• Feminine hygiene products (20 boxes)
• 50-pound flour bags (20)
 Items needed for recovery efforts include:
• Muck out kits (50, incl. buckets, brooms, brushes, bleach, rags, m95 masks, mops, sponges)
• Tarps and Plastic sheeting (40)
• Roofing material (20 Felt and Roll roofing)