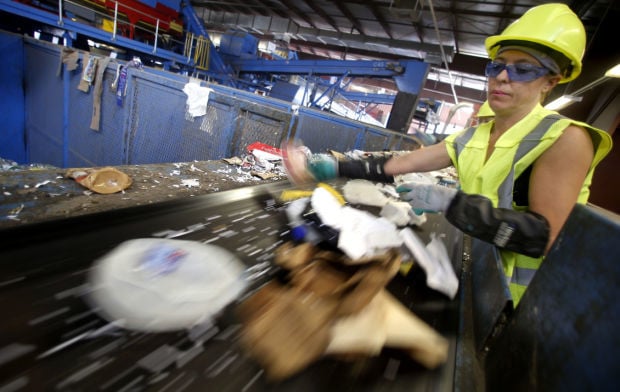 This article first ran in 2018.
Every time the subject of recycling comes up in conversation, it isn't long before plastic bags are mentioned. Plastic grocery bags are a sore spot for recycling plants, and the ReCommunity Recycling Tucson plant at Ajo and Alvernon is no exception.
Plastic bags clog the machinery, wrap around gears and generally make a mess. Sorters do their best to catch and remove the bags from the conveyor at the beginning of the recycling process. The people working at the beginning of the sorting process also catch other contaminants, most of which should never have been there in the first place. Does anyone actually think a used diaper is recyclable?
At a recent presentation at the ReCommunity facility run by Republic Services, members of the community learned how recycling is processed.
While other cities may have residents sort their recycling, having separate bins for plastics, metals, glass and paper, here in Tucson and the surrounding area we use single-stream recycling. Residents place all of their recycling in one container and it is sorted at the plant.
The recycling plant is a MRF, or Materials Recovery Facility, and it is where just about all of the items placed in curbside recycling bins and barrels end up to be sorted.
After the load from the recycling truck is tipped onto the floor, it is pushed onto a conveyor where people remove contaminants like those plastic bags and obvious trash. The conveyor moves along quickly — there's no dawdling.
Then machinery takes over, although people monitor the process from beginning to end.
The corrugated-cardboard screen filters three-dimensional objects from flat ones like paper and cardboard by using a series of rotating disks that allow the paper to drop while other items move along.
The newsprint screen separates newsprint from mixed paper and containers. Human beings continue the paper sorting by removing contaminants that weren't discovered earlier. As plastics and metals are moved along, an optical sorter recognizes plastic soda and water bottles and shoots a burst of air to push them off onto another conveyor belt.
Magnets separate aluminum from other metals. Since magnets repel aluminum, they push soda cans off onto another belt as they attract steel and tin cans to keep them separate.
Glass is moved off to a glass-breaker screen that pulverizes it. Paper, such as labels, left on glass, and other debris are easily removed using vibrating screens.
The separated items are baled and stored until they are ready for transport.
The people working at the MRF know just what to throw out when they see it and offer some insight:
Don't recycle mixed paper products. The guideline is if you can tear it, you can recycle it; just don't tear it into little pieces. Break down cardboard boxes and remove excess tape. Any cardboard with food particles or oil — like pizza boxes — should not be recycled.
Rinse soda bottles and any plastic bottles that held something other than water. Shake out excess water and put the lid back on.
Take those plastic bags to the grocery store to recycle or find another use. Single-use plastic straws will never be recyclable. Throw them out. It is better not to use them or to get reusable straws.
Type #1 and #2 plastics can be profitable for recycling plants, but only about 1 or 2 percent of them are sent to recycling plants.
The average price paid for recycled aluminum is $1,200 a ton, but only about 1 percent of the recycling received at the plant is aluminum. Rinse your soda cans, don't crush them, and recycle them. They might be soda cans again. Soup and vegetable cans and those tiny cat food cans can be recycled when clean.
Toothpaste tubes have changed over the years. Colgate has a program that helps people recycle toothpaste tubes, toothbrushes and the packages they come in. Since those tubes can't be recycled curbside, check out the Colgate Oral Care Recycling Program online.
Twenty-two percent of what is placed in curbside recycling is trash. It ends up in the landfill, but costs more to get there than it would have if people had put it in the trash in the first place.