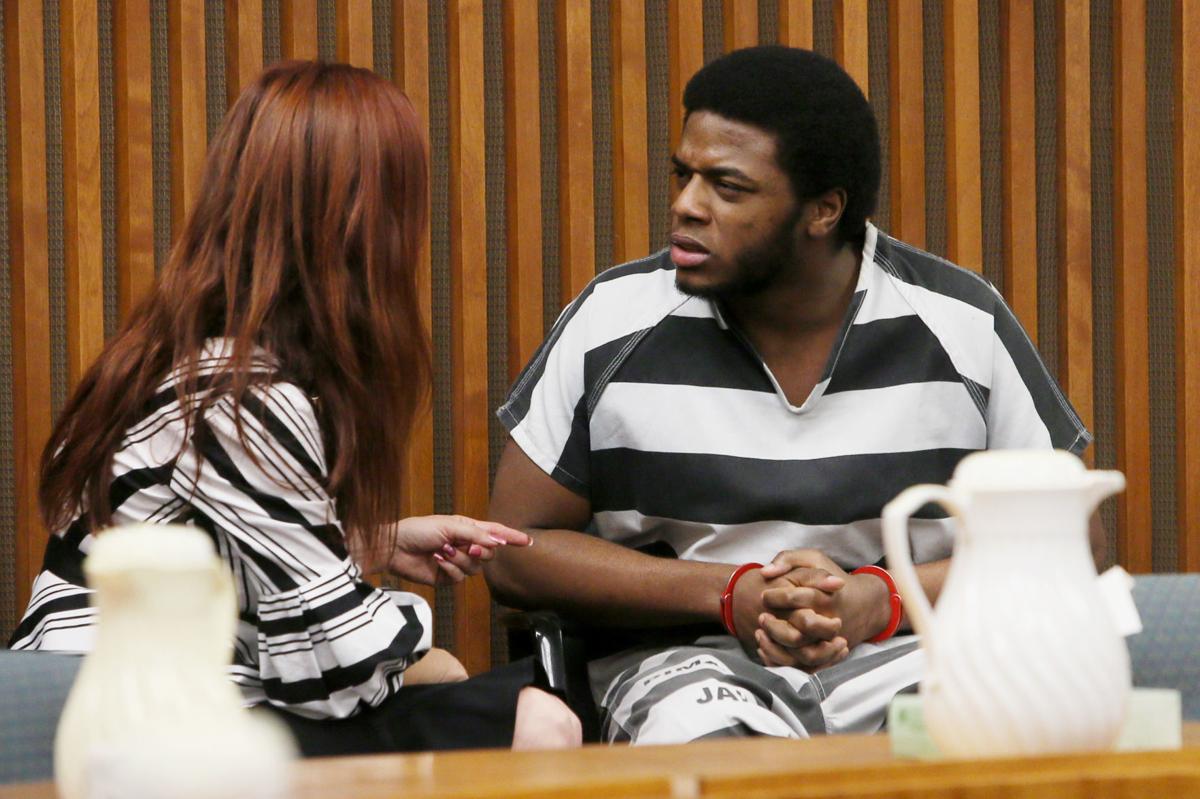 A Pima County judge has canceled the Oct. 8 trial date of a Tucson man accused of two murders, as concerns about his competency to represent himself and even stand trial continue to dominate court proceedings.
King Yates is facing three separate trials in connection with prohibited possession charges and first-degree murder.
He was arrested in December 2016, after his wife, Cassandra, was shot to death at a friend's apartment. Police arrested Yates hours later in connection with her death and, four months later, he was arrested again on murder charges after his cellmate at the Pima County jail was found beaten and asphyxiated. Branden Roth was awaiting sentencing on a nonviolent offense at the time of his death.
Yates appeared in court Monday for a competency hearing, after Superior Court Judge Howard Fell ordered him to be re-evaluated due to his erratic behavior since taking over as his own attorney in June.
Yates was declared competent at the time of the murders and competent to stand trial, but since firing his two attorneys, Yates has interrupted courtroom proceedings and engaged in argumentative behavior with Fell and Pima County prosecutor Jonathan Mosher.
After a July 24 hearing, Fell ordered a mental-health evaluation.
Fell was unable to issue a ruling Monday, as Yates refused to see the doctors when they went to visit him in the Pima County jail.
Monday's volatile hearing ended with Yates being dragged out of the courtroom by sheriff's deputies as he yelled to the gallery about jail staff attempting to poison him.
Yates' removal followed several loud exchanges between Yates and Fell and a motion by his advisory counsel, Bobbi Berry, to have Yates undergo an "unorthodox" and independent mental-health evaluation.
The evaluation would include an independent review of his full competency history and interviews with Yates' previous attorneys, Stephanie Bond and Vincent Frey.
Yates has experience with the criminal justice system and competency evaluations, affording him the ability to mirror specific language and exhibit behaviors that may not give the person evaluating him the "full idea" of his competency issues, Berry said.
Berry asked that the evaluation cover his competency to represent himself at trial, as well as his competency to stand trial and at the time of the alleged crimes. She also asked that the mental-health providers assigned to evaluate him have no prior experience with Yates.
Fell told Yates that he can refuse to participate in the evaluation, in which case the judge would make his findings based on the information presented to him.
Fell explained to Yates that while he'd previously been declared competent, a higher standard exists when it comes to competency to represent oneself in court proceedings.
Yates' inability to file written motions in a proper fashion and abide by courtroom rules has stymied recent proceedings, with Mosher reiterating Monday that Yates' behavior in court has infringed upon the rights of the victims' families, who were seated in the courtroom.
Yates was insistent Monday that he's ready for trial without the assistance of Berry as co-counsel and was unwilling to accept Fell's suggestion that he proceed with the prohibited-possession case first as a trial run to see if he really wants to represent himself.
After Yates accused Fell of bias for the third consecutive hearing, the judge told him to file a judicial complaint to have him removed from the case.
Fell requested the mental-health evaluation take place within 10 days and scheduled an evaluation hearing for Oct. 8, in place of the vacated trial date.