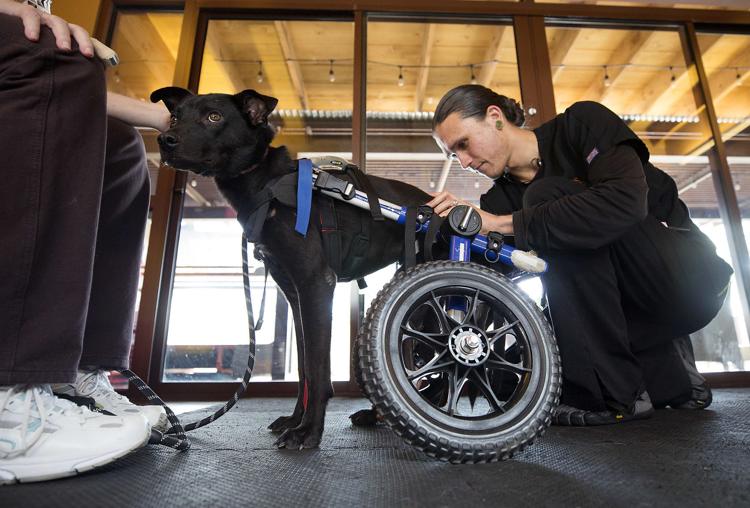 It's been months since a black Lab puppy was found bloodied, his feet and knees nearly raw, in an Arizona desert.
The victim of a buckshot lodged in his spine — he was also hit near his thigh — Gil lost all feeling in his hind legs.
Though the recovery process is long for the dog, thought to be no older than 2, it took nearly no time at all for Tucsonans to mobilize in support of Gil.
It all happened sometime between March and July in Gila County, about 150 miles north of downtown Tucson. Gil went missing from his family and never made it home.
When he was found, his paws and knees were bloody and near raw from dragging himself up a mountain during the monsoon. A family heard Gil crying, wrapped him in a blanket and contacted a veterinary clinic.
Beyond his paralysis, Gil was near starvation, had tick fever, burned skin, possibly from the tire of a car, and a cattle wart on his face. He was so dirty that it took four baths to get him clean.
When Gil arrived at the clinic, the veterinarian recognized him from having vaccinated him earlier in the year. He was also still wearing a collar.
The staff called Gil's family, but because of the cost of his treatments, in addition to the care he would need, his family wasn't able to care for him.
The clinic didn't think there were any rescue options for Gil due to the extent of his injuries and planned to euthanize him. But Nancy Young Wright, from Tucson, didn't let that happen.
Young Wright is a volunteer with Cody's Friends, an organization that helps shelters, rescues and people in need with pets. On July 21, Young Wright donated food to the clinic where Gil was being treated.
The veterinarian hadn't planned to show Gil during Young Wright's visit. But Young Wright was accompanied by a new volunteer and wanted to give her a tour of the clinic.
That's when they met Gil — just two days before his planned euthanasia.
"It was his spark. He had a will to live and I really felt he deserved a chance," Young Wright says, adding that she knew she had to help him. "I didn't know what happened to him, but I felt that it wasn't fair — that this young dog would have to be put to sleep for no fault of his own."
She posted Gil's photo on Facebook, seeking fosters. Three people volunteered, two of whom now care for him. Two days later, on July 23, the day of his planned euthanasia, Gil was taken to his new fosters in Tucson.
With the help of two foster families and loads of community support, Gil is now happier than ever. He has a wheelchair, wears diapers, and while he still has some scars, he's just as playful as any other puppy.
Read the full story here.