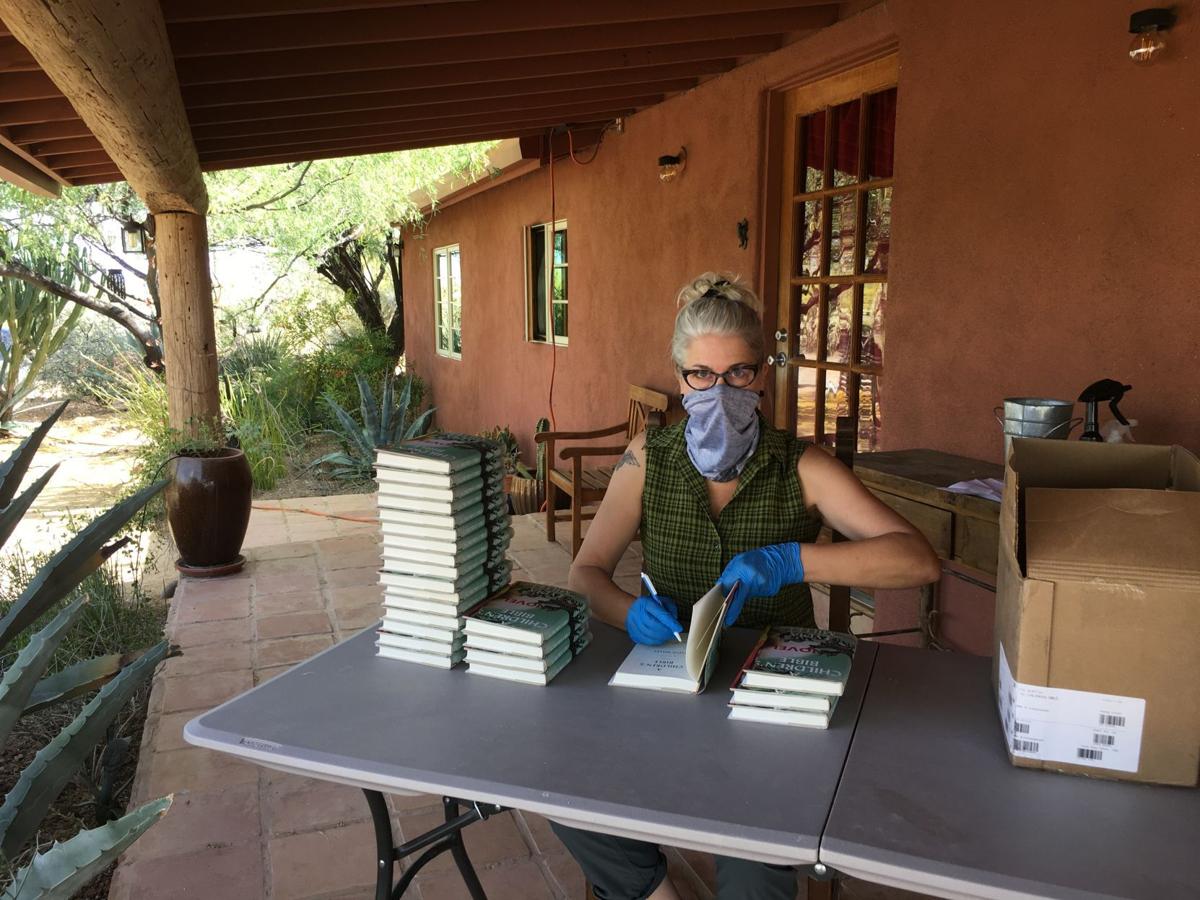 Living near the national park on the sundown side of the Tucson Mountains, novelist Lydia Millet sees things many of us don't.
She sees a daily parade of desert wildlife who exist more comfortably together than most desert people do; square-shouldered saguaro that have stood sentry since World War II; nights when it seems she could read by starlight.
In the distance, Millet sees Baboquivari and the observatories on Kitt Peak.
Some years ago, she also began seeing something else: the impact global warming and climate change were having on the desert surrounding her home.
So Millet did what authors do: She wrote about it. In September 2018, she submitted the first draft of her latest novel, "A Children's Bible," to her editor at W.W. Norton, Tom Mayer. This was before Greta Thunberg exploded into public view. Before the U.S. formally withdrew from the Paris climate accord. Before Tucson experienced its hottest, driest summer in history.
When the book was released six months ago, a world was ready to read it, and "A Children's Bible" was honored as one of America's five best novels of the year by the National Book Foundation.
The National Book Award for Fiction ultimately went to Charles Yu and "Interior Chinatown," but Millet cemented her place as one of our most important authors.
Millet had published one book and was writing her second when moving to Tucson in 1999. The first was a satirical sendup of the Southern California real estate scene, the second a parody of political cultism. Both were ripe with richly interesting characters and Millet's own dark humor, but neither was critically acclaimed.
Perhaps it was because of her new life in Tucson, or her new job as a writer at the Center for Biological Diversity, but Millet consciously changed her literary voice in her third novel, "My Happy Life."
"That third book was when the tone of my writing changed," Millet said. "I sort of evolved from borderline cynical to, I guess, more idealistic. I decided cynicism was the coward's way out."
Dan Esty, professor of environmental law at Yale University and editor of 'A Better Planet: Forty Big Ideas for a Sustainable Future', joins '…
"My Happy Life" was honored with a PEN Center USA award in 2003, and Millet has been something of an award magnet ever since.
"Love in Infant Monkeys" was a finalist for the Pulitzer Prize in 2010. "Magnificence" was honored by the Los Angeles Times and National Book Critics Circle in 2012. "Sweet Lamb of Heaven" was longlisted for the National Book Award in 2016.
Because its central themes are global warming and climate change, "A Children's Bible" holds a special place in Millet's heart.
"I loved the Sonoran Desert from being here briefly back in grad school in 1990," she recalled. "It's why I moved here. I never had any particular allegiance to a place before, but now I'm devoted to this place. I don't write about it directly in fiction often, but I love our desert so much … and that love has for sure shaped my work since I arrived."
Millet's forte is environmental fiction, and it is on full display in "A Children's Bible." The 12 children in her tale exude truth, hope and optimism. Their parents grovel in denial, despair and Jim Beam.
"With the pandemic raging now we are living in a reality that's directly related to the unreality of this novel," Millet said. "All because of the way we've mismanaged this place we live. As for the book, it can be hard to read sad books in sad times. I'm happy readers are finding something beyond sadness in this one."
Millet is among one of many authors encouraging their readers to support neighborhood independent bookstores. Here are some to choose from in Tucson:
East side: Mostly Books, 6208 E. Speedway Blvd. (new and used books)
Midtown: Clues Unlimited, 3154 E. Fort Lowell Road (new and used mysteries)
Fourth Avenue: Antigone, 411 N. Fourth Ave. (new and used books), and Book Stop, 214 N. Fourth Ave. (used books)
Citywide: Bookmans, 3733 W. Ina Road; 6230 E. Speedway Blvd.; and 3330 E. Speedway Blvd. (new and used books)
For daily updates from the Tucson book community, follow Book Marks Tucson (@BookTucson) on Twitter.